BBDO Lanka celebrates 4th anniversary at Sangakkara's farewell test
View(s):

BBDO Lanka celebrated its 4th anniversary by cheering for Kumar Sangakkara at his farewell test this week and rewarding every 4 he hit in the match with a contribution to his charitable initiative 'Bikes for Life'.  BBDO Lanka MD Santosh Menon said the company completed four years of operations in Sri Lanka and continued with its mission to be a ' Force for Good' by coinciding the celebration with the celebration of Kumar Sangakkara's illustrious career.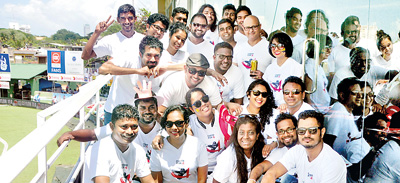 "He has been a true ambassador of cricket and a huge inspiration for sportsmen and women worldwide and we wanted to thank him by contributing to his 'Bikes for Life' initiative," he added. "We first started a conversation in social media under #CheerFor4 seeking messages of congratulations for Sangakkara. We gave away five passes, free, to the BBDO corporate box at the P. Sara Oval to five lucky fans who wrote in. During the match, we had special invitees – our clients and friends – and the staff of BBDO Lanka who were invited to come to cheer for Sangakkara. And finally we made a contribution to Kumar Sangakkara's 'Bikes for Life'," he said in a media statement.
Mr. Sangakkara, expressing his thanks said, "I'd like to thank BBDO Lanka for the #CheerFor4 campaign cheering my farewell test and for the thoughtful contribution to 'Bikes for Life'. I wish BBDO Lanka many more years of continued success in all that they do."
Marketing Director of Fonterra Brands Lanka Roshan De Silva, who was also on hand to cheer for Mr. Sangakkara commented, "BBDO Lanka is one of our long-term and valued business partners. They have contributed to the effective communication of our much loved dairy nutrition brands in Sri Lanka and are known for their strong consumer insights. As they celebrate their fourth anniversary, we are delighted to have them on as one of our strategic partners."