Kap planting heralds start of Kandy perahera
View(s):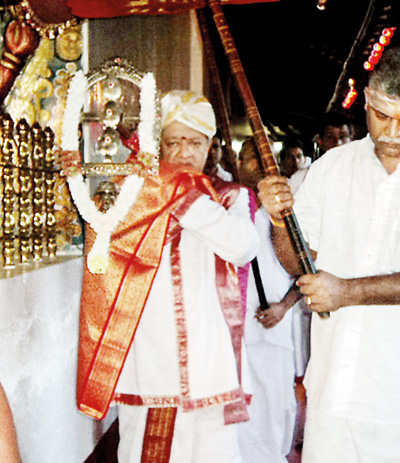 The commencement of the Kandy Esala Maha Perahera was heralded by the planting of 'Kap' at the auspicious hour of 5.30 a.m. yesterday at the four Devales – Maha Vishnu, Natha, Kataragama and Goddess Pathini.
On Friday evening the 'Kap' stumps were handed over to the respective devales, to be planted after the rituals at the respective places. The Basnayake Nilames of the respective Devales – Mohan Panabokke, Sarath Heenkenda M Wegodapola and Rohan Paranagama were present with their retinue.
The peraheras inside the Devale complexes would be held from Saturday until August 20, when the perahera would take to the streets with the day perahera scheduled to be held on August 30.