Anti-rabies campaign casts net wider to take in felines
By Kasun Warakapitiya
Home-owners warned to care for stray dogs they feed
View(s):
The second phase of the Colombo Municipal Council's rabies vaccination is underway, taking in stray cats as well as dogs as rabies-positive cats have been discovered. In the first phase of the campaign, the CMC carried out a survey on dogs and vaccinated and ear-notched street dogs. They also vaccinated and gave licences to pet dogs, going house to house through Colombo.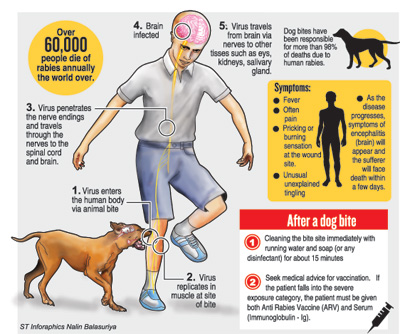 In the second phase, officers are vaccinating dogs that they did not find in the initial phase in addition to cats, the Chief Municipal Veterinary Surgeon, Dr. Vipula Dharmawardene, said. Dr. Dharmawardene said 10,000 vaccination shots were purchased for the approximately 10,000 domesticated dogs in the Colombo community. Since responsible owners vaccinate their pets on their own initiative the unused government shots are being used on stray dogs and cats and more vaccine supplies will be bought as needed. There are more than 2,400 stray dogs in the city.
Dr. Dharmawardene said that officials of the municipal council will visit religious places, schools, canteens of state establishments, fish markets and garbage dumps to locate cats as well as dogs.He explained that based on previous surveys officials can pinpoint areas frequented by street dogs as well as areas missed out in the first vaccination round.
He requested dog owners to get their pets vaccinated and licensed to show the dog is registered to an owner.He said the Municipal Council was controlling dog populations through spaying and neutering and is clearing dumped garbage. He also said the CMC is planning to educate older people as it is mostly older people who suffer dog bites.
The rabies virus travels through the nerves and multiplies in the brain, destroying brain cells, Dr. Dharmawardene said.
"The rabies virus is one of the most fragile viruses known to man. It only enter a body of a human through a bite of an infected animal, skin abrasion licked by an infected animal, or the virus coming into contact with mucous membrane," he said.
Dr. Amila Gunasekera, Medical Officer in Charge of the National Hospital's Anti-Rabies Unit said the number of deaths due to dog bites has decreased to fewer than 20 a year but the number of incidents of dog-bites has not gone down.
He said most dog-bite patients were bitten by street dogs that they feed and keep as guard dogs outside their gates.
"Many people love to be dog owners and feed street dogs but will not provide shelter, love or medical care and end up getting bitten. Everyone who feeds a dog is an owner and should be responsible for the dog as well as the safety of society and himself," Dr. Gunasekera said.
He advised a dog bite victim to ascertain whether the animal was wild, stray or owned and whether it has been vaccinated. The patient should wash the wound with soap and visit a medical doctor. The doctor would examine the gravity of the wound, its proximity to the brain, get details about the animal and decide on treatment.
"The anti-rabies vaccine is a six-month treatment and does not create lifetime immunity so if a person is bitten by a dog that has been vaccinated it would be best to see a doctor," Dr. Gunasekera said.