Galewala: Shocked residents recall principal turned ISIS member
By Chandani Kirinde in Galewala
View(s):
He was the principal of an international school in the bustling town of Galewala along the Dambulla – Kurunegala Road.
For two years, he taught English to some 70 students on the upper floor of a two-storeyed building. When the classes were over, he turned instructor to groups of students who learnt karate.
Mohamed Muhsin Sharhaz Nilam (37) was known only for those traits by students, parents and friends alike. One day in January this year, he bid farewell to all of them and declared he was headed for a pilgrimage to Mecca. No one heard of him since then until news broke out that Nilam had been killed in an air strike in Syria on July 12. He was being identified as a member of the deadly ISIS or the terror group fighting for the Islamic State of Iraq and Syria.
Muslims in Galewala, who knew him as teacher and karate master, are in shock but remain tight lipped. I spoke to the international school owner who recruited him. "A friend of mine who had been engaged with him in charity work in the Muslim community in several areas of the country recommended him and we hired him," he told me. However, he insisted that he should not be identified.
Even parents did not wish their identities to be known. One was in tears as he said, "We heard of the death of our principal sir."
Others were even more reluctant to associate themselves with Nilam. A sense of fear appears to have forced them into silence.
I learnt from conversations that Nilam was fluent in Arabic. He had studied the language while in Pakistan. This is in addition to Sinhala and Tamil. Before joining the international school in Galewala, he had served in Colombo as a teacher. Nilam did leave behind suspicions in some minds. He came to the international school in Galewala with a lap top computer and worked on it for long hours. No one, however, suspected anything was wrong.
"In mid-2013, a few months after he joined us, he left for Mecaa. He was offered a free trip there as he was engaged in charity work. He returned after about two weeks and there was nothing amiss," said a staffer at the international school. He also spoke on grounds of anonymity.
The staffer said, "In December last year, he asked for some money to take his parents on a pilgrimage to Mecca. However, later he had asked for his December salary in advance and left saying he would return before school reopens in January. In between he had paid a visit to the school when his assistance was sought to obtain some text books from Colombo."
Nilam, I learnt, lived with his wife and children in a rented house close to the Galewela town. We heard he has six children. Two of the children attended the same school. The entire family had left along with him last December.
The school staffer said "The only fault he had was that he reported late to school every day and this was a drawback. Other than that he was much liked by every one," the administrator said.H.M.J.Herath, the new principal said he had met the man once. "My granddaughter attends this school and sometime last year there was a function at the school to felicitate some students who had attended a karate tournament in India and had won some medals.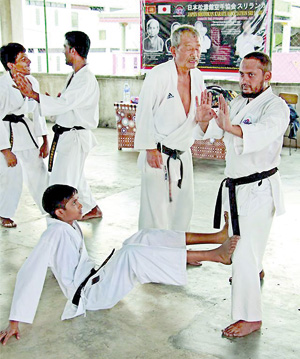 "Here we exchanged a few pleasantries but that is all the contact I have had with him," Mr. Hearth said. "He did not talk much with anyone but was polite to everyone," he said. In Colombo, the Muslim community reacted in shock. The Jamiathul Ulema said in a statement that they did not condone violence of any sort and said violence is unacceptable in any form in Islam.
A special Police team under DIG –Crimes Colombo has completed the preliminary investigations into the background of NIlam and have confirmed that the man killed in Syria was indeed one and the same person even though initially there were doubts about his identity. It has also been found that one of his brothers identified as Mohamed Aroos is working in Syria even though it has not yet been established if he too is a member of the ISIS.
They have also interviewed many of his acquaintances but they too seem to have been ignorant about his double life.
Police say the man had left for Saudi Arabia in the pretext of going on pilgrimage to Mecca and then crossed over to Syria. They are now working with the Foreign Ministry to establish how he may have made his way across to Syria. He had operated in Syria under the name of Abu Suren Silani and it is reported that news of his death was uploaded on the social media network Facebook by his brother Mohamed Aroos who has lived in Syria for around four years.
Meanwhile Cabinet spokesman Dr Rajitha Senaratne said Prime Minister Ranil Wickremesinghe has instructed the police to conduct a thorough investigation into the incident as the, "Government has a responsibility to inquire if there is a perceivable threat to the country from the ISIS or any other similar group".