Seeing colours and patterns in her mind
By Smriti Daniel
View(s):
When the bomb went off, it was on her side of the road.
Then a teller at HSBC, Nayana Ascharya Peiris remembers that they took the usual route home after a long day of work. Her fiancé was at the wheel when the suicide bomber discharged her lethal burden. Nayana took the brunt of the explosion, shrapnel shredding its way through her body and into his beside her. The bomb which killed 21 people that day in March 2000 was intended for the then
Deputy Defence Minister, Gen. Anuruddha Ratwatte. Nayana and her partner were among the 46 wounded, she the more severely of the two. The 20-year-old was rushed to the ICU at the General Hospital in Colombo, where she spent the next three days swinging in and out of consciousness. It would be many months before she accepted the grim truth, that the damage to her optic nerve had left her blind.
It's difficult to imagine a narrative arc, which in the present day, would place Nayana on a catwalk in an upscale Mount Lavinia hotel. She was teller at HSBC before she lost her job (and her fiancé) to her disability. Her dream though, had always been to be a designer. It's why she picked up the phone to call Zainab Ammarah when she heard an advertisement calling for entries for Sri Lanka's Up & Coming Fashion Designer competition. Accepted as one of the competitors, Nayana has seen her designs take her from the quarter finals and into the semi-finals, until last Sunday models wearing her clothes took the ramp in the finals.
When we meet her it is on the eve of the big show. Our interview is interrupted by calls to the tailors, to whom Nayana gives exquisitely precise feedback. They'll all be working through the night to be ready in time for tomorrow. For the first time, she's relying on someone else to draw her designs for her – usually she relies on her ability to describe precisely what she wants to a seamstress.
It's difficult because she's not certain they've nailed her vision, but the drawings are a requirement of the competition and no allowances have been made for her. She's fiercely proud of that, and of having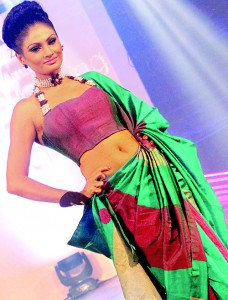 made it this far."Pity isn't a qualification," she says. In fact, the compliments she seems to cherish most deeply are the one that question whether she is in fact blind. How is it, ask sceptics, that she can match colours so well? How can she tell if a design works or it doesn't?
Nayana's answers necessarily leave much to the imagination. It boils down to this: in her mind, she holds all the colours and patterns she needs. She continues to design with all her other senses, spending hours choosing colours and textures and even dressing a model in her head, well before needle ever meets fabric. She even accessorises the outfit, putting a talent for designing jewellery to good use. It's an art that requires complete focus and peace of mind, and she credits her faith with having gifted her both. Her trust in God has turned her weaknesses into strengths, says Nayana.
It's a transformation 14 years in the making. As a young woman, Nayana says she was abandoned by her family. The kindness of strangers has kept her afloat through the years – people like Lalith Kotalawala who supported her in numerous ways – as well as friends who saw her through the worst of times. She now lives with the Jayakody family who treat her as their own daughter, says Nayana. Over time, she's learned to be independent enough to keep a house on her own and feed and clothe herself – something which would have been a challenge even had her sight been fully restored. To be given this chance to fight for her dream seems nothing short of a miracle.
Every victory has her wanting more. She lifts her lids to show me clear, undamaged eyes. In theory, if the hurt to her optic nerves could be undone, her sight could be restored. It's a hope she won't let go off. "One day I will wear a pair of shorts and a t-shirt and buy myself an ice cream cone. Then I will walk all the way from Colombo to Negombo. I won't stop looking around me. People might think I belong in Angoda Hospital, but I will see trees again," she says.
Last Sunday, she won an award for the Most Dedicated Designer in the competition. It's something of a disappointment, since she was hoping for more, but it honours Nayana's spirit. We haven't seen the last of her.