Appreciations
View(s):

Ashley Francis Tisseverasinghe

Large of heart and blessed with large volumes of love and caring

For when the one great scorer comes to write against your name
He writes not that you won or lost, but how you played the game
On a rainy, stormy night in the middle of May, my brother Ashley departed this world. Two weeks before he left, he quoted this verse to me. At the time he was in immense physical pain; his body ravaged by the illness that was consuming him even as we watched helplessly. But despite the pain he was facing, he portrayed his unflinching characteristic bravado. Complaining about his situation was not part of his makeup. He lived by this verse, and in the end, rasping and almost breathless, in farewell, he quoted it for the final time to me.

I have struggled with how to remember my brother. I have searched for a keystone upon which to build perspective about his death. I have searched for the words to describe this person. With a friend, it is shared experience and love, with a parent, shared heritage. But with a brother, it is all of these, and more.

The most fitting description would be the simplest – my brother was a large person: large of proportion, large of heart, blessed with large volumes of love and caring, filled with a large capacity to entertain and help all who needed him and at the end gifted with the largest capacity to endure physical pain. I cannot remember him complain even once about the multiple health setbacks he experienced. Each time I asked him how he was feeling, the inevitable answer was "I am fine". Inwardly, I wanted to scream "No you are not" but silently, and with great admiration for his spirit I reluctantly almost agreed with him.

Our childhood spent in Nawala was one of immense joy; idyllic days spent in carefree abandon never imagining the course our lives would take with their twists and turns – exhilarating highs and gut-wrenching lows. Ashley was the neighbourhood "hero". All the neighbours came to him whenever they had a problem. The problems would be manifold – a nocturnal thief stealing their fruit or the bottles of milk on the doorstep or a request for Ashley to see if their daughters were talking to boys at the bus stop. Ashley obliged willingly – he usually caught the thieves by the scruff of their necks and also lectured to the errant neighbourhood girls about the repercussions of having starry-eyed conversations with schoolboys at the bus stop. Needless to say he was very popular with all the "Aunties" and "Uncles" but feared by the ditzy young girls bursting with unfulfilled romantic dreams.

I can choose to remember him as an adult, when we struggled to reconcile our common relationship in the face of diverging aspirations and goals. He was a friend to many. A true socialist at heart, Ashley thought nothing of entertaining people of all social levels in our home, much to the horror of my father who was stuck in the prevailing elitist rut of the times. He was a worshipper of liberty, a friend of the oppressed. He believed that happiness was the only good, reason the only torch, justice the only veneration, humanity the only religion, and love the only priest.

I can choose to remember him as a peaceful man, in love with the world and all its creatures, when I was amazed by his unswerving devotion to justice, and humanity. My brother was my hero; I measured my friendships with men using him as a standard, sometimes to my bitter disappointment. He ventured further into the world than I did at the time, and knowing the inevitable snares, he protected me fiercely – often to my intense irritation. He could not bear to see me sad or pensive, he would not leave me to deal with any adversity by myself; instead be there to offer his guidance and help. He advised me and admittedly, I sometimes interpreted that advice as orders.

Ashley was a proud Royalist. He had an inexplicable love and pride for his school Royal College. As the end of his life approached, his loyal friends rallied round him pitching in immeasurable levels of assistance willing him to live just that while longer.

Ashley was the perfect family man. He had immeasurable love and devotion for his wife Sandra and his children Johann and Kayshelle. This brave and tender man in every storm of life was oak and rock; but in the sunshine he was vine and flower. He was the friend of all downtrodden souls. He sided with the weak, the poor and wronged, and lovingly gave of whatever he had.

My brother bore his illness with tremendous dignity. Although a friend to many, Ashley was often his own worst enemy. Never believing his mortal body would fail, Ashley sauntered through life with his unique brand of joie de vivre, childish naiveté and readiness to have a great time. He was devoid of guile, to the point of often being painfully immature.

I can bear my sadness by believing that Ashley had not passed the stone on life's highway that marks the highest point; but being weary for a moment, he lay down by the wayside. Then, using his burden for a pillow, fell into that dreamless sleep that gently eased his eyelids down still. While yet in love with life and enraptured with the world, he passed to silence. The record of a generous life encircles like a vine around the memory of our dead, and every kind, unselfish act my brother was known for blooms now heady like a perfumed flower.

Your journey these past years has been a long and hard one. Thank you for being my brother ~ I will always love you and cherish you. These words are my uninhibited thoughts laid bare in a tribute to you ~ I cannot imagine my life without you in it here. And I choose to remember, that in this longest climb of all, this climb to find meaning, and forgiveness, and peace with his death, that he is once more connected to me by an immortal line, and once again we face a common goal – togetherness in eternity.

You are already missed beyond belief. Words cannot contain my love.

There was, there is, no gentler, stronger, manlier man.

-Andrea

Rev. Sr. Hilariana Fernando

You will always be in our prayers

Sr. Hilariana was a friend from schooldays and our friendship lasted till she breathed her last on December 14 last year.

Sister Hilarina was born to a family of teachers from Wennappuwa. Her parents and two sisters were teachers. Their father left this world leaving his four young children under the care of their mother, who was a disciplinarian in school as well as at home.

Sister Hilarina had her education at Holy Family Convent, Wennappuwa, where all of us were brought up to be good citizens.

A few years after leaving school, she joined the Good Shepherd Congregation at Nayakakanda Convent, and after my marriage I came to reside in Hendala close to the convent and visited her occasionally. When I used to feel down and visit her she used to encourage me by saying, "Don't get depressed, trust in God and prayer." Yes I will follow her advice to the end.

Sr. Hilarina has gone to her eternal rest. Those whom she left behind, including me, her family members and the Rev. Sisters at the Good Shepherd Convent will miss her.

Goodbye dear Sister, your unexpected departure has created an unbearable pain in me. I shall miss you, your occasional visits to my home, and your cheerful voice over the phone.

May the good Lord bless and keep you, dear Sister.

-Marni Perera (nee Boteju)

P. S. Duleepkumar

A warm and compassionate man

A tribute, by Bradman Weerakoon at the Memorial Service for P. S. Duleepkumar at the Chapel of the Transfiguration, Mount Lavinia on June 20, 2014

It is a privilege to speak on this sad occasion, on behalf of you, and the many relatives and friends of Duleep gathered here, in which we commemorate and celebrate his many – splendoured life of over 83 years.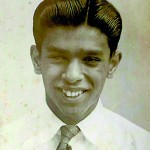 I do so, with particular sadness as a friend and colleague of Duleep's of over 70 years. We were 12 years old when we met for the first time at Miller House here at STC in 1942. We moved to Gurutalawa and grew up together, sharing our lives in the place we called our home thereafter; a place which is also home to so many of you gathered here this evening to honour him. We not only lived those most important years – growing up, together as brothers – in that unforgettable setting for a School, but also had our first paid jobs as amateur teachers, at Gurutalawa after our school days, under those legends Dr. Hayman and Father Foster.
For many years thereafter, until age and health intervened, Duleep took a deep, personal and unrivalled interest in all the manifold aspects of the life of the school. For many of us, whom the School had nurtured, the interest was there and real, but only spasmodic. For Duleep, like in everything else he did, it was complete, constant and totally committed.
He saw Gurutalawa as the crucible in which the uncreated conscience of
young minds would be forged.
In the early forties, we were, its Chariots of Fire, training up and down its hills and valleys, for the Big Race; – of Life. We were the pioneers in a new land of endless opportunity.
Duleep had a deep love of learning. Everyday was a new adventure filled with new information and knowledge to be absorbed – whether it was intellectual, artistic or physical. In many ways he was the real, authentic, Renaissance man among us.
He took this passion for learning, to the young men whom he had the privilege to guide as a teacher. The moving tribute that Chandran Rutnam paid him in a recent piece to the newspapers -"To Sir with Love' – reflects the powerful impact Duleep made on the spirit and minds of the young wards in his charge.
He carried this same spirit of curiosity and learning into his professional life as a high official in the Inland Revenue and in later life as a much sought – after Tax consultant. Much of his service was rendered gratis. At no charge.
Many wondered why he never married, unlike so many of his friends. In his usual manner – and he had a wonderful sense of humour – he would say he was married to so many things like, the School and Work that he had no time for a wife. But the real reason was, that he wanted to look after his mother who had done so much for him. He literally gave his life to look after her. And it was wonderful to see the bond between them, and his twin brother.Shanti (20 mins ahead at birth and (as Duleep would quip), 'and most of the Time too', as long as he, Shanti lived.
The twins were inseparable and matched each other. One was just as good as the other .
His last years were painful, mentally more than physically, as he took on himself the sad plight of what was happening of his people, with whom he identified closely- the Tamil people –in the North and East.
He had great faith in Anglican Christianity and practised it devotedly; but never flaunted it. He read widely, was a wonderful speaker and wrote like an angel.
We celebrate his life, but mourn his passing, as a warm and compassionate human -being. He was a loyal Thomian – 'staunch and true'; a worthy Sri Lankan and in many ways a living legend of our times.
His passing marks the end of an era. We shall not, see the likes of him again.
May he rest in peace.
E. P. Paul Perera
A father figure to some, a mentor to all
June 29, 1929 an inspiration was born. E. P. Paul Perera, a wise and witty gentleman valued the intricacies of life, religious beliefs and justice pertaining to the law. He also had many careers, from a Secretary at the Port Cargo Corporation to being the Minister of Science and Technology; personally however, I feel that the one occupation he never failed to excel in was being an admirable father figure, and eventually a proud grandfather.
E. P. Paul Perera in youth was a studious and determined individual advancing from studying at Maris Stella College to eventually being enrolled into the University of Colombo, earning a Bachelor in Arts and Honours with History. Not only was he a diligent hard worker, but also a fine athlete who participated in sports such as cricket, football and athletics. His first occupation was of being the Assistant Archivist at the National Archives, and his honourable ultimate occupation was holding the title of Minister of Lands.
A man who consistently balanced his work life and personal life, he always managed to retain family and religious customs whilst also serving the country and its' people. He was recognised as being highly knowledgeable in Sri Lanka's history, practising and teaching the cultural ways to all; obtaining his own wisdom through personal experiences and beliefs. It is said that whilst during one of his many family vacations within the country with his beloved wife and five children, he had delivered an apothegm that goes by the words of, "Life is like a raindrop that falls from the heavens onto a mountaintop and joins a river which runs through forests and paddy fields serving the needs of all earthly beings, and flowing into the ocean, and returning to the heavens." Such an aphorism makes it evident to all that he was an extremely wise and astute person.
Being one of the nine grandchildren of E. P. Paul Perera, I always look up to him as motivation as every single anecdote I hear about him strengthens the flame of his memory and love in me. One specific trait I feel that will forever connect us both is our love for football and general sports. It is said that he had journeyed to India to play football representing his university team, much like me who had also recently travelled to India to play football whilst representing my school. His powerful actions and words influenced many, including me as an individual. He created an ever burning flame in hearts that will not cease to burn out as his loving memory will forever continue.
"History has its truth, and so has legend. Legendary truth is of another nature than historical truth. Legendary truth is invention whose result is reality. Furthermore, history and legend have the same goal; to depict eternal man beneath momentary man."   Victor Hugo, Ninety Three
Rest in peace, Seeya.
-Mayuri Perera
Ruby Ellawala Meedeniya
An empowered woman and proud Sri Lankan
Thoughts and memories of Ruby Ellawala Meedeniya run like quicksilver through my mind, much like her own personality.
Close to half a century ago, as young mothers, Ruby and I became involved in the pre-school activities of our children. I remember how we stitched costumes and rehearsed the little ones for their first major roles in the Christmas Pageant that year – Her son as Saint Joseph and my daughter as Archangel Gabriel.
When our family became part of Ruby's extended circle of friends, I watched Ruby grow in dignity and grace. Perfectly at home in jeans and tee shirt or a redda-hatte combo, Ruby could also transform herself into an elegant Kandyan aristocrat in Osariya, with a Borichchi sleeved jacket and traditional jewellery.
A distinguished scholar and award winner, Ruby was appointed School Captain of the Convent of the Child Jesus in Ratnapura in her final year.
When they lost their mother at a comparatively young age, Ruby became a surrogate mother to her younger sister Ellen (Lavo). Fiercely protective of her children, Dinali, Tikiri and Cuda, she left them a virtual legacy of fundamental Christian values, family traditions and concomitant obligations. Her compass also included her husband, her siblings, a multitude of friends and relatives as well as aged family retainers.
The impulse to reach out to those disadvantaged made Ruby organise English language classes for children in her own village in Ruwanwella as well as in a little hamlet in Batticaloa. Here, the call of the East Coast was so compelling that she went back time and time again.
Ruby was one of the most empowered of women when the word 'empowerment' was not trendy. A proud Sri Lankan, Ruby neither wore blinkers about the state of the nation – nor was she content to live in the shadows.
The causes she espoused so passionately were many and varied – political, environmental, educational – you name it – and Ruby would be there to take a moral stance. Neither complaisant nor cynical, Ruby was driven to make a difference, to bring about change. It was in this spirit that she initiated the "Jana Sugathiya" a fluid body of like-minded friends and relatives, holding accountable the local government bodies – whether it was waste disposal, broken pavements, coastal squalor, or any other issue.
Ruby occupied a space between privileged gentry and social democrat. One memorable May Day, Ruby and I marched along Galle Road with JVP cadres, and sitting on the grass at the Colombo Municipal Grounds, we listened enthralled to Rohana Wijeweera, one of the most charismatic and unrivalled political orators at that time. Years later both of us were at Lipton's Circus with a group of concerned citizens canvassing public opinion against the manner in which selected Tamil families had been forcibly evicted from their rented apartments in Colombo.
Ruby's heightened sense of social awareness also led her to visit relocation camps in Anuradhapura for survivors of terrorist attacks and be among the first responders to help those displaced by raging floods in Ratnapura. In a bid to avert cold and fever particularly among the young and the aged, Ruby organised cauldrons of inguru kotthamalli (a ginger and coriander beverage) to be served to them. These experiences left her with profound sadness at the scale of human suffering and took a toll of her health – physically and emotionally.
Four years ago, I was privileged to help Ruby plan a Service of Thanksgiving to honour her beloved parents, her parents-in-law as well as close kinsmen who had passed away. In a moment of prophetic insight, Ruby called the event her "Swan Song."
Ruby's free spirit and oneness with nature is best captured in Mary Elizabeth Frye's poem, which over the years has been set to music and become part of the final farewell to loved ones – bringing a measure of solace to those bereft.
"Do not stand at my grave and weep
I am not there. I do not sleep.
I am a thousand winds that blow.
I am the diamond glints on snow.
I am the sunlight on ripened grain.
I am the gentle autumn rain.
When you awaken in the morning's hush
I am the swift uplifting rush
of quiet birds in circled flight.
I am the soft stars that shine at night.
Do not stand at my grave and cry;
I am not there. I did not die.
Ruby Constance Maria, may you forever live in the hearts of those whose lives you touched so meaningfully.
- AntoinetteThiruppathy