People and events
View(s):

'Laughing Waters': Humour and fellowship for ladies

By Dhananjani Silva

A burst of laughter marks the beginning of the June gathering of 'Laughing Waters.'

Laughing Waters- a project that brings together housewives, retired and working women of different age groups, different nationalities and those from different walks of life, for fellowship, as its name suggests, is also a day when they let go of their daily routine for a few hours to share jokes and laugh to their heart's content.

First initiated in Kandy by Siromi Unamboowe Udurawana in 2000, this Laughing Waters project, an approved social welfare society made its way to Colombo a little over one year ago. Referring it to as a very 'happy little organisation,' Siromi says their objective is to spend a few hours in a relaxed manner and to laugh as much as possible to energise themselves. Members take turns to host the meeting at their homes and each group member prepares a mouth-watering dish to share with others. They exchange jokes, read out funny emails, come up with fun games, and finally share the neatly wrapped small tokens they have brought to the meeting among each other.

Reminiscing how it all started, Siromi says, in 2000 when there was much hype about the end of the world and people were full of gloomy stories of impending disaster, she realised the need to be happy and enjoy life to the fullest. Siromi got down a few of her friends to her Kandy home to have a little bit of fun. "That day we had a really good time, laughing and joking that we thought we should continue the activity more often," she says adding that, although they have a good laugh, leaving out gossip is their strict policy.

Monthly sessions apart, they go on three or four excursions per year and also engage in various charity projects.

Siromi begins the June meeting by reminding members of the importance of body movements when they laugh. A year ago, she had met a doctor who is attached to a similar laughing club in New Delhi who told her that when laughing, having body movements is important as it energised the blood circulation.

The Colombo branch has about 30 members while the Kandy group headed by Sashi Stephens has about 45 members. The Kandy branch, has carried out many social welfare activities from helping sick school children and the disabled to empowering women on self employment.

For the members, their monthly meeting is a date they look forward to. Lilamani Sirimanne, a retired teacher said she joined about one year ago and enjoys the break from her daily routine to do something out of the box and relaxing. Sunila Wettamuni, a member from the inception said that the projects have brought them immense fun and this is a nice way of spending a morning, while making new friends.

Their commitment to make the monthly meeting happen somehow was obvious from the host Ayanthi Wanniarachchi who said that she made arrangements at her residence for the meeting while juggling a baking order she had undertaken for the evening. "Regardless of my work, whenever I have time, I join the activities of the organisation as it keeps me going," she says.

It is only her second meeting but Nelun Mather finds it a great opportunity to meet people from different age groups and share different opinions and views.

In Sonia Vitarana's words, this programme makes her feel young at heart and is a perfect fit for her witty nature and love for humour, which has even made her win several humour contests. Sonia who is retired says she is passionate about getting involved in charity work as well.

Colombo Fashion Week conducts 'CFW Day' at University of Moratuwa

Colombo Fashion Week (HSBC CFW) recently hosted its third CFW Day at the University of Moratuwa, Sri Lanka, one of the country's leading technological higher education institutes.

Said Ajai Vir Singh, President, Colombo Fashion Week, "CFW is single-mindedly focused on enhancing the Sri Lankan fashion design industry. We have always felt the need to invest more in young talent and we personally take young people through real life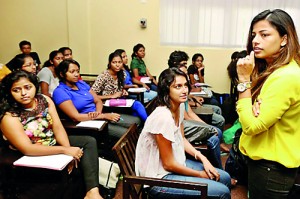 experiences in the marketplace. We are very excited about CFW Day events and BrightSpark shows. With God's grace, the Sri Lankan talent pool will increase with this project as we expose young designers to more skills and experts from the industry."
Dr. Nirmali De Silva, Senior Lecturer, Department of Textile and Clothing Technology, University of Moratuwa, Colombo described it as a "a great learning experience which inspires our students and helps them build their careers."
"After a very successful first event on campus we believe that initiatives such as CFW Day truly do contribute towards helping our designers develop their potential," she added.
Last year Colombo Fashion Week developed CFW Day to expose fashion students to the various aspects of the fashion industry. The first CFW Day was held at the University of Moratuwa in December 2013 and the second CFW Day at the Raffles Design Institute, Colombo.
RASS lecture
'Ehelapola  Maha  Nilame and His Fellow Prisoners in Mauritius'
"Ehelapola Maha Nilame and His Fellow Prisoners in Mauritius: Less-known Facts" is the title of the lecture by Dr. Raja Bandaranayake, Visiting Professor and International Consultant in Medical Education on Monday, June 30 at 5 p.m.at the Gamini Dissanayake Auditorium, No. 96, Ananda Coomaraswamy Mawatha, Colombo 7. This lecture presented by the Royal Asiatic Society of Sri Lanka is open to all.
After briefly recapping the antecedents of the rebellion of 1817-1818 in the Kandyan Kingdom, attention will be focused on the first batch of exiles sent to Mauritius. The arrival of Ehelapola Maha Nilame in Mauritius in 1825 and his initial relationship with his compatriots will be alluded to.
Reference will be made to the relatively comfortable life led by Ehelapola until his terminal illness, the circumstances of which and his death and obsequies will be presented in detail.
Celebrating the Queen's birthday with the British Higha Commission and Land Rover
The British High Commission hosted a cocktail evening to celebrate the 88th Birthday of Queen Elizabeth II in Colombo. Land Rover was a proud sponsor of the evening.
Land Rover holds a royal warrant, as supplier to the royal household enabling it to use the Royal coat of arms and the words 'By Appointment to…' Land Rover holds all four Royal warrants – to the Queen, the Duke of Edinburgh, Prince Charles and the late Queen Mother. The relationship has been cemented by some iconic models over the years, including the famous 1951 Land Rover, said to be one of the Queen's favourite vehicles.
The car was used by the Queen and Prince Philip on their six-month Commonwealth tour of 1953-54. The Queen – and her new Land Rover – covered 50,000 miles visiting New Zealand and Australia, Africa and Sri Lanka.
"Land Rover was granted its first Royal Warrant in 1951, a year before the Queen ascended the throne. We are honoured and delighted to be celebrating this long and unbroken relationship by supporting the Queen's birthday celebrations in Colombo. The association of our vehicles with the Royal Family is appreciated by our customers around the world and here in Sri Lanka," said Managing Director, SML Frontier Automotive Sheran Fernando.
WISTA  to launch in Sri Lanka 
WISTA (Women's International Shipping and Trading Association ) is a networking association for women in the Maritime industry, facilitating contacts, information and experiences among its members. WISTA also promotes and facilitates the education of its members and provides liaison with other related institutions worldwide.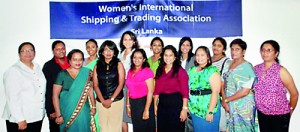 Sri Lanka will join this global network when WISTA Sri Lanka is launched on July 3 . Shehara Jayawardena (Mclarens Holdings Ltd ) has been appointed President of WISTA Sri Lanka , with Diruni Chanmugam of Shermans Logistics as secretary and Hannelore Baldsing (Mitsui O.S.K. Lines) as treasurer.
The Association will have a formal launch on July 3. WISTA Sri Lanka has many plans to encourage women in shipping and related fields in Sri Lanka.
See also www.wista.net
Amante hosts 'Indulgence Sunday' for Old Bridgeteens 
Old Bridgeteens reunited for 'Indulgence Sunday' hosted by lingerie brand, amanté, at its Racecourse Mall boutique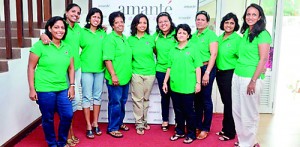 recently.Organised in collaboration with the St. Bridget's Convent Past Pupils Association (SBC PPA), the ladies were treated to an eventful day of glamour and pampering. The event brought together old friends, mothers, daughters and even grandmothers.
The ladies were eligible for special giveaways, savings and exciting promotions from amanté, special savings on lingerie, active wear, swimwear and sleepwear as well as a lucky dip competition. Lucky winners were treated with gift vouchers from other high end lifestyle partners in addition to vouchers from the amanté boutique.
A Hollywood style photo corner, complete with a red carpet and professional makeup artists, added further glamour. Photographs were compiled to create an upbeat show reel featuring the highlights of the day. The show reel was shared on the SBC PPA Facebook page where it enjoyed wide appeal.
'The Beauty Lounge' now open
A new hair and beauty salon and spa 'The Beauty Lounge', run by Suresh Ranaweera and his fiancé Corina Foenander was opened on Saturday, May 17 by MP Ruwan Wijewardene. Open seven days a week and catering to men, women and children, the Beauty Lounge is conveniently located at the Otter Aquatic Club down Bauddhaloka Mawatha, Colombo 7.
The spa area is just alongside the pool to create a relaxing atmosphere for pampering foot, head, shoulder, back and body massages.
For more information, contact 0777 161 539 or 112 693 330.