Masks for Mid-East virus threat
By Nadia Fazlulhaq
View(s):
The Sri Lanka Foreign Employment Bureau (SLFEB) is to distribute 50,000 face and nose masks for those travelling to Saudi Arabia and conduct awareness programmes for families of migrant workers and pilgrims on the Middle East Respiratory Syndrome coronavirus (MERS-CoV), a viral outbreak in Saudi Arabia that claimed about 40 lives last month alone.
Last week, health authorities in Saudi Arabia and Malaysia reported deaths from the virus while the United Arab Emirates (UAE), Jordan, Egypt, Greece, Yemen and Philippines reported cases of MERS.
The Health Ministry in Saudi Arabia said 371 confirmed cases had been reported in that country, including 107 deaths, since the illness was first reported in 2012.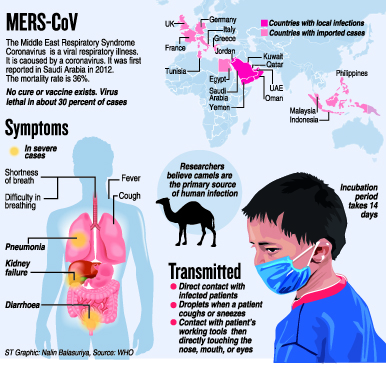 Of this number about 40 deaths and more than 150 cases were reported this April with Riyadh, Jeddah and Mecca reporting highest number of cases.
"By next week the masks will be distributed by the Foreign Bureau as a safety precaution. Those residing or working in the Middle East, especially in Saudi Arabia, should be extra vigilant. We have asked families to continuously remind their family members of preventive measures," SLFEB Additional General Manager Mangala Randeniya said.
The Health Ministry's Epidemiology Unit, Foreign Employment Bureau and Civil Aviation Ministry have joined to create awareness programs and take preventive measures.
The Epidemiology Unit Chief, Dr. Paba Palihawadane, said anyone arriving back in the country after travelling to the Middle East who is suffering from flu-like symptoms such as fever, coughing, pneumonia, shortness of breath, mucous and, in some cases, diarrhoea and vomiting should immediately visit the closest government hospital and produce their passport to the medical officer.
"Recent travellers to the Middle East, migrant workers, pilgrims are at high risk. All hospitals have been briefed about the MERS coronavirus. The Muslim Affairs Department and the Foreign Employment Bureau too have been told to give out information on preventive measures," Dr. Palihawadane said.
The virus is transmitted through direct contact with infected patients, droplets from coughing or sneezing, or contact with stools.
Healthcare providers in Saudi Arabia are advised to maintain vigilance, with Jordanian and Sudanese doctors, Filipino pharmacist and nurses, Bangladeshi and Indonesian patients in hospitals contracting the viral disease. Sri Lankans working in hospitals or who are being treated in hospitals, and those working as sanitary workers and cleaners are advised to be extra careful.
Dr. Palihawadane said as the WHO does not advise special screening at entry points there is no medical screening at the airport but leaflets are distributed to those travelling to the Middle East.
She said elderly people and those with chronic medical conditions such as heart, kidney and respiratory diseases and diabetes are at particular risk of contracting the virus.
The WHO advises safe food and drinking precautions, avoidance of close contact with wild or farm animals such as bats and camels, thorough washing of hands, minimised touching of eyes, nose and mouth and the use of hand sanitisers as well as proper cough and sneeze etiquette.
As there is no vaccineagainst the virus, intake of fluids, plenty of rest and a healthy diet is essential to improve the body's immunity system.
The Saudi Arabian Health Ministry has requested those travelling to Saudi Arabia for Hajj or Umrah to wear masks.