Hi-tech Kelama turns into Kolama
View(s):

The mood could be likened to the launch of a spaceship by the US National Aeronautics and Space Administration (NASA) from one of its facilities in Houston though the purpose of the local exercise was quite limited.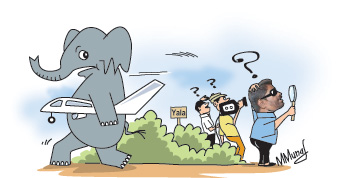 It was the launch of an unmanned, less sophisticated version of a drone over strict natural reserves of the Ruhuna National Park or the Yala sanctuary. The battery operated 'spycraft' made locally with Malaysian technology had cost the Government Rs. 300,000. Wild Life Minister Wijithamuni Zoysa held a pre-launch news conference to explain that the 'eye in the sky' micro aircraft named "Kelama" was to track down poachers, ganja (cannabis) cultivators, illicit timber fellers and other intruders.
After trial runs, Mr. Zoysa and a battery of media personnel were at Yala to see the ceremonial launch of Kelama. It lifted off majestically and the person who operated the remote-control guided it through dense jungle areas. Those on the ground believed that the on-board camera would have obtained valuable footage of some of the areas not often traversed even by trackers.
Then, those present at the launch site kept looking into the sky, like what curious star-gazers would do. There were no signs of Kelama returning to base. Hours later they were forced to give up. Minister Zoysa held another news conference, this time to appeal to the public to inform the nearest Police Station if Kelama was found. Since there were no recovery plans for a maritime search, the appeal also extended to fishermen in the southern seas. Yet, neither Minister Zoysa nor his officials received any information on the fate of their own unarmed drone.One witty guide at Yala was to quip that Kelama, which literally means tales had turned into a kolama – something comical.
---
President's fire over fuel stations
President Mahinda Rajapaksa, who is also the Minister of Highways, has ordered action against previous bidders who failed to establish a fuel station at Welipenna along the Southern Expressway.  He has also directed that his Ministry officials lease out two plots of land (on either side of the expressway) at Welipenna for the two fuel stations.
---
President not bothered about Geneva
There were some informal moments too when President Mahinda Rajapaksa chose to meet some 17 members of the Foreign Correspondents Association on Friday afternoon. One came moments before a group photograph was taken on the rear steps of Temple Trees. "Sir, Mokadda mey Geneva kala baley," (What is this fuss about Geneva?), asked one foreign correspondent.
"Mama Kalabala welaa nehe. Mama kivva GL tath yanna epai kiyala," (I am not disturbed. I told even GL (meaning the External Affairs Minister) also not to go.
"Meva ithing foreign trip gahanna ney. Ekata egollo kemathi," (This is to make foreign trips. They like it), he quipped. What about the outcome in Geneva, he was asked. The reply "Eka podi black mark ekak vitharai" (that is only a small black mark). Another asked Rajapaksa when the Presidential poll would be held. He first said he had not thought about it. He then said it would be in 2016 and added that earlier on Friday, he had also told the Cabinet of Ministers about it.
People pay for Malaka's antics
Weaving through bumper-to-bumper traffic on Park Road, Colombo 5, two agitated men with walkie-talkies struggled to clear the road.  They wore black trousers and beige shirts with the Ministerial Security Division (MSD) logo on the pockets. 
The sun blazed overhead. People sweltering in their cars swiveled around to see who this minister was that wanted the traffic shifted for him to pass through. It was no minister! It was Malaka Silva, the son of Public Relations and Public Affairs Minister Mervyn Silva. He was sitting inside a red, unregistered jeep driven by a female friend. He smiled as his MSD minions, paid for by public funds, darted here and there in desperation.
The jeep sped way when his lane cleared. Seconds afterwards, the men were seen running through the streets in its direction. It's a mystery why MSD officers are assigned to a man whose is merely the progeny of a not-particularly-productive minister. Sources tell us that Malaka regularly uses the services of these personnel. They say that, outside the block of flats where he lives, there is a stream of unregistered posh cars, changed daily. He also reportedly has a clutch of bodyguards who carry walkie-talkies.
You always know when Malaka is coming down from his flat because the bodyguards are in a state of slight commotion with the walkie-talkies being walked furiously. Whenever Malaka gets into the news headlines, policemen are also stationed at the block of flats, sometimes for weeks. Again, who pays? But there haven't been any policemen for a while. This only means one thing-that Junior has kept himself out of trouble.
---
Some lessons for Education Minister
Education Minister Bandula Gunawardena introduced Engineering Technology as a subject for the GCE Advanced Level. Now his Ministry has realised that there are not enough teachers to teach the subject in schools. As a result, the Government has decided that until permanent cadres are recruited, retired Engineers and Technical Officers holding diplomas be recruited on a temporary basis for six months. They will be absorbed into schools close to their residences.
They are to be paid an allowance of Rs. 6,000 a month. The Cabinet of ministers has directed that when the Minister of Education introduces new subjects in the future, he should ensure that there is suitable "pre planning" taking into consideration the human and physical resources.
---
Hijab lady to woo West Asian countries in Geneva
That professionals in the Ministry of External Affairs, the primary institution responsible for the conduct of Sri Lanka's foreign policy, are fast becoming an endangered species is no secret. It has no doubt set a serious poser with the opening tomorrow of the 25th sessions of the UN Human Rights Council in Geneva. As is well known, Sri Lanka is facing a third negative resolution from the United States.
Who should go from the Ministry of External Affairs? The answer would naturally be a competent team well versed in the intricacies of diplomacy and the gift to engage others harmoniously. Those who believe this would be the case are in for some disappointment. Kshenuka Seneviratne, External Affairs Ministry Secretary and Ravinatha Ariyasinha, Permanent Representative at the UN in Geneva, have picked only one single official — a junior most in the Ministry. She is neither involved in work related to the UN Division nor the Human Rights Division.
The young lady created her own record in the Ministry by being the first to wear a Hijab at the Foreign Office. She has now been given a new designation — Assistant Director of the Europe Division. None of the directors is included in the Sri Lanka delegation prompting one to remark rather sarcastically that the young lady was included to win over the votes of West Asian countries. "This is what happens when monitors run a class where there are no teachers and no principals either," he added.
It is the Attorney General's Department that is sending a contingent to Geneva. The External Affairs Ministry will have the Minister, his valet and the lady with two years' service in foreign affairs.
---
New lobbying firm gets through 11 US Congress members
A new lobbying firm hired by the Sri Lanka Embassy in Washington DC has been successful in having eleven Congressmen moving a resolution in favour of Sri Lanka. The resolution has now been forwarded to the House Foreign Affairs Committee.
"The Resolution calls on the United States Government and the International community to offer meaningful assistance to the Government of Sri Lanka to make its domestic endeavors toward reconciliation more effective, while respecting the country's sovereignty, stability and security," says a statement from the Sri Lanka Embassy. The resolution will have to pass muster at the House Foreign Affairs Committee to get into any Congress agenda.
---
Spoilt food and horrible English at grand show
The Deyata Kirula exhibition which showcases Government's development activities was not without some minor glitches. Public Health Inspectors were on duty at the Kuliyapitiya exhibition site to check on hygiene at food outlets. One detection was startling. There were 400 kilogrammes of spoilt chicken, rancid boiled chick peas and worse enough, a chilling variety of sherbet. 
The latter had been made after crushing ice that had been used to preserve fish. Six people were rounded up and produced before courts for selling unhygienic food. Three more are evading the authorities.  And the English version of the official website of the exhibition had errors that would make even a GCE (OL) student blush. Here are a few:
From 'entertaitment', 'entairtment' 'imlemented', 'huge bycyle races', 'econimical', 'exhibiotion', 'theams' , 'accomedation', 'Auditrum' to 'Seniour', the website was full of spelling and grammar errors. Clearly no one has proof read website inputs before or during this grand state exhibition.
Whoever posted articles on the site, was not aware that it is agenda and not agenta, and continued mentioning agenta in several places.
Ministries too were mentioned incorrectly. It said a vast water supply scheme was opened by Deputy Minister of Water Supply and Water Drainage Nirupama Rajapaksa. They were unaware that it is the Ministry of Water Supply and Drainage.
---
Tamil first in Tamil areas
National Languages and Social Integration Minister Vasudeva Nanayakkara has made a far reaching recommendation to the Cabinet of ministers – the order in the placements of names of Government institutions to be based on their locations.
The move means that name boards of Government institutions in the North would first be in Tamil whilst in the South it would be in Sinhala.
---
More foundations for politicians
Barely a month passes without the Cabinet of ministers being called upon to approve the setting up of a foundation in the name of a Government politician.
The latest ones are the Mohan Lal Grero Foundation and the Chandima Weerakkody Foundation.
Draft Bills are to be tabled in Parliament for their incorporation.