Govt. to reject international probe commission; what next?
By Our Political Editor
25th UNHRC sessions open tomorrow; hectic lobbying ahead of crucial vote; text of US-backed resolution by March 20 Angry President tells Hakeem he can quit Govt., but minister rejects charges that he betrayed the country in report to Pillay President to meet Manmohan Singh in Myanmar; Gotabaya also going to New Delhi
View(s):
"If you cannot stay in the Government, you can get out," President Mahinda Rajapaksa warned Sri Lanka Muslim Congress (SLMC) leader Rauff Hakeem at Friday's re-scheduled meeting of ministers.
He accused Minister Hakeem of "betraying the country" in what seemed a simmering battle for months now with the SLMC, one of the UPFA's partners. Rajapaksa had been angered by allegations that the Muslim Congress was behind some of the lobbying of West Asian countries over attacks on Muslims or their establishments in Sri Lanka. Hakeem also stands accused of giving UN Human Rights High Commissioner Navi Pillay when she was in Colombo last year, a report detailing out attacks on Muslims and their establishments — a charge which he has denied. That the issue has re-ignited ahead of UN Human Rights Council's 25th sessions which begin in Geneva tomorrow, was to exacerbate the situation.
It was Jathika Hela Urumaya (JHU) frontliner and Science and Technology Minister Patali Champika Ranawaka who originally brought out the subject when the ministers met. Joining him was Minister Wimal Weerawansa. Hakeem, one ministerial source said, fought back arguing that his party stood for "certain principles". There were members within his party who were perturbed by attacks by 'extremist groups,' a fact that has caused concern even in other non-SLMC sections of Muslims, he had said. He was to cite an instance where even External Affairs Minister G.L. Peiris had met with different Muslim groups to obtain their views on recent incidents. He said some of the representatives had raised issues of a more serious nature than those in the SLMC. However, Peiris was to interject to point out that "we have to resolve such issues locally," a suggestion that the SLMC had not done so to a foreign audience. Hakeem told his colleagues that there had been several foreign media reports on attacks and "religious intolerance." He defended himself by saying he could not hide everything and drew an analogy that it would be akin to covering a large pumpkin on a plate with rice. Yet, there were no ministers to back him until the meeting was over. Some senior ministers were seen advising him not to take the issue "too seriously." There were others who were visibly livid and exhorted that he had no place in the Cabinet of ministers.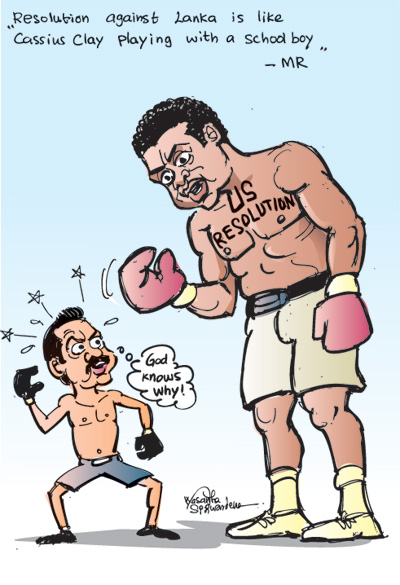 This is not the first time that President Rajapaksa used strong words against the SLMC and its leader, Justice Minister Hakeem at a ministerial meeting, which had been put off from Thursday on account of it being Maha Sivarathri, a public holiday. Rajapaksa had been angered by reports of alleged SLMC lobbying of West Asian countries over reported attacks on Muslims and establishments belonging to them. On the first occasion, as reported in these columns, Rajapaksa had telephoned Hakeem to question him. That included one on whether he handed over a report to Pillay. Hakeem had then denied that the SLMC had any role to play in such lobbying. The issue also figured at the ministerial meeting on February 13. Rajapaksa then raised issue over a document circulated by the SLMC listing places of Muslim worship where attacks have allegedly been carried out. The anger over SLMC is particularly in the backdrop of reports that at least two West Asian countries, Kuwait and Saudi Arabia, would vote in favour of the United States resolution this month at the UNHRC sessions. The position of the third country, the United Arab Emirates (UAE), which voted against the second US resolution last year, is not yet clear.
Rajapaksa also raised issue with his ministers over a purported letter which six of them had signed urging him to take action to forestall any sanctions on Sri Lanka after the Geneva sessions. The report was posted on a website linked to Minister Wimal Weerawansa. The letter had also purportedly urged that the 13th Amendment to the Constitution be implemented in full. The ministers who had been named were Vasudeva Nanayakkara, Tissa Vitharana. D.E.W. Gunasekera, Navin Dissanayake, Rajitha Senaratne and Reginald Cooray. However, it turned out that there has been no such letter. The President strongly asserted that "I have not received any such thing." Minister Navin Dissanayake then added, "I signed no such letter as reportedly claimed."
Minister Ranawaka said that sanctions were not possible by way of the UNHRC resolution and stressed that the public be educated on the matter. Rajapaksa noted that such sanctions had been placed before, like for example, the withdrawal of the GSP plus (preferential tariffs) by the European Union. "Mata nang ehema ekak peynna nehe," (I cannot see anything like that), he declared referring to purported claims that the passage of the third US resolution would lead to sanctions on Sri Lanka. Rajapaksa thereafter directed Chief Government Whip Minister Dinesh Gunawardena to conduct workshops for Government parliamentarians and explain the issues related to sanctions. He said this should be given immediate attention to prevent them from making different statements at public events. President Rajapaksa explained that they "should not take the wrong line."
The ministerial meeting also saw other issues being raised. Education Minister Bandula Gunawardena was to point out that in some schools students were being provoked by outside parties to take up cudgels with principals. He read out a few news reports. He said he proposed to set up committees comprising principals, parents, past pupils, intellectuals and elders in the areas where the schools were located to monitor these activities for the next 52 weeks. That was to draw a rather light hearted remark from President Rajapaksa. "Election thiyanney 2016 yey. Ey theeranaya arang evarai (Elections will be held in 2016. That decision has already been made).
However, he did not say whether it was the Presidential or Parliamentary election. Industry and Commerce Minister Rishad Bathiuddin who represents the Mannar District was to raise issue over the list of displaced persons to whom Indian-built houses were being handed over. He alleged that the Indian High Commissioner was perusing such lists. He argued that the Indian envoy should not have any role in it since that was a matter for the Government of Sri Lanka. Rajapaksa asked Minister Peiris to summon the High Commissioner and clarify issues. In what seemed an afterthought he said that India is facing parliamentary elections this year and that has to be borne in mind when tackling issues. Bathiuddin had earlier made a request to the Indian High Commission to allocate houses according to his list but that was refused by the Indians. He later wrote directly to the Pakistani Prime Minister asking for housing assistance for Muslims saying the Indians were discriminating.
Rajapaksa was perhaps conscious that on Tuesday (March 4) he would be meeting Indian Prime Minister Manmohan Singh in Nay Pi Taw, the official capital of Myanmar (Burma). That is on the side-lines of the Bay of Bengal Initiative for Multi-Sectoral Technical and Economic Co-operation or BIMSTEC summit. Besides Sri Lanka, five other countries — India, Myanmar, Thailand, Bhutan and Nepal — are members. Also on Tuesday, the closing day of the summit, Premier Singh is billed to meet Nepali Prime Minister Sushil Koirala and Bangladesh Prime Minister Sheikh Hassina. The Rajapaksa meeting with Premier Singh follows his request made through diplomatic channels after some diplomatic poker playing as to who was to make the first move asking for a meeting, especially as relations are tense in the background of India's anti-Lanka stand at Geneva.
Just as President Rajapaksa returns to Colombo after the summit, Defence Secretary Gotabaya Rajapaksa will pay a two-day visit to New Delhi on March 6 and 7. Though it will be for the annual tripartite maritime security conference with the Maldives and India, the Defence Secretary is also scheduled to have bi-lateral meetings with Indian National Security Advisor Shiv Shankar Menon and other senior officials. President Rajapaksa, however, has dropped plans to travel to London for a Commonwealth event.
Arriving in New Delhi on Tuesday will be Nisha Desai Biswal, the United States' Assistant Secretary for South and Central Asian Affairs. A State Department news release said she was travelling to India to discuss "bi-lateral and regional issues."
These developments come amid hectic activity related to the Human Rights Council sessions both in Sri Lanka and abroad. A Government team returned to Colombo this week after a tour of South Africa to study the outlines of that country's Truth and Reconciliation Commission (TRC). An External Affairs Ministry (EAM) source said the delegation's effort to enter into a Memorandum of Understanding with Pretoria over the matter did not materialise. South African officials feel that they should consult other stakeholders before finalising a formal arrangement, said one EAM source. Last week, South Africa's Deputy International Affairs Minister Ebrahim Ebrahim declared that the delegation visited South Africa at Sri Lanka's request. The setting up of a home grown TRC has been mooted by the Government as a step towards reconciliation.
This week, the first draft of the latest United States resolution has been formulated. It is being shared amongst a core group of few countries ahead of distribution to member countries of the Human Rights Council as a prelude to lobbying. The Sunday Times learns that the resolution expressly calls for an "international investigation" into alleged war crimes after welcoming the recommendation by Human Rights High Commissioner Navi Pillay for such a probe in her report to the HRC that was officially released last Monday (February 24). What is immediately not clear is the mechanism the resolution will call upon to conduct such an investigation. Diplomats in Geneva say the Human Rights Council has in practice three different processes for probes into alleged war crimes or related issues. They are: (a) Through the appointment of a Special Rapporteur, (b) through a Commission of Inquiry, and (c) through a Panel of Independent Experts.
A Colombo-based retired Government official who headed a local Non-Governmental Organisation (NGO), in a bid to help Sri Lanka, has mooted the idea of an inter-governmental team comprising representatives of countries in the Asian region. He has begun an informal lobbying campaign. This is based on the grounds that the inter-governmental team could be appointed as a Panel of Experts for which provision already exists as explained above. However, diplomats said such a move was not likely to succeed. Whichever mechanism is eventually listed in the US resolution, the same diplomats said, during ongoing consultations the Office of the High Commissioner for Human Rights (OHCHR) had said it would assist rather than be involved in the investigation process itself.
An 18-page "Advanced Edited Version" of Human Rights Commissioner Pillay's report was officially posted on their website on Monday. The 12 recommendations made by Pillay, as exclusively revealed in the Sunday Times (Political Commentary) of February 16, remained intact in this report. She said the report was being presented to the Human Rights Council consequent to the 2013 US resolution to "implement the constructive recommendations of the Lessons Learnt and Reconciliation Commission, as well as those made by the UN High Commissioner for Human Rights in her report, and to conduct an independent and credible investigation into allegations of violations of international human rights and humanitarian law."
Pillay said that she presented an oral update "in which she suggested concrete steps that the Government could take that could help the Council in resolution 21/1 by the time of its twenty fifth session. These included inviting the Working Group on Enforced Involuntary Disappearances and the Independent Expert on minority issues; demonstrating a credible national investigation process with tangible results, including the successful prosecution of individual perpetrators; and setting a clear timeline for disengagement of the military from activities that are meant to be civilian. Regrettably, none of these steps have been taken by the end of the period under review."
The Government's response to the Pillay report was larger in content. It ran into 23 pages, five more than Pillay's. If the Pillay report was posted on the OHCHR website, the Government response was placed elsewhere in a category which said "Communications from Governments." The response which said it "re-iterates its categorical rejection of the Conclusions and Recommendations contained in the High Commissioner's Report, reflecting bias and is tantamount to an unwarranted interference in the internal affairs of a sovereign State."
The Government response argues that Sri Lanka has consistently interacted with the United Nations system and the wider international community in a spirit of goodwill and co-operation. It is in this context that Sri Lanka remains committed to a positive engagement with the OHCHR and Special Procedures Mandate Holders of the Human Rights Council. It said, "The GOSL has continued its engagement with Special Procedures, and its Permanent Representative in Geneva has engaged in a regular dialogue with them including the Special Rapporteur on Truth, Justice, Reparation and Guarantees of Non-recurrence.
First to some highlights of the Pillay report:
There are currently nine outstanding requests to visit Sri Lanka by special procedures: on minority issues; freedom of peaceful assembly and of association; freed of opinion and expression; extrajudicial, summary or arbitrary executions, enforced involuntary disappearances; human rights defenders; independence of judges and lawyers; discrimination against women in law and practice; and truth, justice, reparation and guarantees of non-recurrence.
In her oral update to the Human Rights Council at its twenty-fourth session, the High Commissioner acknowledged the achievements made by the Government, with the help of the international community, in de-mining, resettlement, reconstruction and rehabilitation since 2009. She welcomed the elections to the Northern Provincial Council in September 2013, and recommended that the Government should work with new provincial authorities to promote meaningful community participation in reconstruction and development programmes.
She however also highlighted pressing concerns, including the lack of progress in accountability for serious human rights violations; the situation of detainees and former combatants, with regard to extrajudicial, summary and arbitrary killings; continued militarisation and compulsory land acquisition (particularly in the north and the east of the country); shrinking space for civil society and the media; rising religious intolerance; and the undermining of independent institutions, including the judiciary.
While the paramilitary groups have largely been disbanded, no action has been taken to date in relation to two senior paramilitary leaders now serving in ministerial positions, Douglas Devananda and Vinayagamoorthy Muralitharan (alias Karuna, or the former Chief Minister of the Eastern Province, Sivanesathurai Chandrakanthan (alias Pillayan), all of whom are linked to numerous allegations of serious crimes during the armed conflict. Both Karuna and Pillayan were former LTTE commanders who subsequently formed the breakaway Karuna faction named in the Lessons Learnt and Reconciliation Commission as well as successive reports of the Secretary-General on children and armed conflict as being responsible for child recruitment, a war crime.
Other issues for which the Lessons Learnt and Reconciliation Commission recommended further investigation remain unaddressed by the courts of inquiry or any other process. For instance, in paragraph 9.114 of its report, the Commission expressed deep concern at the persistent reports concerning the killing of journalists and other forms of attacks on journalists and media institutions and the fact that these incidents still have to be conclusively investigated and perpetrators brought to justice.
The High Commissioner has noted that military courts of inquiry do not have the necessary impartiality and independence to inspire confidence. The Commander of the Army who established the courts was also the commander of the security forces in the main battle zone of the conflict, and was actively engaged in the overall military planning and operations there. In cases of alleged human rights violations by the military or armed forces, investigations should be carried out by civilian authorities, not by the armed forces themselves.
The High Commissioner notes that it would not be permissible for any truth mechanism to grant amnesties that prevent the prosecution of individuals who may be criminally responsible for war crimes, genocide, crimes against humanity or gross violations of human rights, including gender-specific violations. A truth commission should consider seeking international support, for example special technical, legal and policy assistance, as well as the involvement of international investigators to assist the process. Lastly, any such truth commissions should be complemented by comprehensive and coherent transitional justice mechanisms and processes that include prosecution, reparations, vetting and other accountability or reform programmes.
Here are some highlights from the Sri Lanka Government's response:
Following the termination of military operations against the LTTE in 2009, the GoSL has undertaken a gradual process of reduction of military presence in former conflict affected areas. It may be noted that the total strength of the military in the Northern Province has been reduced by approximately 30% from 2009 to October 2013, a process which is continuing to take place. In addition, in the Eastern Province approximately 26% reduction of troop presence has been undertaken. Also 50% of the troops have been deployed in areas which were not affected by the conflict.
Meaningful steps have been taken by the GoSL which are a part of the process of reduction of the military presence in former conflict affected areas. Therefore, the assertion by the High Commissioner regarding demilitarisation is erroneous and misleading. It seeks to create the impression that the presence of the military in these areas remains the same as during the conflict.
Given that for over 30 years the sovereignty and territorial integrity of the country was threatened by a terrorist group, the GoSL has legitimate concerns regarding resurgence of terrorist activity in the areas in which they were fully functional and therefore national security interests play a crucial role in decisions regarding the level of military presence in those areas in order to prevent any recurrence in the future.
The GoSL rejects the assertion that there is an undermining of the independence of the judiciary. Administration of justice, inclusive of independence of the judiciary is constitutionally enjoined and any infringement of these entrenched rights is visited with sanctions. Judges hold office during good behaviour and proven misbehaviour or incapacity triggers constitutionally entrenched disciplinary proceedings. Any procedure adopted in this regard has been in accordance with the Constitution and such compliance with constitutional provisions cannot be regarded as undermining the independence of the judiciary.
It is erroneous to note that there has been a 'significant surge in attacks against religious minorities and incitement of violence by Sinhala Buddhist nationalist groups.' There have been sporadic incidents focusing on places of worship of all four religions. These include 105 attacks on Hindu religious places, of which 95 cases were robberies committed by the locals. With regard to the reported attacks, 16 relate to Buddhist, 41 to Christian/Catholic and 20 to Muslim places of worship during the period from June 2009 to December 2013. Out of the 182 attacks, judicial inquiries are in progress regarding 112, and 22 cases have been concluded. It may be noted that out of the 182 incidents only 147 cases were reported to the police. In all such instances police have taken steps to report facts to Magistrates and action has been taken to produce suspects before Magistrates where credible information has been available.
Significant and tangible progress has been made by the GoSL in the reconciliation process, including implementing the recommendations of the LLRC through the NPOA, (National Plan of Action) with particular reference to addressing issues of accountability, including, inter alia, issues related to disappearances, detention, casualty figures, rehabilitation, resolution of land issues, demilitarisation, restoration of civil administration, reduction of military presence in the Northern province, demining, resettlement of IDPs, infrastructure and socio-economic development of the Northern and Eastern provinces, restitution and compensatory relief, implementation of Trilingual policy, promotion of ethnic and cultural harmony through school curricula, livelihood development, integration of youth in reconciliation, recruitment of Tamil speaking officers to the public service, institutional strengthening and democratisation including election of the Northern Provincial Council, establishment of a separate Ministry for Law and Order, strengthening of the Official Languages Commission, fully functional Courts in the Northern Province with the exclusive use of the Tamil language, etc., which have been disregarded by the High Commissioner in her Report.
The High Commissioner's call to establish an international inquiry mechanism to further investigate the alleged violations of IHRL and IHL and monitor any domestic accountability process gives scant or no regard to the domestic processes ongoing in Sri Lanka within the framework of the LLRC NPOA, and is politicised in premise. The GoSL therefore, categorically rejects this call.
The trajectory that has emerged with regard to the recommendation of the High Commissioner to the HRC for the establishment of an international inquiry mechanism reflects the pre-conceived, politicised and prejudicial agenda which she has relentlessly pursued with regard to Sri Lanka. It may be recalled that just a week following the defeat of terrorism in Sri Lanka, on 26th May 2009, at the 11th Special Session of the UNHRC on Sri Lanka, the High Commissioner in the first instance, called for "an independent and credible international investigation" which was subsequently reiterated by her at the 11th regular session on 3rd June 2009, 14th session on 31st May 2010, and the 17th Session on 30th May 2011. In the Report of the OHCHR (A/HRC/22/38) dated 11th February 2013, she "reaffirms her long-standing call for an independent and credible international investigation…" The reference in the current report that "the High Commissioner remains convinced" for an "independent, international inquiry" demonstrates her persistent efforts against Sri Lanka. It is pertinent to question the factual basis for the High Commissioner's initial formal call to the HRC for an independent, international investigation and its continuation, in order that the international community not be misled.
The UPFA Government's official position is that it has rejected the two previous resolutions of the US. However, it has said that despite this "non-recognition," most of the recommendations made in Pillay's previous report, it has continued to make progress in its own reconciliation process. It argues that Pillay's latest report is "based on incorrect and/or unsubstantiated and extraneous sources/material."
In less than three weeks from now, the third US resolution will come up before the Human Rights Council. Voting is due on March 26 though the text of the US resolution itself will become official by March 20. There is little doubt that the Government would reject the third US resolution too and thus any move for an international investigation. The issues will therefore enter another phase in the weeks and months thereafter.