Economic data unbelievable-BT Poll
View(s):

Some 90 per cent of the respondents in a Business Times (BT) poll say they don't believe the Government's economic data.

Asked, "Are inflation, cost of living and growth provided by the Government/Central Bank accurate", 90.5 per cent of the respondents said "No" while 5.6 per cent said they were "Undecided".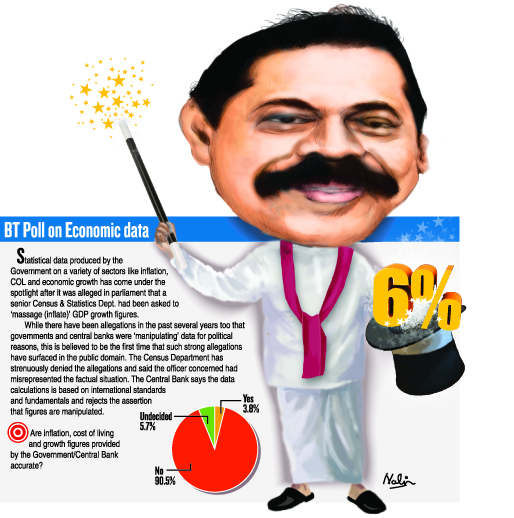 The poll, which drew responses from economists, businessmen, professionals and students among others, came on the back of a growing debate over the accuracy of economic data, after a Census and Statistics official reportedly was asked to inflate some 'figures'.
While most comments were critical of the strategies, one respondent defended the authorities saying the Department of Census and Statistics is a well-developed institution with capable professionals and developed systems when compared to many Asian countries.
"Without proper analysis one cannot make criticism on inflation, cost of living and growth rate data as those measurements have inherent errors which make upward and downward biases," he said.
One critic said there is adequate evidence of (inaccurate data) in both cost of living and growth statistics and also GDP per capita.
"Like anyone else the department is following trends just like the recent DCD issue, the sacking of the former chief justice, the jailing of Sarath Fonseka, etc," an accountant-respondent noted.
He said the manipulation of economic statics should not be viewed in isolation or purely on the technical grounds. "The major evaluation should be based on the values of governance and integrity of everything that happened – say last 5 years," he added.
A working mother asked, "if the figures are correct why are prices high in the markets?"