Kollupitiya's Liberty Plaza opens Liberty Arcade with novel features
View(s):

The Liberty Plaza, a well-known landmark in the heart of Kollupitiya, has now been transformed into an international style shopping centre on par with some of the best malls in the world.

"Liberty Arcade, an extension of the mall, promises to be a haven for avid shoppers, while also serving as a trendy hangout spot with many entertainment activities for Colombo's growing urban population," the owning company, Colombo Land, said in a media statement.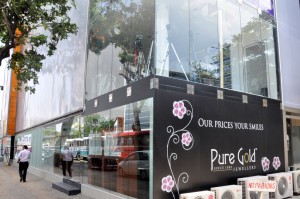 Consisting of three floors, the Liberty Arcade has opened its doors to many international retail and food chains, while providing exclusive shopping space to some of the best known brands on the home turf.
The main retail space has been designated into areas such as clothing, footwear, jewellery and accessories for the convenience of shoppers.
"Tired shoppers are spoilt for choice with the many F&B outlets that are currently in operation or are due to be opened soon. The Heladiv Tea Club already has an outlet at the arcade while those who prefer their juice also have a well stocked juice bar on the first floor. A Japanese restaurant with a new concept to the local market will also commence operations by the end of the year, while Sri Lankan restaurant Raja Bojun will occupy the entire roof-top," the statement said.
The first floor is geared to be dedicated to IT and new age technology with an open floor concept. Mobile operators and vendors of mobile phones, computers and other accessories will be found displaying their wares 'out-in-the-open' on this floor. Other conveniences include ample parking facilities, ATMs from local and international banks, washrooms, elevators, disabled access, emergency and fire prevention systems in a comfortable and secure environment, and a visa and migration office for all visa renewal and passport extension needs are housed on the second floor.
comments powered by

Disqus