Colombo hotels get ready to make a kill during the CHOGM
By Joshua Surendraraj
View(s):
With their Room rates set to increase drastically, leading hotels both in the city and the suburbs are busy preparing to accommodate the visiting delegates of the Commonwealth Heads of Government Meeting (CHOGM). Training staff members and upgrading facilities are under way in hotels designated as 'CHOGM Partner Hotels'.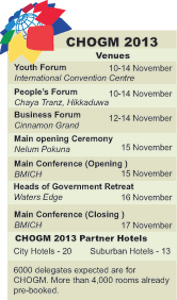 Room reservations from November 10-17 for the duration of the CHOGM events which will take place at these hotels, have been blocked to accommodate the official visitors. Rates are to be increased from the standard charge of US$ 100 and above, to over US$ 500.
Taj Samudra which charges approximately US$ 216-228 (inclusive of taxes) per room, is set to increase its charges to approximately US$ 500. The Galadari Hotel where normal room rates range from approximately US$ 173-200 (inclusive of taxes), the is to increase its charges to US$ 500 (inclusive of taxes), for bed and breakfast.
Hotel Sapphire located in Wellawatta said that their usual rate for a single bedroom starts at USD 95 and USD 111 for a double bed room, they have however increased their rates for the duration of the summit and are due to charge USD 273 for a single bed room and USD 295 for a double bed room.
The Sunday Times learns that these rates have been revised by The CHOGM 2013 Secretariat, which handles the bookings for the delegations.
The Secretariat however, refused to reveal this information to us due to standard protocols.Col. Sanjeewa Fernando from the CHOGM task force said a total of 33 hotels had been selected as partner hotels for the CHOGM. "Four principal hotels will accommodate the Heads of State, along with nine delegates from their respective governments," he said.
"The four Principal hotels were selected according to the availability of their Presidential suites, Diplomatic suites and Executive suites", he said. It was earlier revealed by the CHOGM Secretariat that 70 representatives from 15 Commonwealth countries had already arrived in the island, to make arrangements for their respective delegations, and were well satisfied with the arrangements, Col. Fernando said.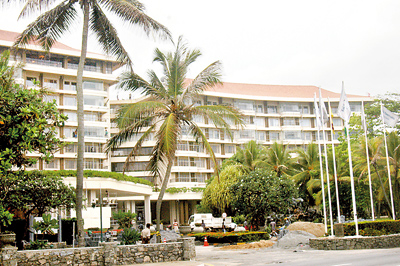 Speaking to us, Taj Samudra's Sales Director Sujith Saman said that the Secretariat issued a standard format for all hotels, along with guidelines, to be adhered to, such as hotel identification cards for all its staff members. "Taj Samudra had renovated its hotel, while the entire lobby was refurbished. Three floors of new rooms and suites were prepared, with all renovations to be completed by October 31," he said
The Hilton Colombo's Business Development Director Shane Ingram said, "We are conducting soft renovations and some other minor touch ups for the main areas in our hotel." "We are also training our Front Line, particularly, on how these delegates should be addressed, while we also saw it fit to train our staff on our cultural background, as it is essential that one should know about one's country".
Overall, with the summit approaching, most hotels are trying their utmost to fill their bookings before November 10, in order to meet their expenditure.
Estate youth urge Charles to visit plantation areas
A youth organisation in the estate sector has organised a series of programmes to urge Prince Charles to visit the plantation sectors before or after CHOGM.
The aim of the programme according to S.P. Anthonymuthu, Chairman Savumya Youth Foundation, is to enable the heir to the British throne to see first-hand the living conditions of estate workers who continue to live in the same line rooms which were built during the colonial era, said.
He added they hoped to organise a march from the plantation sector to the British High Commission in Colombo to hand over a memorandum signed by the estates workers.
comments powered by

Disqus