Chapters… Cool kids read challenge
View(s):

Be challenged to read is the theme this July/August holidays at the Chapters Bookstore, #35 Staple Street, Colombo 02 for kids between 8-12 years. If you stop reading now because your child is not a reader then you are not even giving your kid a chance so keep reading and don't lose out. Moms & dads getting your kid to read is not entirely the job of your kid's teacher, it is very much a part of your job to find the right books that will make your kids want to read. If you are unsure what will make your kids read then head on over to Chapters bookstore between 20th July and 31st August and you will find the right books.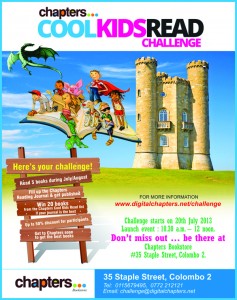 Chapters bookstore is discounting up to 50% a list of 100 exciting new titles for kids who wish to take up the Chapters Cool Kids Read challenge for the holidays. Chapters bookstore is looking for literary stars not just kids who buy the books and forget to read them.  Five literary stars will walk away with gift packs of 20 great titles from the Chapters Cool Kids Read list. There will be one winner in each age group between the ages 8-12.This is how to become a literary star. The child must take up the challenge to read five books by registering at Chapters.  The books will be discounted to Rs.500/- each for registered participants only who buy five at once.
Chapters will give your child a beautifully designed Chapters Cool Kids Read journal & the child can do any of the following in the reading journal about the books they bought. Write a brief note about why he/she likes a book, write a review about any book from his/her selection, dress up like any character they like and attach a photograph and here is the most daring challenge … change the ending of the story and rewrite the last chapter. Once completed the Chapters Cool Kids Read journal must be submitted to Chapters Bookstore for judging. Stars whether literary or not always have followers. Chapters will ask your kids to suggest friends to whom their literary masterpieces can be sent to. Stars are born when friends reply they like the journal.
There will be two open mornings a week at Chapters Bookstore where a team of young literary enthusiasts will help your kids to write their journals. Story themes will vary from light hearted stories to hard facts. From animal stories to spy stories, from history to time travel, from dragons and witches to knights and gladiators.From twisted and hilarious cartoon like characters to modern classical heroes and heroines.From mermaids and deep sea fantasies to cosmic journeys to the universe to save planet earth. From surviving middle school bullies to life in concentration camps. From children with special needs to children with special powers.Written by international award winning authors. While some books in this list are already in the best seller charts some others have just been released. The Chapters Cool Kids Read list will only be unveiled on the 20th of July at Chapters bookstore; at the launch starting 10.30 a.m. Stocks are limited. Don't miss out. Let your kids enjoy their reading this holiday and perhaps become the Chapters Cool Kids Read literary stars.  Details, Rules & regulations can be found at www.digitalchapters.net/challenge.
Follow @timesonlinelk
comments powered by

Disqus