Parents' heartbreak over innocent victims of road carnage
By Nadia Fazlulhaq
View(s):
 Accidents, serious injuries increasing
Speeding VIP cars set bad example
When Javeen and Jeyanthimala brought Janani and Janan from Switzerland for a visit to Sri Lanka they never expected to return home with the lifeless bodies of their precious children – victims of the scourge of road accidents in this country. Sixteen-year-old Janani and 12-year-old Janan became victims of a heartless hit- and-run road accident along the Galle Road, Wellawatte last Sunday when a car travelling at more than 120kph ploughed through them at a pedestrian crossing.
"The trip to Sri Lanka was a religious journey," said Javeen. "First we went to Jaffna and visited the temples and made offerings, then we went to Kataragama. "On the day of the accident, our family and our 29-year-old cousin-sister had visited the Temple of the Sacred Tooth Relic and kovils in the Kandy area and were returning to the children's grandparents' home at 42nd Lane, Wellawatte," said the tearful father, Javeen Annanlingham, 48.
While crossing the road, at about 10.30 p.m., his wife had been walking in front and the other three had followed, holding hands together.  "I heard a loud sound and found my children and our cousin-sister fallen at the crossing," Mr. Annanlingham said in an interview with the Sunday Times.
The scene, at a funeral parlour in Colombo, was one of utter sadness. Mrs Annanlingham, unable to bear the loss of her loved ones, was begging and pleading friends and relatives to bring the children back. During the interview, news came from a private hospital that little Janan, a sixth standard student, succumbed to his injuries – a severe blow to the head.
"How can a man kill children and just ignore it as if nothing happened?" demanded Mr Annanlingham.  "It is heartbreaking to return to an empty house in Switzerland with the memories of our children.We are taking the bodies back because the children were born and raised there, and all their friends have asked that we bring the bodies so they could pay their last respects."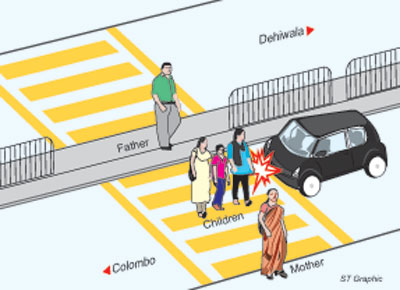 The couple's 29-year-old cousin, Varany Balasuriyan, was also a victim of the accident. "My mother was planning to give my sister in marriage this year," said her brother Vasakar. "Both Janani and Janan wanted her to join this trip."  He said the police had told them that the car that hit the family had been driven at a speed of about 120 kph.
Police say that every four hours in Sri Lanka, one person dies in a road accident.  The latest statistics from the traffic police show that during the past four months there have been 738 deaths and 2,061 persons injured in traffic accidents. In 2012, there were 2,425 deaths in traffic accidents, and in 2011 the toll was 2,676.
Although the fatalities appear to have decreased, the number of accidents has been increasing. In 2010, there were 37,653 accidents and in 2011 this increased to 40,258. Last year, the number increased to 42,088.  Accidents that caused serious and minor injuries have increased. Last year, accidents resulting in serious injuries were 7,324 compared to 6,965 in 2011.
A former DIG with Traffic Administration and Road Safety, Camillus R. Abeygoonewardena, said impatience, aggressiveness and selfish attitudes were emerging contributors to the increase in road accidents and road rage.  "Road accidents are generally caused by the drivers' response or lack of response to an unpredictable situation in the road environment, and emotional factors can be very dangerous. Drivers who take to the wheel after an argument, disagreement, domestic or personal issues tend to drive fast or in an aggressive manner," he said.
The former DIG said that VIP vehicles were setting bad examples by speeding. "In many countries, only the president or prime minister get to travel as VIPs but here, even local politicians are VIPs and even change traffic lights to suit their needs," he said.
The former DIG said most drivers gave little thought to reaction time and minimum stopping distances required for an emergency halt. Driving after consuming alcohol also slowed down drivers' reaction time.
At 70 kph the shortest distance in which a driver could stop a car was 96 metres (315 ft), which includes thinking distance and braking distance. The State had not invested in resources to help curb traffic accidents. "Many countries are adopting new methods and technologies such as mobile enforcement vehicles and monitoring cameras," Mr Abeygoonewardena said.
Most accidents take place on the A1, A2, A3, A4 roads and are caused by conflict between fast and slow-moving vehicles; pedestrians too become victims of this. "The majority of the accidents take place during weekends and unfortunately police tend to relax on weekends. This should be avoided," Mr Abeygoonewardena said.
Another former DIG, Traffic Administration and Road Safety, T. Perinpanayagam said that about half of all accidents were caused by drivers who lacked a licence or who had less than three years' driving experience.  Drunken driving was mainly reported from areas between Galle and Chilaw while accidents in other areas were mainly caused by speed.
"A pedestrian hit by a car travelling at 45 kmh has a 50 per cent chance of survival but a pedestrian hit at 80 kmh has no chance," Mr Perinpanayagam said.  A former senior police officer who wanted to remain anonymous said that most accidents take place after 6.30 pm and there was a need to deploy more police officers and mobile vehicles at night.
He added that the driving test conducted by the Department of Motor Traffic was far from satisfactory.  "There is a lack of theory tests, especially on road rules, road manners and courtesy. The driving test is conducted during the day, from Werehera and Borelesgamuwa. There are no tests in busy cities or roads and no testing is done during night-time," he said.
He said despite several CCTV cameras installed in some roads, the police could not file a case based on a video footage from the cameras used for monitoring traffic congestions, protests and riots.  The Parliamentary Select Committee Chairman appointed to look into the alarming increase in traffic accidents, P.Dayaratne told the Sunday Times that the committee's first set of proposals will be handed over to President Rajapaksa in two weeks.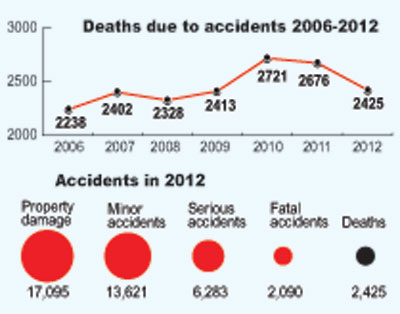 "For the last four years we have had a number of discussions and meetings with all sectors concerned and compiled a final report with proposals that will be submitted to the President for approval. It is only through by tightening laws that road accidents can be controlled," he said.
Recommendations include increasing fines for drunk driving, stern laws against speeding and fatal accident suspects, mandatory reflectors on vehicles, especially long vehicles, and action against those violating basic road rules such as wearing a helmet.
Sunday's tragic accident took place just a day before the United Nations (UN) Collaboration for Road Safety's week of global road safety. The theme was "Pedestrian Safety" with the aim to prevent pedestrian fatality during this week.
Culprit sped into hiding in army base
By Chris Kamalendran
The vehicle involved in the hit-and-run accident last Sunday was driven to a military detachment base in the Cinnamon Gardens police area as the culprit tried to evade arrest, police said.  Police spokesmen Buddhika Siriwardena said senior police officers had called the military establishment and instructed them to surrender the driver and vehicle.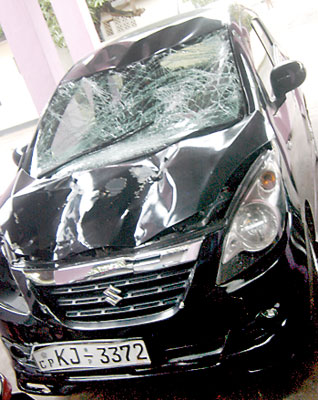 The driver and vehicle were handed over to police. A three-wheeler driver near 42nd lane, Wellawatte who witnessed the accident said he had given chase to the vehicle.
He said the vehicle had entered High Level Road via W.A.De Silva Mawatha in Wellawatte and then headed to Thunmulla junction.
The driver had given up the chase when the car had entered a former high-security area off Bauddhaloka Mawatha.
The same vehicle, just before this accident, had knocked down a motorcyclist who has been admitted to the Colombo South Teaching Hospital (Kalubowila).
The police have recorded a statement from a woman who was in the car at the time of the accident. Military Spokesman Brigadier Ruwan Wanigasuriya said he is aware of the incident, but needed to verify information about the car entering a military detachment.
The Sunday Times reliably learned that the military police are conducting a separate inquiry as to how this car and its driver managed to enter the army base without being stopped at the main gate.
Road claims mother's life after she gives daane | Pix by Athula Devapriya
In another tragic incident last week, a son and daughter witnessed their mother's death when their vehicle skidded off the road and crashed into a post on their way home from Anuradhapura.
Priya Githanjali, 53, from Hokandara who had taken the order to provide dry rations for a food offering (daane) for about 2,000 persons to take place on May 4 , had gone to Anuradhapura with her son Diyath Rajapaksa, 24, and daughter Gayara Rajapaksa, 17, to hand over the items on May 2.
"On the way to Colombo, near the Talagalla bridge in Mahawa, it was raining heavily. Suddenly I could not control the vehicle and it crashed into a nearby concrete post. It was my mother's side that crashed. She did not appear to have serious injuries, but by the time we took her to the hospital she had died due to internal bleeding," said Diyath, who had been driving the car.
Priya's husband who was at office in Colombo at the time of the accident, still remains in shock at his wife's sudden demise.
"The only consoling thing is that my wife was so much involved in charity work and she was so happy about being able organise such a big daane near the Sacred Bo-Tree.
She had been organising this for more than a year for my daughter's birthday on May 2 and my son's birthday on May 3," he said.
Follow @timesonlinelk
comments powered by

Disqus