Bus fare rise would be the last straw, say upset commuters
View(s):

By Mirudhula Thambiah

A bus fare hike due by July, soon after the electricity price hike, has left commuters angry and frustrated. Buddhika Attapattu, 40, a government sector employee from Gampaha and father of two, said a bus fare hike would be very difficult to accommodate after the string of other recent price hikes. "The fare hikes will hit those of us who travel long distances the hardest. It is unfair to increase the bus fares right after the electricity tariff increase," he said.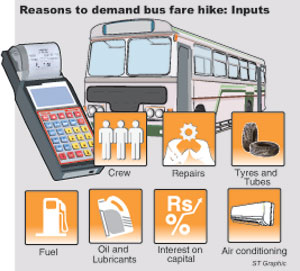 Nuwan Madushanka, 21, a student from Maharagama, said the bus fare increase would again affect middle-class families. "I think middle-class families will have to avoid buses and travel by train as the cost for train transport is comparatively less," he said.
A 7 per cent increase in private bus fares was proposed by the Ministry of Private Transport, Finance Commission and National Transport Commission in February.
Yet private bus owners want a 12 to 15 per cent increase following the new electricity tariffs. Private bus owners say the main reason they need a bigger hike is the high cost of fuel. Other reasons include crew costs, service lubricants, tyre tubes, repair, air conditioning, daily, monthly and annual overheads and lease payment on the vehicles.
The President of Lanka Private Bus Owners' Association (LPBOA) Gemunu Wijeratne said it was important to increase bus fares given the rise in electricity tariffs, which has an impact on the price regulatory mechanism. "We have proposed a 12 to 15 per cent increase on the bus fares as we will not be in a position to bear the electricity cost, which we consider as the main issue" he said.
A decision will be put off till July 1 until a proposed travel card system is put in place. "The impact of the electricity tariff hike on the industry should be assessed, and there is also the possibility of an increase in diesel prices." Meanwhile the conduct of bus drivers and conductors was criticised by many regular bus commuters. They said the conductors ill-treated passengers, pocketed balance money and rarely issued tickets.
"Conductors should learn to pay the balance back to the passengers and they should properly respect passengers" said Shalani Tharaka, 27, from Borella. While the drivers and conductors claim that there is no necessity for bus fare hikes, they think the government should provide them with fuel subsidies.
Manohara Karunaratne, a bus driver and father of four from Moratuwa, felt there was no need to increase bus fares; he said fuel subsidies should be provided to cope with the fuel cost. "Our daily income is Rs.1,300, but Rs.1,500 is the daily cost for diesel. Therefore we would appreciate it if the government introduced a diesel subsidy" he said.
The Secretary to the Ministry of Private Transport, Victor Samaweera said that the proposal to increase bus fares has been submitted to the minister, and he could not comment until a decision was finalised.
Follow @timesonlinelk
comments powered by

Disqus