The incredible four!
Pix by Indika Handuwala
View(s):
As 'The 39 Steps' hits the boards, Smriti Daniel talks to the thespians who have taken on the production of their lives
This week we meet the four intrepid thespians starring in the Performing Arts Company's latest production 'The 39 Steps.' The play, which opened last night (May 11) at the Lionel Wendt, features a multi-award winning script about a movie, which in turn was about a book. It's a stage crowded with spies and sailors, murderers, policemen, damsels in distress. There are magicians, Scottish farmers and their wives, professors, young children and even the odd inanimate object. What there aren't are enough actors to play them all. Her, Sean Amarasekera, Arjuna Wignaraja, Ashini Fernando and Mohamed Adamally talk about taking on the production of their lives in
'The 39 Steps.'
Sean Amarasekera
Sean began casting The 39 Steps in his head while he was watching the production in London. He knew he wanted to see Adam in it and Nafeesa K. Amiruddeen at the helm. When he came back, he helped convince them to take it on. Now he's practising how to do backflips ("I've lost weight on this production," he says) while figuring out how to portray a 9 person Scottish marching band and a river among many, many other tricky characters. He's working on a distinct accent for every character and a face to go with it – on his iphone are dozens of self-portraits, in each Sean is attempting to create a unique expression for a particular character.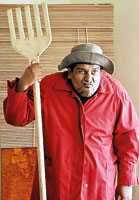 "The trick with farce is to make it look simple," says the actor. Casting around for the right word to describe the play, he says spoof or even homage don't quite work. Instead it's an "affectionate take" on what he considers Hitchcock's first real masterpiece. Pointing out that the novel didn't actually include any women Sean says Hitchcock's decision to create female roles was the right one. For fans of the filmmaker, the script is littered with references to his movies but it hops in between multiple genres including film noir and vaudeville. It's not surprising then that there's the occasional slip up – "the potential for things to go wrong is absolutely maddening," says Sean. And if they do, he's counting on it being fun to watch anyway.
Ashini Fernando
Ashini is three women in one: as Annabella Schmidt she plays a German spy in dire need of Richard Hannay's (Adam) help. As Pamela, she is lured into his adventure but remains sceptical of his claims of innocence and as Margaret, the farmer's wife, she's a quiet young woman who dreams of adventure and life in the big city.
For Ashini, the trick to transforming into different characters is all in the wigs. "You don't get too long to slip into a role," she says, explaining that the act of pulling on her wig helps trigger the character she needs to be. "I slide right into it."
They began practising in November last year and rehearsals have been intense. Ashini says they've needed every day. Having mastered individual scenes, it's now about getting them to flow together. "Once you start, you just have to keep going. There's no chance to breathe," she says laughing.
It's one of the most physically exhausting productions the experienced actress has been a part of with the actors having to manipulate the props themselves. This demands much running around, lifting, pulling and pushing of heavy things.
"I think it's going to be a whole new experience for theatre- goers in Sri Lanka," predicts Ashini. "I hope they enjoy watching it as much as I have enjoyed acting in it. I've learnt so much."
Arjuna Wignaraja
"I've never done anything like this," Arjuna confesses straight away. "When Adam first called I thought it was an interesting challenge." The actor still hasn't done a count of the roles he has to play but there are enough that sometimes he loses track of which one he has to play next. "So it's a little scary," he admits with a wide grin "sometimes you just freeze and stand there trying to remember where you're supposed to be."
To help build the scaffolding, he has his roles divided up into the ones that are bit parts – ones where he stays on stage only long enough to hit a single line in the right accent – and the solid main characters. "It's hard to make the switch, to go back and forth, but it's all about the rhythm. You start training yourself to get in and out," he says.
Like Ashini, Arjuna has his own catalysts that pull him into a new role. These mostly take the form of physical characteristics, like a twitch or a hunch or a limp. "Those are the triggers that help me become a character. We use a lot of physicality to differentiate the performances." He also listened to a lot of youtube videos as he studied the accents he needed to master.
Built into the play are moments when the actors come out of character. For Arjuna, those are particularly interesting because they release a little bit of the tension. "What I like about that is that you don't take yourself too seriously. From the audience perspective I hope it adds to the comedy." Having originally spent a lot of time outside rehearsals analysing and tweaking his characters, he says he's now begun to make them his own. "Now it's about my version."
Mohamed Adamally
Adam, perhaps the most experienced actor on the cast, also has the least challenging role. While Richard Hannay is the thread that holds the whole cast together, he's only one man. (Still, the role isn't without its demands – having kept his head shaved bald for 13 years, Adam has had to grow his hair out to play the part.) An innocent man suspected of being a murderer, Hannay is on the run with unknown assailants on his heels. Adam isn't complaining though. The simplicity of the part frees up the headspace he needs to handle his responsibilities as a producer. Perhaps he's speaking as a producer when he ruefully confesses, "it's a huge challenge. Sometimes I wonder why we took this on."
Adam has always enjoyed staging a good comedy, and The 39 Steps qualifies with ease. "It needs to run like a film," Adam says, pointing out that with hundreds of props, sound and light effects and scenes to set "the crew is as important as cast on this production."
He explains that scenes, like that of commuters sitting in moving train, are made believable by an array of visual and auditory tricks.
"It's incredible how the illusion is sustained." He suspects that to watch the play through from beginning to end might be exhausting because of the unrelenting pace of the action, but what he's aiming for is to inspire in his audience "sheer wonder at how it was all done."
The Performing Arts Company's production of The 39 Steps directed by Nafeesa K. Amiruddeen and starring Sean Amarasekera,  Arjuna Wignaraja, Ashini Fernando and Mohamed Adamally, is on at the Lionel Wendt Theatre until May 19, with a break on the 15th. Tickets can be pre-booked via FB page 'The 39 Steps – at The Lionel Wendt Theatre,' and are on sale at the Wendt priced at Rs.2000, Rs.1500, Rs.1200 and Rs.700 downstairs and Rs.500 in balcony. Principal sponsor is Cargills, in aid of the One Trust. The co-sponsor is Commercial Bank. Media sponsors are The Sunday Times, the Daily Mirror and TNL Lite. The production's Communications partner is Triad, suiting partner Hameedias and sounds partner Soundtrax.
Follow @timesonlinelk
comments powered by

Disqus