Searching cinematic talents from South Asia
View(s):

SAARC Film Festival in Colombo

With the aim to promote regional cinema and sharing cinematic experience with the people from the South Asian member countries, the SAARC Film Festival will be held from May 25 to 31 in Colombo.

Organised by SAARC Cultural Centre which takes the pride in promoting arts and culture in the region, the festival will showcase Feature and Documentary films of the region, and Member States of the SAARC Countries that have nominated some of their best movies from the respective countries.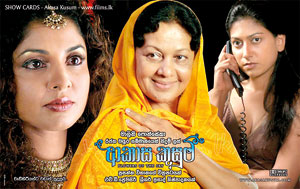 An award will be given to the Best Feature Film and documentary Film – which will be adjudicated by a panel of international Jury from Russia, Iran and Singapore. Further there will be also a special workshop organized by the Centre for Directors of these films as well as experts in the Film Industry.
Last year, nominations were received from Bangladesh, India, Maldives, Pakistan and Sri Lanka. Sri Lanka's nomination of Akasa Kusum , bagged first place, while the award winning Documentary " Saving Face" from Pakistan won the Best Documentary Film. The SAARC Cultural Centre, in keeping with its mandate of promoting culture in the region through different modes of art, will showcase films from the region as cultural expressions at its forthcoming SAARC Film Festival. The Film Festival will give all Member States an opportunity to screen some of the best films from the region. The SAARC Region has produced some films with a high degree of excellence. The festival will also invite the film directors of the nominated films to participate at the Festival.
The festival also has over the last two years gained momentum for promoting some of the best films from the SAARC Region and it marks an event unique to the region, where through the medium of cinema, the festival has become a forum for people interaction, as well as understanding and savouring of culture through the movies.
The SAARC Film Festival will focus on promoting some of the best films featured from 2010 – 2012, from all member states, inviting also directors of these movies for workshops, as well as recognizing the best feature and documentary within that time frame
There will be two open categories at the SAARC Film Festival this year. All Member States are required to nominate TWO (2) Feature Films and Two (2) Short Films for submission to the SAARC Film Festival 2013. The Short Film should not be more than 30 minutes in its duration. These films should have had its first screening within the time period of 2010- 2012. The Films nominated will be eligible for the 'SAARC BEST FEATURE FILM' and 'BEST DOCUMENTARY FILM award'. A Silver and a Bronze medal will also be awarded for both categories.
The Festival will take place at the National Film Corporation Cinema Hall, Colombo and it is open to the public free of charge.
Follow @timesonlinelk
comments powered by

Disqus