Electronic infiltration
By Smriti Daniel
View(s):
Despite their many varying projects, Bang Bang – a group of producers/DJs, promoters, artists, designers and dancers- have never forgotten its primary goal, to promote non-commercial dance music in Sri Lanka 
Andre Pereira really knows how to throw a party. He's been doing it professionally since April 2009, when he and DJ Asvajit Boyle co-founded Bang Bang and had their first bash on an isolated beach in Bentota with a crowd of just 60 people. Since then, they've upped the ante, taking on ever more ambitious events with ever larger crowds, but Bang Bang's ethos has stayed intact: "I decided to start Bang Bang to formally and professionally promote fresh artists who were making original music, playing and supporting our common love – underground electronic music," says Andre, explaining that the group is today a closely knit collective crew of producers/DJs, promoters, artists, designers and dancers. "We also have a special team of resident DJs – Asvajit, GV, Sunara and Twigs – The Underground Sound System," he adds.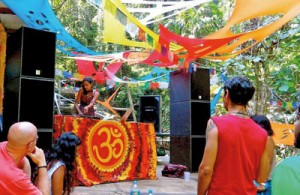 While you'd expect them to get the sound right, lighting and décor are never incidental at Bang Bang's parties. They design it all in house, with Asvajit, Thilini, Ruwangi and Andre himself working on each project. "What makes your party stand out is the attention to detail. A good and crisp sound system, which provides well-balanced sound, will be easy on your ears and make you want to stay on the dance floor longer," says Andre, ticking off his party checklist. "Décor and lighting does more than you can imagine in creating an ambiance. You could literally transform a simple space into something amazing that would become etched in people's minds."
They've applied their formula to events like OH.MY.GOAT in which they created the island's first custom-designed video mapping experience, an intricate set design and ultra violet art installations for their audience. The party which kept going for 20 hours and featured an eclectic mix of performance styles is now an annual event. They've also partnered with the Goethe Institut to host the German Bass sensation, Jahcoozi.
"Fronted by Sasha Perera, an acclaimed vocalist of Sri Lankan origin, this gig was an unforgettable experience of original live electronic bass music," says Andre, noting that the party at the up-market beach bar in Mt. Lavinia roared on despite cyclone warnings and heavy monsoon rains. Other big calendar events were Freshly Squeezed (in collaboration with Vibrations) and logistical support for a classical music festival held in Kilinochchi, Cultivate Peace, which was part of a UN initiative with more than 3,500 in attendance.
Keeping Bang Bang up and running has meant mining resources, accessing good equipment and people to operate it, juggling funds and sponsors but introducing a new sound (underground music) to a largely-commercial market may have been one of the biggest challenges the young company has faced. "Staying afloat was possible due to the complete and unwavering dedication I have towards what I do, no matter the outcome," says Andre. "Dedication and attention to detail is what makes Bang Bang stand out from the rest and this is what keeps us going."
A couple of times a year, Andre does a little travelling, making it a point to check out interesting EDM artists. So far, Bang Bang has brought down Arjun Vagale and Ash Roy, Boris Brejcha (in collaboration with BPM events), Jahcoozi and BLOT (in collaboration with the Goethe Institut), Alex Millan, UNU, Basteroid and Jackmate aka Soulphiction (in collaboration with the Goethe Institut and Alliance Française).
Earlier this year, Bang Bang was featured at the UNBOX in Delhi, India, an annual young arts and design festival.
With Bang Bang having now grown into a key player in the local EDM industry, Andre, Asvajit and their team are doing everything from brand launches and concerts, to music festivals and private parties, but the thing they're most proud of is this: "through everything, Bang Bang has never forgotten its primary unwavering goal of promoting non-commercial electronic music in the country," says Andre.
Follow @timesonlinelk
comments powered by

Disqus