Eastern Diamond Back Rattlesnake
View(s):

Animal Profile:

What's an eastern diamond back rattlesnake?

The largest venomous snake in North America, this one is also the largest of the 36 known types of rattlesnakes. The eastern diamond back is named for the pattern of yellow-bordered, light-centred black diamonds that cover its body.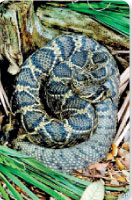 When threatened, the rattlers shake their rattles in warning. Rattles are made of loosely attached, hard, hollow segments. Snakes add a new rattle segment each time they shed, but because rattles break off frequently they aren't a good measure of a snake's age. The eastern diamondback belongs to the family Viperidae and can grow up to 2.4 metres in length and weigh up to 4.5 kilograms.
What does it eat?
They enjoy small meals of household pests such as rats and mice, as well as squirrels and birds. These are ambush predators and will wait, coiled up and hidden in thick vegetation, for their prey. A quick strike and the prey is injected with lethal poison. The snake typically allows the prey to stagger away and die. It then tracks it with its sense of smell and settles down to a meal.
Where's its home?
Though they are good swimmers and can tolerate saltwater, these snakes like to make their homes in dry, sandy areas. They often 'borrow' burrows excavated by mammals and gopher tortoises. They're found most commonly in Florida and Southern Georgia including the Florida Keys.
Who takes care of the baby?
Like many other snakes, eastern diamond backs abandon their babies, which is why a lot of baby snakes don't survive for long. The bite of a baby can be more lethal than an adults – the former doesn't know how to control its venom dosage.
Fast Facts:
To win the right to mate, these rattlesnakes will engage in ritual combat.
All rattlesnakes, including the eastern diamondback rattlesnake are ovoviviparous, i.e, they produce eggs that hatch within the females body.
This snakes heat sensing pits on the facial area can sense temperature variations of only half a degree Fahrenheit in a 15 inch radius of the snake's environment, allowing the snake to sense prey in total darkness.
The fangs of the eastern diamondback do not stay in a fixed position in the mouth but instead they are flexible and can move independently of one another.
Diamondback venom is a potent hemotoxin that kills red blood cells and causes tissue damage.
Follow @timesonlinelk
comments powered by

Disqus