Stockmarket news
View(s):

Amaya Leisure

Amaya Leisure said this week it has purchased 0.9 million shares (16 per cent stake) of Hunas Falls Hotels, from Mercantile Investments and Finance at Rs. 65 per share which amounts to Rs.59 million.

Asia Siyaka Commodities Ltd announced that it acquired a 100 per cent stake in Siyaka Produce Brokers (Pvt) Ltd, a licensed rubber broker, from Siyaka Management (Pvt) Ltd, for a consideration of Rs.7.1 million.

George Steuart

The Securities and Exchange Commission (SEC) has, by letter dated 11th October, approved a request by George Steuart Engineering (Pvt) Ltd (GSE) and George Steuart Finance (GSF) formerly known as Divasa Equity, to exempt these companies from making a mandatory offer.

This reference is to the shareholders of Citrus Leisure (REEF) in terms of the Rule 31(1)(b) of the Takeovers and Mergers code in the exercising of the Warrants acquired by them.

Citrus Leisure said that came consequent to the meeting held on 25 September 2012, with the officers of the SEC with regard to the issuing of 16.8 million shares to warrant holders.

This is subject to certain conditions.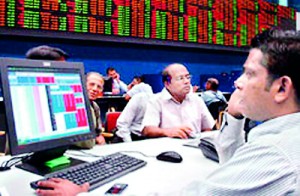 T-bills
Sri Lanka's 3-month and 6-month Treasury Bill yields rose 3bps (basis points) and 6bps to 10.66 per cent and 11.83 per cent, respectively. Meanwhile, the 12-month T-Bill yield rose 8bps to 12.37% at this week's auction.
Ceysands
Softlogic Holdings (SHL) announced that it is a party to a loan agreement entered into by its subsidiaries Ceysand Resorts Limited and Softlogic Properties (Pvt) Ltd with International Finance Corporation (IFC) to raise US$10 million for Ceysand Resorts td. The loan is to be repaid over 10 years with a grace period of three years. The signing of the agreement with IFC is for the purpose of acquiring and renovating a 66 room resort situated in Bentota and expanding it to a 166 room four star resort.
Lankem loan
Colombo Fort Investments announced that it has granted a loan of Rs.20 million to Lankem Ceylon, an affiliate company on 1st October, at an interest rate of 18 per cent per annum.
Colonial power
Colonial Motors is to issue a 1-for-6 Rights Issue at Rs.130 per share, followed by a 10-for-7 sub-division of ordinary shares. Consequent to the Rights Issue and the sub division, the number of ordinary shares in issue would increase to 15.2 million. The funds raised from the issue amounting to Rs.198 million, will go towards investing (Rs 135 million) in a modern workshop at Battaramulla for the company's wholly owned subsidiary, Colonial Motors (Ceylon) Ltd, authorized distributor for Mazda vehicles in Sri Lanka and the Maldives, while the balance Rs.63 million will be utilized for working capital requirements of the company
Sri Lanka's Consumer Affairs Authority has raised the prices of chicken and cement from 13th October. Accordingly, the price of a 50 kg of cement goes up by between Rs.68-85 whilst a kilogram of chicken will go up by Rs.30.
The Public Utilities Commission of Sri Lanka has raised purchase tariffs for renewable energy fuels (which includes hydro power, wind power, bio mass etc.) by over 20 per cent with a flat 20-year rate for new mini-hydro plants built in 2013.
Sathosa Motors has reported a net profit of Rs.41 million for 2Q13 (up two per cent Year on Year), resulting in a net profit of Rs.78 million for the first half of this year (down 13% per cent).
(This report is based on the CT Smith stock market daily).
Follow @timesonlinelk
comments powered by

Disqus