Ragama CC recorded an innings and 111 runs win over BRC with a day to spare in their Under 23 encounter played at the BRC ground. Ragama CC had laid the foundation on day one when they amassed 424 with Rumesh Buddika slamming 124 with 13 boundaries and five sixes.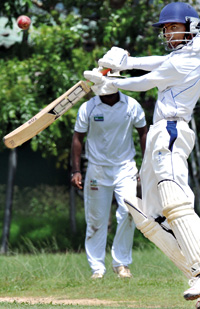 BRC's Prasanna Sri Vimukthi in action against Ragama CC at the BRC ground. - Pic by Ranjith Perera
Rumesh was supported by Udara Jayasundara and Kaushalya Gajasinghe who made knocks of 93 and 92 respectively. BRC going into bat on the second day made a modest 225 but was forced to follow on with a deficit of 200 runs was bundled out 99.
At the P. Sara Stadium Navy resuming on their overnight score of 269 for 6 went on to make a formidable score of 402 against Tamil Union which came on the back of a valuable 84 runs stand for the last wicket between Yoshan Kumara and Sujeewa Liyanage. Tamil Union in their turn ended the day on 111 for 3.
Army was on top against Chilaw Marians when play stopped on the second day at Panagoda. Army resuming on their overnight score of 149 for 3 made 313 in reply to Chilaw Marians' score of 140. Chilaw Marians batting the second time with a deficit of 173 runs were 165 for 8 still needing eight runs to avoid an innings defeat when play resumes today.
Moors have already obtained a first inning lead over CCC in their match at Braybrooke Place. Moors after making 178 restricted their opponents to 139. Moors batting the second made 234 with Shehan Jayasuriya making a top score of 69 which was his second half ton of the match. CCC chasing a target of 274 runs was 37 for 2.
A knock of 124 with 11 boundaries and two sixes by Shihan Kamileen and half tons by Kusal Janith and Oshada Fernando who together put on a 164 runs stand for the fourth wicket was the highlight on the second day of the match between Colts and Moratuwa SC at the Colts ground.
The second day's play saw Colts taking a first innings lead as they restricted Moratuwa SC to 145 having made 159 on day one. Colts batting the second time ended the day making a formidable score of 312 for 4.
Lahiru Udara's knock of 115 helped NCC to come out on top against Leo CC at the end of the second day's play at the NCC ground. NCC resuming on their overnight score of 184 for 3 went on to make 316 and then bowled out for a score of 159.
At BRC
Ragama CC 434 (Rumesh Buddika 124, Udara Jayasundara 93, Kaushalya Gajasinghe 92, Dhananjaya de Silva 32, Eranga Ratnayake 31: Nalin Priyadarshana 5 for 119)
BRC 224 (Pranama Sri Vimukthi 66., Madushan Ravichandrakumar 45, Hasitha Lakmal 39, Mateesha Ranaweera 34: Kaushalya Gajasinghe 3 for 31, Saranga Rajaguru 2 for 32, Lahiru Jayaratne 2 for 80) and 99 (Madushan Ravichandrakumar 21 n.o.: Saranga Rajaguru 3 for 24, Kaushalya Gajasinghe 2 for 5, Nisala Tharaka 2 for 18)
At P. Sara Stadium
Navy (269/6 overnight) 402 (Duleeka Tissakuttige 112, Dilan Chandima 74, Yoshan Kumara 64, Avishka Perera 44, Sujeewa Liyanage 32 n.o.: Chathuranga de Silva 3 for 6, Dinuk Jayasinghe 3 for 90, Vimukthi Perera 2 for 99)
Tamil Union 111 for 3 (Ashen Silva 57, Sajith Kelumpriya 28, Kithruwan Withanage 20 n.o.)
At Panagoda
Chilaw Marians 140 (Mohamed Irshad 20, Prasansana Jayamanna 34 n.o.: Janith de Silva 5 for 44) and 165 for 8 (Waqas Barkath 73, Chathura Jayan 37: Sudeera Seneviratne 3 for 25, Syresh Peiris 2 for 43)
Army (149/3 overnight) 313 (Kaushalya Ilukwatte 57, Lakshith Madushan 43, Priyan Weerasinghe 43, Isuru Dharshana 37, Janith de Silva 31: Waqas Barkath 5 for 90, Azad Ajireen 4 for 93)
At Braybrooke Place
Moors 178 (Shehan Jayasuriya 75, Ashan Priyanjan 38, Imras Rafi 35: Vikum Sanjaya 4 for 60, Sachin Peiris 3 for 41, Dushan Vimukthi 2 for 42) and 234 (Shehan Jayasuriya 69, Chamikara Edirisinghe 31, Lasitha Abeyratne 30: S. Chathuranga 30: Sachithra Perera 3 for 56, Navin Kavikara 3 for 80, Dushan Vimukthi 2 for 48)
CCC (123/5 overnight) 139 (Sangaran Nandalal 35, Indika Massalage 35, Damith Priyadarshana 29 n.o.: Chamikara Edirisinghe 5 for 16, Maduka Liyanapathirana 3 for 49, Shehan Jayasuriya 2 for 43) and 37 for 2
At Colts
Colts 159 (Hasitha Wickramasinghe 54, Chathuranga Kumara 28: Malshan Mendis 3 for 21, Chemila Obeysekera 2 for 42, Pasindu Madushan 2 for 52) and 312 for 4 (Shihan Kamileen 123, Kusal Janith 83, Oshada Fernando 77 n.o.)
Moratuwa SC (77/5 overnight) 145 (Kasun Fernando 44, Chathura Hemakumara 37, Pawan Devinda 17: Chathura Peiris 3 for 15, Dilanka Auwardt 3 for 23, Chathuranga Kumara 2 for 33)
At NCC
NCC (184/3 overnight) 316 (Lahiru Udara 115, Angelo Perera 42, Imesh Udayanga 38, Irosh Samarasooriya 28, Niroshan Dickwella 27, Tissa Bandara 25: Kavindu Ashan 3 for 43. Ruchira Tharindra 3 for 117, Krishan Dinidu 2 for 65)
Leo CC 159