The interviewing board of a reputed school in Colombo has rejected the applications made on behalf of twins for admission to Grade One, despite proof of residency issued by the National Housing Development Authority (NHDA).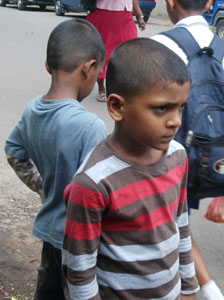 The twins: No admission. Pic by
Nilan Maligaspe
Father of the twins, R. Wijesinghe, who lives in Sivalipura, Borella, stated that his two children were refused admission to Grade 1 in a government school situated 120 metres from his house. "
We had to get 74 marks to gain admission to the school, but had only 70 marks. The interviewing Board refused to give us marks for the home address. If we had the 10 marks given for the address, my children would have qualified for Grade 1," he said.
Director- NHDA, S. Jayathilake stated that last year there was a different circular, and the schools accepted the documents provided by the Authority.
"We are trying to give deeds for these residents, and informed the schools to take the children, by issuing a letter, but that too wasn't accepted by them," he said. The principal of the school refused to comment regarding the matter.
Mr Wijesinghe is only asking the Authorities to afford him justice. "All we need is a good school for our children to study in. They have remained at home while other children attend school, because I believed that the principal will accept the documents we possess, to facilitate my children's admission," he said.