Shehan Karunatilaka put Sri Lanka on the world literary map on Friday when he was announced as the winner of the prestigious 2012 Commonwealth Book Prize for his novel 'Chinaman: The Legend of Pradeep Mathew'. He received his award on June 8 at the Hay Festival in Wales from prize-winning Nigerian author Chimamanda Ngozi Adichie.
The Galle-born writer whose book won the Gratiaen Prize in 2008 and was published by Vintage Publishing, Random House India, was characteristically self-deprecating in response to his win. "It's incredible considering where the book began. I wasn't certain that it would be published outside of Colombo when I was writing it. I was surprised to make it to the final five, considering how strong the Asia shortlist was. To win it is quite crazy. Now I just need to find a pub in Wales that serves arrack. It's a privilege to be part of a global prize that has recognised so many great writers over the years. I feel deeply honoured," he said.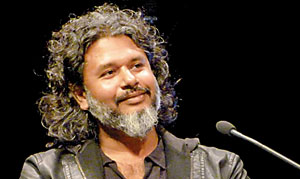 Doing Sri Lanka proud: Shehan speaking at the Hay Festival
The chair of the Commonwealth Book Prize Margaret Busby was full of praise for the book. "This fabulously enjoyable read will keep you entertained and rooting for the protagonist until the very end, while delivering startling truths about cricket and about Sri Lanka. Narrated by a retired hard-drinking sports journalist on an obsessive quest for the mysterious Pradeep Mathew, who may just be Sri Lanka's best all-time cricketer, it's an insightful story about fact and gullibility, about world history, about friends and family; and it comes with this attestable guarantee: "If you've never seen a cricket match; if you have and it has made you snore; if you can't understand why anyone would watch, let alone obsess over this dull game, then this is the book for you." Chinaman: The Legend of Pradeep Mathew sets the standard high for the new Commonwealth Book Prize, which aims to discover new talent and energise literary output in the different regions," she said.
Shehan who studied Business and Administration at Massey University in New Zealand, after which he worked as an advertising copywriter is currently working on his second novel.
The Commonwealth Book Prize is open to writers who have had their first novel (full length work of fiction) published between January 1 and December 31, 2011 and carries a prize of £10,000.
The Commonwealth Short Story Prize also announced on Friday was won by New Zealand's Emma Martin, for her story 'Two Girls in a Boat'.
Lucy Hannah, Programme Manager (Culture) Commonwealth Foundation, said "We're excited that in the first year of Commonwealth Writers we have a Book Prize winner who's not from a country with a large, well established publishing industry and a Short Story Prize winner who's just starting to get recognised. We congratulate both Shehan and Emma for a fantastic achievement and we're looking forward to working alongside them in the future to help promote opportunities for writers in their regions."
Shehan speaks to ST
nWhere were you when you heard the news? What was the first thing that passed through your mind?
I was on a Writer's Retreat in upstate New York and they flew me down to Wales for the announcement at the Hay Festival. The festival was nice, but the weather was dismal. Nothing passes through the mind when it is announced. You just smile and shake lots of hands.
How will you celebrate?
Couldn't find Arrack in Wales, so had to settle for Guinness. Lots of nice people bought me drinks in exchange for signatures. Fair swap I thought.
Considering the book has been bringing in prize money and is no doubt selling well, do you feel like you can finally turn to writing full time?
Yes. Have a few missions to complete in Singapore, but am back to writing every day.
How's the progress on your second book? Do you know when it will be published?
When it's done. Which may take a few more years.
When will you be in Sri Lanka next?
Hopefully soon.