The year was 1993 and our beloved Mirror Magazine was in need of a face to launch its
tabloid format.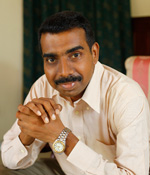 Mettasena
For ex- Kuwait Airways air hostess Ronda De Lay, her slender youthful figure, immortalized in printer's ink of that February issue would go down in the history of the Sunday Times, as one of our first Mirror cover girls. And for Ronda while it was the first time she would be photographed for a cover of a magazine, from there would stem many other opportunities.
The magazine which up until then was published as a broadsheet page was reverting to its earlier tabloid layout. However, this time around the focus on cementing its popularity would lie in the faces which would grace its cover page.
From charismatic Miss World contestants, Indian models, to Bollywood stars, popular personalities, film stars to starry-eyed youngsters who dared to forge a future in the celluloid and fashion industry, each of their faces would act as a catalyst in gradually captivating a young readership - one cover at a time.
Indeed, the Mirror did have many faces and Padmakumara Mettasena would be the man behind the lens to capture most of them.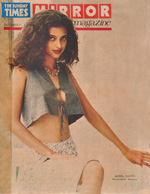 While a photographer's byline is arguably less memorable than a writer's, Padmakumara discovered earlier on, that his had even less staying power owing to another photographer having a similar name. Even though being teased for years that his decision to drop his first name was because of astrological leanings, he would henceforth be referred to as simply - 'Mettasena'.
Whether that name or his decision was written in the stars - we will never know. However, the stars did literally line up thereafter and the Mettasena brand took off, with the cover pages of the Mirror Magazine for years to come.
In terms of modern photographic possibilities the options that were open to a young photographer in the 1990s could be viewed in today's context as limiting. Especially when the intricacies of such technology left little room for refining of minor trivialities.
There were no re-takes and the outcome of a photo shoot would remain for the most part - unknown till the negatives of the film were processed in its various baths. On one occasion, Mettasena recalls a fly - unbeknownst to him settling on a model's leg during a shoot and with no way to edit the insect out, both model and fly together would be acknowledged in a caption and be the talking point of that issue. As for Mettasena, he would earn the ire of the model who thought it less than amusing.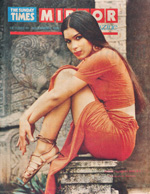 Having begun his career as a picture story writer at Lake House, Mettasena took to photography with a Minolta XGM camera with only a single 50mm lens purchased for Rs. 4000 by his parents. His very first cover girl was for a Lake House publication-a young Rosy Ramanayake (later Senanayake) who was starring in Suraduthayo. That first shoot, whetted his curiosity for the dynamics of cover pictures. Years later freelancing for the Sunday Times and shifting between taking pictures for news and feature stories - it was the covers that would spark his creativity.
Yearning for change and experimentation with different processing techniques of photographic film and backdrop settings, would lead to collaborative attempts with leading designers and make-up artistes - namely Purnima Abeyratne and Ramani Fernando.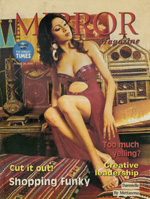 The modernistic outlook of these designers at the time is what Mettasena attributes to the futuristic and edgy feel of each of our Mirror Magazine covers in those early years. It was a time when a concept lay in the mind's eye of a photographer and would require much sweat and time to bring it to life visually.
The covers themselves would be conceptualized with the designers, the make-up artistes in tow whilst backdrops would be selected at a particular location or physically created. With limited resources and monetary constraints to consider, the designers and make-up artistes would put their own resources into the shoots.
s was essentially how our Egyptian themed cover of July 1993 (see pic below) came into being. Artist Athula Siriwardena handpainted the backdrop of the grandiose setting of Cleopatra's throne room for that issue replete with hieroglyphic figures and Egyptian art work. But the shoot itself would require a studio and designer Purnima Abeyratne willingly converted her shop/saloon located on the second floor of Majestic City for the task. In addition, the outfit and Nushara's headpiece et al were designed by Purnima herself. On most occasions, outfits would be designed from scratch especially for the shoots.
The pictures of those early years were captured with an emphasis on the primary colours which came into play when selecting backdrops and fabric for outfits – since these were the colours that would print well. A look back at some of our covers today would reveal the reason behind those unison tones. In other words our covers were shot in living colour.
For added effect photographs which were captured in black and white would have tones applied when the films were being developed. This was as far as manipulations would go. The rest remained as it was - the subtleties of reality as photographed in those early years.
On a trip to India, Mettasena met E.G.K. Chandan, owner of a studio in Bangalore, who impressed by his portfolio would later introduce him to fashion guru Prasad Bidappa and well known Indian photographer Ritu Nanda. From such high profile associations would spring opportunities to photograph young models who had star potential such as Nafisa Joseph who was photographed at just 15 years for the Mirror cover in Bangalore in 1995. Two years later she would go on to win the Femina Miss India title. But her story had a tragic end- in 2004 she took her own life.
It was a daunting task to search out a fresh face each week for the cover but still - it was a team effort that was set in motion - to place in front of its readership a visual piece of art. And at one time or another, the Mirror Magazine covers would serve as pin-ups in many a youngster's bedroom. Monday mornings would see phones ringing off the hook in search of our cover girls and contact details. As for the models themselves - as a Mirror cover girl, they had stepped into the spotlight and careers would begin to take off. As for directors and advertisers, the magazine covers offered an opportunity to find their next stars.