Half-baked knowledge is dangerous. So is half-baked technology even though it is a stepping stone to full-baked technology. The Sunday Times' techno-journey carries with it several costly blunders. However, timely detection and measures have saved us embarrassment and costly legal battles.
One such story stands out. It happened in the paste-up-technology or semi-computerised era sometime in the early 1990s when the Sunday Times Plus section carried a story in a series titled "Like Father Like Son". The bromides which were like today's prints-outs were waxed, cut and pasted on the cardboard sheets; a photocopy or page-proof was taken to be read by our proof readers and sub-editors. If there was a typo, say for instance the word 'wife' had been printed as 'life', we would remove the letter 'L' – we used a carpet knife -- and take out the letter 'w' from an old waxed bromide and paste it on where the letter 'L' had been. The paste-up section in the editorial was thus full of tiny letters that often got stuck to our clothes, hair and body.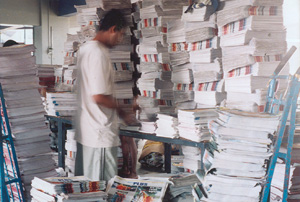 The old despatch department where Wijeya Newspapers' employees and hurriedly hired youths from the neighbourhood used twigs and sticks to place an ink blob on the word 'brothel'.
The 'Like Father Like Son' story began with a quote from a prominent minister of that era. "I was named after my father's favourite brother …" and the story followed. It was proof read twice and the final artwork was sent to the press. The printing took place on Thursday night. When we came to work on Friday morning, we would find on our desk the machine proofs of the paper. A few minutes later, a highly disturbed publisher called the subs desk to pinpoint the blunder in the page one story of the Plus section. Instead of "I was named after my father's favourite brother," the words read "I was named after my father's favourite brothel".
Some 50,000 copies carried the horrible blunder. While an immediate probe was launched to find out what happened and who was responsible, advice was sought as to how to overcome the problem. Some said the entire 50,000 copies which carried quite a few advertisements to the tune of tens of thousands of rupees-- should be destroyed. Someone said we should smudge the word 'brothel' with printing ink using sticks and twigs. To do that, we needed an army of labourers. Dispatch Department supervisors brought in some neighbourhood youths who joined the regular staff and daubed the 'brothel' with black ink. The Despatch Department looked like a Postal Department.
The internal investigation showed that the blunder happened because a letter 'L' -- all sorts of letters were all over in the Subs Desk in those paste-up days-- had fallen on the letter 'R', thus completely changing the meaning. The case was dismissed.