By the time Aruna Wickramarachchi joined the Sunday Times in 1996, the paper had already earned a reputation for the excellence of its design, but he and his team would usher it into the 21st century.
In those years, they oversaw the transition from manual to digital page design, picking up along the way the essentials of newspaper design. Today, in his quiet office, Aruna works with a group of some 20 young people, and says that as the Head of the Design Dept, it's all about leveraging new talent and new platforms to reach a bigger readership.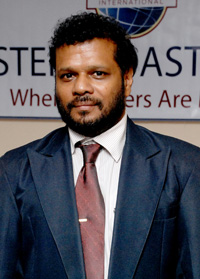 Head of Design: Aruna Wickramarachchi
Over the last 25 years, The Sunday Times has been honoured time and again for outstanding design – being recognized by the Editors' Guild of Sri Lanka and the Sri Lanka Press Institute as the Best Designed Newspaper in 2000, 2001, 2002, and then again in 2008 and 2010. Most recently, in 2009, the paper underwent a redesign, which brought in cleaner lines, more pictures and infographics and boosted its appeal for young readers.
It was a move that presented its own risks, Aruna admits candidly explaining that the Sunday Times had long been the choice of a niche market – well educated readers who were looking for balanced articles and presentation that respected their intelligence, is how he categorizes the paper's readership.
The new design, though influenced undoubtedly as it was by the layouts adopted by other iconic papers such as the London Sunday Times, was also mapped out keeping in mind a Sri Lankan readership – and the budget constraints of a local paper.
That the finished product is the result of the efforts of a group of people is not always well understood, says Aruna, noting that a long line from the editor and the sub-editor as well as layout and technical staff determine how your paper will look this week. Though this is currently a stage-by-stage process, Aruna hopes to see the equivalent of management systems like concurrent engineering deployed here too.
It's an established fact that newspapers all over the world have seen their readership dwindle in the face of new challengers, says Aruna, pointing to the easy availability of free news online. Setting the paper apart also isn't as easy as it used to be – in particular as some designers making the move between rival papers carry a similar aesthetic along with them. Finding ways to keep old readers coming back while bringing in new ones is about striking the right balance in terms of content and layout, but also in creating a distinctive design framework that sets the paper apart – something the Sunday Times' team has set its mind to with some success.
In the future Aruna sees the paper evolving into an entity that embraces new platforms, in particular leveraging the web through the use of multimedia and supplementing print content with additional material in the virtual domain.