In the run up to the 2011 Gratiaen Prize, we meet the five contenders for the literary award that honours Sri Lankans writing in English. The winner will be announced on Saturday, May 26.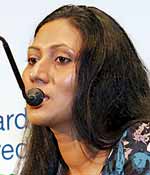 Charulatha Abeysekara Thewarathanthri never intended to write a book. A civil engineering graduate from the University of Moratuwa, the mother of four once taught Physics and Mathematics to A/L students at the British School and St. Thomas' College, Mt. Lavinia. But when her father (who was himself an author) passed away, Charulatha found herself struggling to come to terms with her loss.
"One day I was watching my kids play. My youngest was a premature child. When he was born the doctor did not have any hope that he would survive but my father never gave up on him," says Charulatha. The memory of how her father lent her his strength then triggered a flood of memories for her and she began to write down everything she could recollect about him. "That little bit was the beginning…. The book just came walking into my head, like floats in a parade. I just had to describe each float as it came by. It came so naturally and I was reconnected with my dad as I wrote." 'Autumn Leaves' is Charulatha's first novel.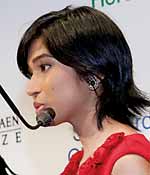 An internal auditor by profession, Mariam Riza has been raising expectations (and eyebrows) with 'Cry for me a Little,' her first collection of short stories. "The book focuses on many significant and contemporary issues that are sometimes controversial, and yet important," says Mariam, listing the likes of ethnic conflict, compensated dating, homophobia, wildlife conservation, ghost prisoners and human trafficking. Uniting these diverse subjects is an underlying Sri Lankan connection, she explains. Mariam thinks modern readers are ready to have their boundaries tested a little: "I wanted my book to be a bit different, daring, and experimental."
The young author's work has previously been published in First Flight, Channels and on the WriteClique website. As a young writer, her work has been recognized with more than one award, including a prize from Channels. Today, Mariam is a woman on a mission: "I feel that through my writing, I could approach the younger and older generations so that they may look at past, present or forthcoming issues and think about it, and make educated decisions on where they stand on the issue." She says she is fuelled by the love and the support of her family. "My sister in particular, waits for the stories hungrily and she devours it in seconds!"
Mariam is currently reading for an M.A in Business Psychology.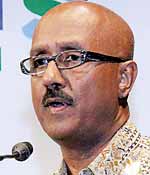 Lucky de Chickera made the Gratiaen shortlist this year for his novel 'Sarasu ....amidst slums of Terror.' The fast paced plot follows Sarasu as the young girl and her family struggle to survive a move from the sprawling Bombay slum of Dharavi to Wanathamulla in Colombo. "The story moves quickly from anecdotes to episodes, from weddings to funerals from rituals to revenge, and Sarasu grows from childhood to adolescence, to young womanhood. The story ends in a pulsating finale when Sarasu and Sapna, her child-hoodfriend meet with their fate in the wilds of the Mulaitivu jungles in their quest for their fathers," explains Lucky.
He feels a profound empathy with his characters: "I was deeply moved into writing about Sarasu as she depicted for me the thousands of girl children living in these slums, where like lotuses they bloom out of the quagmire of the murky swamp waters blossoming out in all their splendour, only to very quickly fade and die unheralded, unsung and unknown."
A prolific writer from the age of 9, Lucky is the author of two other books – 'A Tigress of Kilinochchi' and 'Poseidon's Wrath.' Retired after 43 years in corporate managerial positions (his last post was the MD/CEO of Lanka Walltile PLC), he is married to Bernadette, and has three sons, three grandsons and a granddaughter.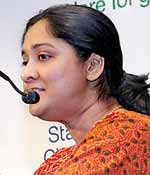 This will be the third time Madhubhashini Disanayaka-Ratnayake has appeared on the Gratiaen shortlist, and she believes the intervening years have honed her craft. "Between my last shortlisting and this, there is a MA in creative writing from New York University that I could follow as a Fulbrighter," she says, sharing her belief that "like any other art, writing can be developed by learning."
Currently the Head of the English Language Teaching Unit at the University of Sri Jayewardenepura, she is married to a well-known sitarist. A musician herself, Madhu abandoned both the violin and the sitar when she got married. But music still finds a place in her writing. She describes the weighty tome that is 'There's Something I Have to Tell You' as being about seven characters growing up in the latter half of the 20th century. "There is politics, Buddhism and music in it. And silence. For me, the partner of music is silence."
Madhu was awarded the State Literary Award for the Best Collection of Short Stories in English in 1991. When asked what place writing has in her life she says simply, "It defines who I am."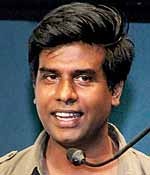 Malinda Seneviratne (the solitary poet on this year's shortlist) isn't prone to waxing lyrical about his work. "I use the Gratiaen as a reason to find things that I have written that year and bring them together. It helps me sort out my stuff. Whatever I collect, I submit. There's nothing grand about it," he says.
A well-known journalist, Malinda is currently the Editor-in-Chief of The Nation. It was a photo spread published in that newspaper last November that inspired the title poem of his collection: "The layout people do the page and leave some space for a poem; they call me when they are done, I go, sit and write to fill the space. The file was originally saved as 'Heart crayons on mind paper', a line from one of the poems. When I submitted it to the Gratiaen, I changed the title. Now, thinking back, I prefer the original title!"
Malinda, who published his first collection of poetry 'Epistles: 1984-1996' in 1999, received a B.A in sociology from Harvard University and completed all the coursework for a PhD from Cornell University before deciding 'he had had enough of school.' He has twice been shortlisted for the Gratiaen Prize – first in 2007 for 'Threads' and then in 2008 for 'The Underside of Silence.' His recent work includes translations into English of Simon Navagaththegama's Sansaraaranyaye Dadayakkaraya and Martin Wickramasinghe's Upan Da Sita, both of which are scheduled for publication.
Excerpt from 'Autumn Leaves' by Charulatha Abeysekara Thewarathanthri
I feel elated, honoured to be among the elegant beauty of autumn leaves. Something about the dying leaves fills me with a revolutionary heat, and I wish to be like them, to finally know yourself fully, to choose to stand exposed before the world, to be who you are and to die for it, to be beautiful and graceful in death. The rustling bits of flame swirling around me seem to hide within their scarlet-golden depths the songs of both the euphoria and pathos of our existence on Earth.
My heart flies with the autumn leaves, dancing, ecstatic, but touched with melancholy, and in my ears is a voice that I have never heard before, soothing and hypnotic, whispering the words of Ryokan, the hermit-monk of Japan.
"I sit quietly, listening to the falling leaves
A lonely hut, a life of renunciation.
The past has faded, things are no longer remembered
My sleeve is wet with tears."
I stand alone on the mountainside ablaze with the superb flames of autumn, and the brilliant crimson-gold-yellow-orange leaves dance and rise and fall and dance in the chill breeze. All around me are the hues and fragrances of things that are dying, and my heart quickens within me. I am filled with a strange mixture of sadness of departure and excitement of new beginnings. The grass has stopped growing on the mountainside, and the trees would soon be naked. The flowers have left, leaving their fruits behind to be harvested, and after the fiery blaze of autumn, would come bone-naked, desolate ice. All would seem to have ended. But the ground and the sky and the wind hide secrets, the whole story is not told yet.
"Am I going crazy, Father?"
Father smiles serenely.
"Some of us are lucky enough to discover ourselves and be ourselves without any pretensions. Then, society calls them crazy."
He takes my hand in his, and we begin to walk again.
"Isn't it better to be called crazy than never to really know who you are?" I ask, as each footprint we make is almost immediately erased by the lapping ocean waves and again, in my mind, dance the scarlet-gold maple leaves of fall.
"Of course," answers Father simply, as he smiles into the cool morning air.
I am not entirely sure I understand, but I feel good and I do not stop to analyze. I only feel and I let the feelings take flight in the cool early morning as the ocean, majestic, mystical and mysterious, bathes us in its salty spray and ageless magic.
The moment I am in the car, Father turns it around and drives down the driveway, without a backward glance. I am watching Sarah standing by the door, and she leans on the doorframe with both her arms folded across her front, a lonely, miserable, helpless figure who resents what is happening but is powerless to stop it. With a pang, it strikes me how much like Mother she looks, leaning on the doorframe, watching Father drive away somewhere she could not or would not go, looking miserable and angry.
I am filled with a burning sadness, my eyes sting and as I blink back my tears, I glance at Father. He looks like a thundercloud and his darkened amber eyes flash like lightning. He keeps his eyes on the road, both hands gripping the steering wheel, his shoulders tensed. Looking at him, I do not wonder about his two failed marriages. He knows that he is hurting Sarah, but he is much too proud to admit it, and he does not want to change our ritualistic outings because of her. His words, spoken on a dark night long ago, as we lay under the star-lit sky, echo in my head: "I promise you that I'll never let anyone hurt you..."
Guilt blazes, scalding like hot oil and my heart goes out to Sarah, who, young and naïve and completely star-struck with Father, bit off more than she could chew in marrying him. I begin to feel a strange, inexplicable kinship with Sarah, and I am wishing that there was another, kinder way of doing this, and for the first time I begin to fully appreciate Father's efforts to keep me happy, and how much all this is costing Sarah and Father both.
"See the ring of mountains around the village, baby?" Father had asked me once long ago, before Mother had disappeared, as we lay on a mat near the brook, munching sandwiches.
"Beyond them, there's a narrow valley. Beyond the valley, another mountain range. If we drive along the main road, all the way around them, we get to the other side of that other mountain range. That's leopard heaven."
He had turned his head and looked at me.
"That means, humans never venture in there. You know why?" He had paused dramatically, his amber eyes glinting and wide. My own eyes too, had been wide, my small heart quickening within me.
"Legend has it that those mountains belong to creatures from the other side. It is said that they come out on moonlit nights." Father's voice had been a dramatic whisper. I had squealed and clung to his arm.
"Oh, Father… Let's go camping there…"
Father had thrown his head back and laughed. And we had camped there several times and I had only seen deer and leopards, however much I longed for a glimpse of the 'other side'.
"Father…" I call, a little hesitantly.
Father's head bent over the book snaps up, and he turns eagerly around, a startled joy shining in his eyes. His face breaks into a sunny smile as he sees me and he silently holds out one hand to me. Walking over, I take his hand in mine and he helps me sit down next to him. Then he puts an arm around my shoulders, drawing me close, and I rest my head on his shoulder.
When he speaks, his voice is gentle like the soft sigh of the ocean waves.
"How are you, little darling? What brings you here on a week day?"
The tears fall slowly and silently onto my lap but I am smiling through my tears. Snuggling up closer to Father, feeling such a luxurious comfort in his embrace, I answer with a single word.
"You…"
"Baby… seriously… I have to talk to you."
"About something nice? Like a camping trip? Or maybe a hike, just the two of us?"
"Not… exactly."
"Then, I don't wanna hear it yet."
"Don't wanna hear it yet ? Well…When can I talk to you about it? How long must I wait?"
Suddenly, this conversation is beginning to sound familiar, and the answer to that last question just pops into my mind.
"Forever and ever!"
Father turns to me, his beautiful amber eyes, which look startlingly young in his suddenly-aged face, lit up like lanterns, and I know that he, too, has remembered.
"Forever and ever is very long time, Pooh."
"Forever's not long at all, Christopher, when I'm with you."
Father sits up laughing, looking down at me sprawled on the grass, with baby Varanga, fast asleep, sprawled on me. Two hawks circle the skies overhead, their call, which sounds like the cry of a newborn baby, faintly echoing over the treetops.
"Ok, listen, Pooh Bear…! I'm not long for this world and I know it. I want you to know and remember that no matter what happens, we'll never be apart. Even when I'm not here, I'll always be right there."
And Father points at the spot where my heart beats, the spot where little Varanga, worn out after so many hours of toddling through the trees and splashing in the stream on her new-found feet, now rests her head in peaceful slumber.
Excerpt from 'There's Something I Have to Tell You' by Madhubashini Dissanayake-Ratnayaka
Excerpt 1
Shhhh shhhh shhhhh!
Janu looked up at the hailing. A boy was standing at the fence that separated the house from the temple premises, his eyes following the movements Janu made with the cricket bat. Janu swung a few more imaginary sixers, casting looks at the stranger in an offhand way. The boy seemed younger than Janu's ten years, and stood barefooted and bare bodied with only an orange cloth tied around his waist, his dark shaven head shining like a walnut under the Jak fruit tree. Even in its shade his eyes could be seen gleaming as he regarded the bat in Janu's hand. Once Janu nodded him over, it took the boy only a few minutes to scale the tree and hop over to this side, something he did with more ease than Janu knew he could have managed even with his more convenient shorts and T shirt. The boy was inches shorter than him, and Janu watched the bald head shinning near the bat as the boy bent over it, breathing deep and fast.

"Good bat. From Colombo, no? Only Colombo would have such good bats. Not even my village had bats like these."
"Aren't you from Bulankulama?"
"From Madirigiriya. Is this yours? I had a bat at home but had to leave it when I came here."
"Why?"
"Buddhist monks don't need bats, they said. Where is the ball?"
"You are a hamuduruwo?"
"Not full monk yet. Samanera, a novice. Do you have a ball?"
Janu left the bat in the boy's hand and ran back to his house to get his cricket ball. As he sped out again, he half feared that the possible playmate would have gone - hardly any boys came to this ancestral house of his father's called the walawwa, the mansion of the village, as they were not considered good enough to be his playmates when he was brought here once every long school holiday. But the boy monk was there, taking position as the batsman, tapping the earth with the tip of the bat so that Janu could bowl without ever stopping the run he had started from the house. Janu breathed a sigh of relief as the ball sailed over his head. Good company at last.
"What do I call you?" Janu shouted as he bowled the fourth time towards the boy, his arms curving over his head furiously. He wondered how he could get to bat – any other boy in the village he could have ordered out. "Reverend Sumana," he shouted back. "Little Monk, if you wish."
Janu frowned. There was no way he could fight with someone he had to call reverend. Even a king has to go down on his knees before a Buddhist monk. He would have to catch that ball. Janu waited eagle eyed – the monk couldn't be that good that the ball wouldn't end up in his hands. But he was. It took Janu more than three overs to get him out.
"When did you become a monk?" Janu asked when Little Monk finally said he had to go back to the temple to have his lunch. No one who had not held a bat for long could play the way the monk did.
"A few months ago," Little Monk said, still keeping the bat firmly in his hands as he turned towards the temple.
"That is why I haven't seen you before," said Janu.
Little Monk kept a foot carefully on the jak tree avoiding the wire of the fence that ran before it. He reached for a branch with one hand and vaulted himself over, holding the bat with the other. One he was standing on the other side, he tested it a few times on the top leaves of a golden daspetiya plant, causing the tiny petals to scatter on the sand around it. Then he handed the bat over to Janu over the fence.
"Keep it for a while. There is another inside the house," said Janu. There wasn't. This was his best bat. But something in the Little Monk's face made him say it.
"I can't."
"Why?"
"Monks are not supposed to like games. They are not supposed to like anything too much, actually."
"Why?"
"Liking leads to sorrow. That is what they say," Little Monk said with his face turned away. Since Janu hadn't taken his bat back, Little Monk continued to prod the flowers lining fence with it.
"Why did you become a monk then?"
Little Monk shrugged. "The Chief Monk here is a cousin of my mother's. He wanted someone to take over the temple after him, I guess."
Little Monk seemed to wait, leaning on the bat and after some moments Janu hastily took his feet out of his slippers and attempted the same leap that the monk had done. It cost him a scraped knee and scratched palms but he managed and Little Monk made no comment about his clumsiness. Perhaps he had known that Janu was from Colombo and didn't have a chance to posses the skills that he had. Janu got up from the sand where he had landed on all fours, wiping his hands on his shorts. Janu was familiar with the temple, having come here with his parents each time they visited the village. It was only this particular way of getting here that was new.
As they walked through the coconut grove, Janu could see the clay lamps lit even in the afternoon around the bodhi tree, shivering points of light underneath the shade. As he stepped into the white sand of the temple proper, the grains of which were swept into the pattern of a coconut palm, the white stupa rose over him. And more than any other temple he had been into, there were flowers here, lining the outside of the shrine room, all along the path to the monks' abode, alongside the bell tower. Pottering among them was the dark form of Saranelis, the temple acolyte, the sight of whom made the Little Monk give the bat back to Janu.
"Walawwe appo, little master," said Saranelis, cracking his old face open in a broken toothed smile, the first scowl vanishing at the recognition. "I heard that you had come."
Little Monk went without stopping to the clothes line hung by the well and took down his saffron robe. He draped the robe around himself and Janu stared at him, startled. He could not have played cricket with the person standing in front of him now.
"Your father came to see our chief monk a few days ago," Saranelis said walking out of a flower bed, wiping his face with a dirty rag he had slung over his shoulder. "I was sorry that your mother hadn't come this time."
A flood of coldness hit Janu's stomach. He had forgotten that something was wrong. Janu wished he had been allowed to ask her what it was before he had been bundled into the car by their driver before the silent drive that had brought him and his father here.
"She was not well." Janu said shortly. "She had a stomach ache."
"Yes, yes," said Saranelis absently. "Ah, life!"
Excerpt 2
Sarala's father began bringing home any old English newspapers that he could find since that day in 1975, when the Tamil New Tigers shot and killed Durraiappah, the Tamil Mayor of Jaffna. Durraiappah had been a strong supporter of the Sinhala lead Sri Lanka Freedom Party which had come to power first on the promise of making Sinhala the only official language of Sri Lanka. Rumour had it that it was one among a small group of young Tamil boys making a crazy demand of a separate state up north of the country, who had shot him, a man called Prabhakaran.
Sarala's father brought home English words wrapped around tea buns, crushed around bunches of plantains - the yellow ambul and kolikuttu, the long green anamalu. He smoothed the pages over with his palm on the kitchen table, leaning over it instead of sitting down on a chair. Often still in his white kurta shirt and sarong he wore to school, he called Sarala over to his side to point out the words to her. As she leant her elbows on the table and squinted at the black print, he followed her progress, tracing with his forefinger unfamiliar sounds that twisted her tongue strangely.
"It is almost as if he has forgotten he is the Sinhala teacher in our school, not English," she complained to her brother and his friend as they sat outside the Vivekaramaya temple one fullmoon poya holiday. They were here lured not by piety but the laden mango tree that bordered the temple ground.
"Do we have an English teacher in school?" Upali asked.
"We are supposed to have. But it is difficult to get English teachers to come to villages like ours." Kamal said.
"What do you mean, 'villages like ours'?" Upali asked.
"These areas far away from Colombo are called 'difficult areas'. Trained English teachers come here only for the compulsory two years they have to serve after their training. The moment that is done, they leave."

"Who told you?"
"Thaaththa."
Sarala had heard her father mention to her mother that Kamal had an unusually good brain, that they will not have to worry about their son. As she twisted her tongue around strange English words, she hoped that by doing so she would lessen the worry they had about her as well. A girl was a weight, needing protection till marriage and a dowry then. She knew there was no gold, money or land that her parents had to give as her dowry. The house they were in had been mortgaged to Lucky mudalali even before it was inherited by her father. It was a small amount the mudalali had needed to lend her grandfather – the mudalali was the richest shopkeeper in Bulankulama and could afford to lend money to the whole village if he wanted to – but the debt kept getting bigger and bigger as time passed with the accumulation of the enormous interest rate. Sarala imagined it going down the generations. Kamal paying it, then his son. She hoped she would one day marry a man who had a house that was not mortgaged.
They were sitting under the Crow Bo tree growing outside the temple premises. Sarala sat cross legged on the cement slab lodged at a gentle angle on the earth below the tree. She was at ease because this was a Crow Bo, not commanding the awe and respect demanded by a sacred Bo tree. The seed for a Crow Bo was believed to have been carried in the excretion of a crow. It sprang accidentally. The Bodhi tree inside a temple was planted with much ceremony.

All three of them were holding mangoes in their hands, sitting comfortably in the shade, the boys sucking the mangoes in companiable silence. The three of them never spoke about Walawwe appo's visit. Appo had returned to Colombo the very next day and after that Upali behaved the way he always did with Kamal. The brother and the sister never wanted to ask him what had happened because the little they had gathered of his past has told them that it was better left untouched.

Upali's mango was sucked to the seed. Kamal was peeling the second half with his teeth. Sarala was holding hers reddish green and whole in her hand. Upali had knocked them down from the temple mango tree heavy with fruit. She would not eat it because it had been got by breaking the second promise of the five that all Buddhists had to take every day. But she would not say it either and get laughed at by her brothers. She spoke about the more pressing problem instead.
"Where would we use English even if we were to learn it? Who speaks English here? I don't see the point." She was tired of squinting at the smudgy newsprint like she had been doing the last two months.
"Ask him then. And stop complaining to us." Kamal said dismissively. He didn't know her problems, being quick to catch most things in school. She pressed her lips together. She would.
Excerpt 3
Anila's island had been called Serendip by the Persians, who got it from the Arabs' Serendib, who in turn had used the name Swarna Deepa – the Golden Island – by which the Sinhalese called their land. The heroes of the Persian fairy tale The Three Princes of Serendip were always making discoveries of things they were not seeking. In 1754, Horace Walpole used this story to coin a new word into English, Serendipity.
So many names for this little piece of earth. The island was Tambapanni – bronze palms - for Vijaya, their Aryan ancestor, falling exhausted off his boat onto the golden beach, rising with copper coloured sand on his hands. Alexander the Great called it Taprobane, though he didn't live to cross over the mountains to India and come to its teardrop in the Indian Ocean. For the Portuguese, the drinkers of blood and eaters of stone that the Sinhalese watched as the white men had their bread and wine on the beach, it was Ceilan.
They left behind Roman Catholicism and names like Becker, De Souza. The Dutch called it Zeilan, leaving behind a people who didn't want to return, the Burghers. The third and last colonizers to come sniffing after the fragrance of cinnamon and the smell of profit were the British who named the island Ceylon. They brought with them like the others, according to Uncle Senevi, injustice and exploitation. But when they were gone, the islanders found themselves left with plantations for tea, a transport system to ferry it throughout the country, a language, a religion, a way of life.
Music.
Excerpt 4
Anila had once gone to see the Kotmale reservoir with her parents. It was part of the giant hydro electricity project that was made by diverting the natural course of the longest river in Sri Lanka. The great Mahaweli was dammed and made to run over villages and lives in the name of progress. On the viewing bridge, the wind that whipped her hair across her face carried the smell of water and wet earth.
The waters were of a blue that one would choose to draw it with if one was very young. As far as the eye could see, it was only water and mountains and sky – the hill country was most beautiful in this area of Kotmale. It may never have been touched by humans, even if it were people who had dammed the river and made the reservoir. There had been life once where there was water now. Villages, temples, devales, ancient reservoirs had gone under water to allow the Kotmale Reservoir to exist. Water moved through doors in rooms where people had slept, over fields where children played. Now the sky they flew kites in was water. Mud that had raised paddy, river bed. Stupas stood sentinel over the drowned villages still.
The shrine rooms once thick with joss stick smoke and faith, now had a thicker element contained within its walls. What remained behind? Anila wondered. One can never leave completely. Her trip to the hill country with her family lasted only a day but there would always be a woman, on leave from her office in Colombo, standing on the bridge, watching unmatchable beauty with haunted eyes. The three thousand families who lost their homes to the water had lived on this land that had passed down to them from centuries.
What was falling apart underneath? What never will?
The rock fill dam towered 285 feet. It was 600 metres long. It was powerful enough to hold 141, 000 acres of water in check.
She looked at the water and thought - that is my heart. Then she looked at the barrier - that is what I have done with it.
A poem from the collection 'Some Texts are Made of Leaves' by Malinda Seneviratne:
Some texts are made of leaves/ Heart crayons on mind paper
They are flipped with the fingers of the eye
unwet and wet
read with care by those conversant
with the language
of colour, texture and passing
and passed over too
for there are preferred texts
and ones tossed aside
for later and never;
but leaves
come from dust and to dust they go
without complaint
through gaze and ignoring;
they conspire with sun, shade and wind
wear the garments of the day's seasonality
without shout, let us repeat
but whisper
the eternal verities: 'birth, decay, death'
all laid out in leaf-texts
that need no words,
not even these.
Serendipity unveiled
This land
is every land there ever was
and ever will be,
this land
is not foreign
to foreign soil,
gaze upon it
and that's all it takes
to obtain permanent residency
to love and hate
to own and disown
This land passes
from generation to generation
traveller to traveller
journal and revision,
it has moved from hand to hand
been chit-chatted about
civilized and vilified
and yet
again and again
through ownership and bombardment
lyrical rendering and misrepresentation
it rises
from cartography and cartographer
traveller and description
long nights
and blazing afternoons,
emerging in colour and storm
wave and wave-remnant
through mist and forgetting
rides on parallel lines
and wanders in impossible universes.
There are temples made of rock
and made of seaspray and yearning,
monuments from the past
as fresh as imagined tomorrows,
boats and carpets
lines and curves.
This land
is a beautiful woman,
an old woman's recollection
a baby's ripple of laughter,
a song sculpted without blueprint
plundered without mercy
lost without name
but always,
always
signatured with love.
.........
Lining
I like to draw lines
define spaces
not in the manner of an architect
or cartographer, no
but I like to play with heart-crayon
on mind-paper
and set out flower-flanked pathways:
the forks meant to lead astray
the hidden turn that was not taken
and the strange heartbeat keys
that brought us
from unknown beginnings
through familiar charades
stumbling through word lines
tripping over innuendo and glance
to this place of no return.
.....
Observation
Love,
it is a simple thing,
and it is all about
a man with a croaking voice
memorizing lyrics
of a song
he must either sing to her
or die.
...
'Consciousnesses'
(beach meditation)
They come and go
these waters from long ago and tomorrow
captured now in ice,
now drawn from a child's bubbled joy,
and then again from epileptic froth,
decorated with plasmic red,
salted,
'souped',
gathered from a continent and a cloud
spit and polish
a whale's breath and a butterfly wing;
they come to wet sand, erase footprint,
leave trace as line and dampness --
and in the brief residency
and momentary caress
sand says 'mine'
and spray just smiles.
...
Time*

For melody and music
love and love-making
rain and thunder
the caressing of leaves
breaking of twig
uprooting the tap-root
of memory,
time for the madness of recollection
for the head-toss
robbing tongue of word
throat of vocal chord,
time to bend low
and lower still
for executioner's swing
and time, perhaps
for words.
it's not now,
no, King Silent's century has begun.
Sorry.
*For Marianne who wanted a 'Right Now' poem
Excerpt from 'Cry for Me a Little' by Mariam Riza:
Extract 01:
"Please don't take me yet. I don't want to leave. I am not ready. But I left. I was taken. And I was gone.
I watched lifelessly as the doctors lay my dead body on the operating table and cut it out, and pulled out a beautiful baby girl. She had black thick hair and those pussycat eyes I had. She was mine. She was me. I whispered into her eyes. "My love, I love you. You are Manik. A Gem. Just like me."
I lay by my injured body, and just sat beside it unsure what to do. And then a doctor appeared. Into the operating room. Her perfume, distinct and pungent awoke me. It smelt of flowers. Jasmine I think, but was different. It was her. The lady doctor from the supermarket. She knelt over my body and took samples from it. She sighed and said to her colleagues, "The medicine is a failure. A hundred percent death rate for all who tested it out. We cannot put it out in the market. It's a failure. Kill it."
And she walked out unscarred and unmoved.
My body was immediately taken from the room and buried in an unidentified grave among other such dead victims. And the grave diggers, they looked at my grave, after they had done their deed. And I knew what they thought.
Poor Poor woman. Prostitute.
But I was not.
I was not.
I was a Human Guinea Pig."
Extract 02:
"And then I hung up. Wiped the beads of sweat off my forehead and stepped out of the cabin. The beauty and happiness hit me.
The bliss of an African Savanna.
It was hot. Hotter than Sri Lanka. But happier. I smiled here. Truly happy. Truly elated. Truly light. If the wind blew, I swear I would fly. Fly over the dry grassland, the water hole in the distance and the sleepy animals below me. For 25 years I had not known life till I found myself here in South Africa. Doing drawings on animals – but what I found could not be contained in just one picture. So I stayed. Drawing and being drawn. Longer and longer. Till I was lost among it all. In the kindness of Africa and its beautiful animals."
Excerpt from 'Sarasu…amidst slums of terror' by Lucky de Chickera:
The man stopped talking and looked at Sarasu and Sapna, "I think they were your fathers, the two who were here, the leader of the two was Raju, and the other was Atul. There was no talking for a few minutes as the girls let his words sink in. At least they had traced their fathers to the place where they operated from. The next step thought Sarasu, was to find out where they were.
But before they could probe further, the old man said, "they are both no more, come I will show you something", and he walked slowly into the forest and the girls crestfallen at the news, followed behind. After a few minutes walk through the dense undergrowth, Arumugam stopped and waited for the two to catch up with him. Then they saw why he had stopped; there were two small earth mounds and on them were two concrete posts, on which there were two letters, painted and marked in black, 'R' and 'A'.
"This is where they have been laid to rest" and he moved back to give the girls a clearer view. Sarasu fell on her knees by the posts and broke down sobbing her heart out. They were dreadful for old Arumugam to hear, as the girl's whole being appeared to shake with her heart rending cries and the sounds of her " Appah, Appah, why did you come here of all places to die," rang out through the silent forests. Sapna held the post that had the letter 'R' and silently bowed her head. Arumugam watched, his two hands clasped in oriental fashion with his bowed. The jungle was suddenly thrown into a deep silence, not even the crickets, cicadas, or the twittering birds were making their customary sounds. Even the the breezes that rustled the leaves of the big Kohomba trees around had stopped blowing; it was as if the creatures of the forest were respecting the daughters who had found the final resting places of their fathers; men who had roamed beneath their boughs and through their hidden paths, men who had been laid to rest in the midst of their dead branches, dried twigs and fallen leaves; men whom they had seen done to death by brutal, evil assassins.
After what seemed like ages Sarasu sat up from her kneeling position, her tear stained face all red and blotchy, her hands plastered with the weeds and leaves of the jungle floor. She got to her feet and looked at Arumugam.
"How did he die...how did they both die?" and she looked across at Sapna who was silently crying with both her hands wrapped around a small handkerchief, held against her tear stained eyes. Arumugam looked around wearily, and then moved to a tree stump and sat. "Please sit somewhere it's a long story."