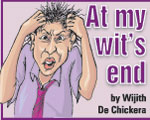 A journalist friend recently asked us all what turns out to be a very important question. Career, she asked; or Family? Now the question itself is not as important as the point that the best answer to it makes – being, of course, "both". Or, as the more articulate interlocutors in the public forum attending to the topic des jour expressed it: "It is not a matter of either/or.
These issues are big enough to warrant a 'both/and' response." Well LOL, as they say a lot on the Internet. Some journalists do have 'em. But facetiousness on Facebook aside, the question got me thinking. And those of you who know me well enough by now would know that this is not necessarily a good thing. For what use are a man's brains to him, as my wife keeps asking? They only upset him, and everyone else around within ink-spilling range. Be that as it may, I was at my wit's end for a while trying to apply my new-found wisdom to all the knotty problems in the world. We are a dying breed – us wool-gathering, pencil-pushing, clock-watching, finger-tapping, eyeball-rolling (but you get the point) types. Give us a place to stand and we want to shift the earth. Move over… would you, please, Archimedes?
Jokes apart, there is a lot of sense in this "both/and" business. The dilemmas of decades and the conundrums of centuries would benefit from a prudent application of its via media wisdom. Take the millennial mystery of human existence, for instance. Did we come into being by Creation or Evolution? Well, "both/and" would be a good place to start – and hopefully end – the debate that has cleft the irreligious scientific community in two and riven the less-than-rational congregations of faith in twain. Or take a moot point that has had venerable saints turn overnight into venomous burners-at-the-stake. Predestination or Freewill? "Both/and", dears, and go easy on the human bonfire, would you! Lest the rational freethinkers feel left out, is it Newtonian mechanics or Einsteinean quantum theory that's right? "Both/and." (All of the above holds good while the jury is still out on a Grand Unifying Theory in technological and theological circles alike, and no one has as yet cried out "Eureka!" while running madly through the market square claiming to have cracked his, er, nut.)
In the meantime, back on a more mundane plane where (both) politics (and) religion are equally passé, this very important principle can be judiciously applied to life as it pertains to the hoi polloi. That is, (both) you (and) I, dears! For example, is the weather over here hot or humid? ("both/and.") Will the Met Dept forecast a long dry spell or torrential downpours once the monsoon starts? ("both/and.") Are you feeling exhausted or enervated? ("both/and.") Are you tired or bored? No, don't answer that last one, there's a good chap…
So much was this precept playing on my mind that just the other night I had a dream about facing a qualifying exam paper on the "both/and" thesis.
1.Whose post-conflict nation-state is this, anyway, ours or theirs?
[Erm, a quick note from me – from within my waking nightmare – to say that this test should be taken in the same spirit in which it is being essayed. That is to say, with a pinch of salt and a grain of analgesic. In case you are interested in such things, the instructions in my hallucinatory experience said: "Do not write on both sides of the paper at the same time."]
Q2. Which demographic should be protected and championed in a pluralistic society – majorities or minorities?
Q3. When celebrating war victory days, independence days, national days, etc., whom should state organisers seek to commemorate, felicitate, appreciate – The living or the dead? Valiant defenders or violent dissenters? The vanquished or the victorious? Friends or ex-foes?

Q4. Who should be subject to the awful majesty of the law and the long arm of the law – imperious law-makers who bend the rules or ignorant law-breakers who neglect regulations?
Guess what I wrote for each of the above? "Both/and." You are bright today, aren't you me hearties!
Of course, being a faux-exam in a pseudo-dream, there was a trick-question:
Q5. In a modern island republic, which should hold sway in the national interest – democracy or despotism?
Help… either I'm still dreaming, or is the truth about the state of cloud-cuckoo-land merely a sugar-coated reality pill?
You know the answer to that one, dears! Don't you just…