The resort known as Mount Field Cottages has moved. Not lock, stock and barrel but represented by the name of the former hillside retreat in Haldemulla shifting 10km down the A4 road to Halpe. The new Mount Field Cottages has arisen from the long-neglected Samanala Hotel. It has been transformed into a bright, family holiday resort in the hills, where every room is a fantasy; the service cheerful and the food low priced.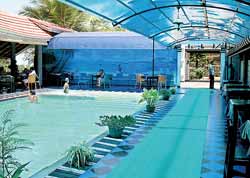 Swimming pool with a faux trompe l'oeil painting of a beach scene
When so many of Sri Lanka's guest houses are raising prices while doing nothing to raise staff salaries to ensure service commiserate with their ambitious room rates, Mount Field Cottages is concentrating on providing a pleasant holiday experience without problems. The stewards, in black and white polo shirts, seem to be everywhere, serving with a smile and happy to chat about the menu, the sights in the area, and proud to discuss the resort's attractions.
The drive into the courtyard of Mount Field Cottages reveals an astonishing sight, a rambling building with a crenellated roof whose battlements contrast with the sweep of the red tiled awning on tall white columns beside it and its Palladian style portico.
There are guest rooms off an ornate lounge in the main house and corridors snaking into the interior where a patio filled with potted pink anthuriums gives access to other rooms. Steps lead to mews-like cottages, crowned by a building soaring high above the whole complex. This is an open-sided hall with a splendid panoramic view of the hills stretching into the southern distance, a memorable setting for a wedding reception or an important banquet.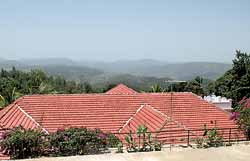 Mount Field Cottages: A view from the top
There are more guest rooms on lower levels, including a suite of smaller rooms beside the swimming pool. Each cottage is different in design; some have as many as four beds, others have been constructed around huge boulders and have walls half-panelled in wood; all have generously-sized bathrooms, kept scrupulously clean by the team of keen young stewards.
Each room has a television although the surrounding scenery with bird watching and hiking demands exploration. The resort's attractions include easy access to Horton Plains, Lipton's Seat, World's End, several waterfalls and the gothic pile of Adisham Hall at Haputale. Kataragama is two hours drive to the south.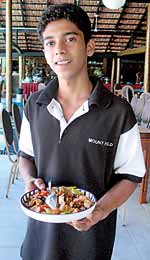 It's the proverbial service with a smile here
A granite archway leads from the main driveway into the heart of the hotel: a sparkling swimming pool shaded with blue and with a faux trompe l'oeil painting of a beach scene at one end. It's hard to believe one is in the hills of Halpe and not in a beach resort.
The open-sided restaurant is at the opposite end of the swimming pool, with an open kitchen and a help yourself lunch counter where a superb spread of chicken and fish curries, two kinds of rice, and five vegetable curries, plus dessert, costs Rs. 600. Vegetables are organic and home grown.
A fine A La Carte menu lists the Mount Field Cottages speciality of seafood dishes and a platter of batter-fried mushrooms, onions and garlic, as well as succulent devilled dishes including mutton. Mixed fried rice starts at Rs.300 and a Club Sandwich is Rs.460. A service charge of 10 percent is added to all prices and, for once, the obliging service seems worth it.
Although Mount Field Cottages is essentially for families and fun, its discreet accommodation suits honeymooners too. For business guests there is a separate, self-contained conference hall with a huge wall of hewn stone and an atmosphere that stimulates brainstorming. Mount Field Cottages, as an eccentric extravaganza in the hills, is a remarkable and thoroughly enjoyable place in which to chill out.
Mount Field Cottages, 166km post, Haputale Road, Halpe; tel: 057 3575336;
ww.mountfieldcottage.com. Rooms from Rs. 4,500 plus 10% service charge.