Campus India represented by Rizvi College Mumbai emerged champions at the inaugural Red Bull Campus Cricket Championships when they defeated Campus Pakistan represented by Sir Syed University Karachi by ten runs in the final played at the CCC ground yesterday.
Campus India taking first lease of the wicket made a modest 149 for 8 after being badly placed with the score on 60 for 4 in the ninth over. The architects of their recovery was a fine 67 runs stand for the seventh wicket between Neil Narvekar who made a top score of 37 with two sixes and Vaibhav Naik who made 27.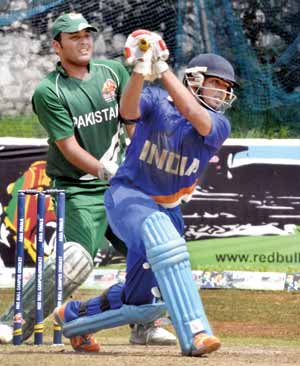 Neil Narvekar who top scored for Campus India in action yesterday. -Picture by Ranjith Perera
The score seemed to be insufficient for Campus India to defend due to the fact that Campus Pakistan made a hefty chase of 181 and made 170 though losing in a round robin encounter the day before.
But left arm spinner Pratiek Manjrekar who was one of the leading wicket takers in the tournament turned the game in their favour as he along with top scorer Navrekar shared five wickets to restrict their opponents to 139.
The tournament organized by Red Bull saw three Asian University teams - Campus India, Pakistan and Sri Lanka fighting for the Asian Trophy which began on April 25 at the same venue. Campus India with their win against Campus Pakistan in the final finished the tournament with an unbeaten record winning all the five matches that they played while Pakistan and Sri Lanka represented by Colombo University was able to record one win each.
Campus India (Rizvi College Mumbai) 149 for 8 in 20 overs (Neil Narvekar 37, Vaibhav Naik 27, Shardul Thakur 22, Kaustubh Pawar 16; Ali Mehra 3 for 37, Ihrar Khan 2 for 40)Campus Pakistan (Sir Syed University Karachi) 139 for 9 in 20 overs (Waqas Mehboob 24, Mohammad Ali Sabri 16, Usman Amir 45 n.o; Prateik Manjrekar 3 for 29, Neil Narvekar 2 for 34)