Sri Lanka fast bowler Lasith Malinga, who is back in the island for treatment for his back injury, is the only national player who has refused to sign the annual central player contract with Sri Lanka Cricket.
Back spasms sidelined Malinga, who is turning out for the Mumbai Indians. Now he could miss up to two weeks of the IPL as a result. Malinga last played for the Mumbai Indians against the Rajasthan Royals on April 11 and missed the match against Delhi Daredevils on April 16.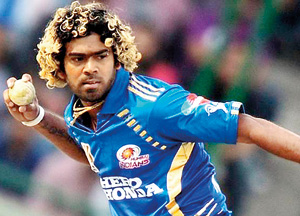 Malinga will undergo treatment from Sri Lanka Cricket physio Ajantha Wattegama during the coming weeks. Malinga, one of the highest wicket takers in the IPL even last year, was among the top five wicket takers even during this fifth edition of the Indian domestic T-20 tournament.
Malinga retired from Test cricket after turning out for Sri Lanka against India in August 2010. In thirty Tests, Malinga has bagged 101. Several attempts to lure the cricketer back into Test cricket by the SLC have failed.
Now the cricketer turns out for the country only in the two limited overs versions of the game.
Commenting on the matter, Malinga's agent Charlie Austin said that the player refused to sign the contract because he is not impressed with the figure offered to him by Sri Lanka Cricket.
However, it is also understood that Sri Lankan Cricket perched the cricketer on the top category and offered him 100,000 US$ for the year. But as Malinga is playing only Limited Overs Cricket and T-20 he was only eligible to 40% of the amount and the player was not interested in getting bound by a contract for that sum. Malinga makes approximately 1.1 million dollars turning out for the Mumbai Indian in the IPL.
Besides Malinga, the rest of the players – twenty two in number have signed their annual central player contracts with Sri Lanka Cricket. Altogether SLC has signed 92 cricket contracts which include 'A' team and Provincial cricketers. The 2011/12 contracts were singed in August-September 2011 after the previous contracts had expired in February last year.
The 2011/12 player contracts will end on March 31 2012. the 2012/13 player contracts are under negotiations at present and it is very unlikely that Malinga would agree to sign this contract either.
SLC secretary Nishantha Ranatunga commenting on the players' injury said, "Though he has no central contract, it is the SLC's duty to look after the national players". According to the SLC Secretary Malinga only signs tour contracts.