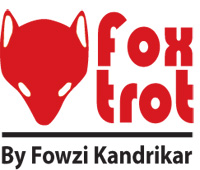 Four editions on, the fifth edition in full swing, the questions and debates, of course, continue unabated. Is IPL good for cricket? Are the TV ratings falling or rising? Are the crowds dwindling? Is there too much glamour and less cricket? Is IPL succeeding? Will T20 replace Test cricket?
Oh ye of little faith - the answer is loud and clear. IPL is here and here to stay. Where else can you see the powerhouses Sehwag, Warner, Mahela, Pieterson and Ross Taylor combine to form a championship threatening combination for the Daredevils of Delhi! Where else can you see the old duo of Dravid and Ganguly inspire and lead young cricketers towards amazing performances and last-ball victories! Where else can you see eight out of the nine teams still in the hunt for a spot in the top four, in see-saw battles, after 18 days and 27 matches!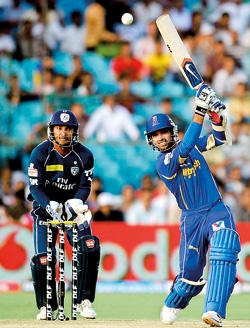 The latest IPL sensation, Rajasthan Royal's Ajinkya Rahane in full swing against Deccan Chargers, led by once World's best Test batsman Kumar Sangakkara.
Six fours in an over from the young Ajinkya Rahane, five sixes in an over from the incredible Chris Gayle, a reverse sweep for a six from the bat of the super-talent De Villiers, all delivered at your doorstep within days of each other, only through IPL. Spice this up with Dhoni's bottom-hand sixers, a scintillating century from the magical Pieterson, nail-biting, edge of the seat finishes and you have a winner through and through.
Have the IPL TV ratings dropped from last season? That may be so, but are they higher than most other programming on TV- that would be a big yes. Is the ad-booking percentage for IPL dropped from last year? That may be so, but are the media rates higher than last year and other comparable programming – that would be a big yes.
Who talks anymore if a Diya Mirza danced, or a Deepika Padukone did not, if a Preity Zinta appeared or a Shilpa Shetty disappeared? AB is not Amitabh Bachchan in the IPL world, but AB De Villiers. KKR is not SRK, but the Kolkatta Knight Riders cricket team. The IPL is now all about cricket, not even a controversial Commissioner.
IPL no longer needs its props, it is a stand-alone power machine, zooming away, and taking along with it, cricket as a whole, into the future. Lets face it, test cricket has its challenges. It is just not everyone's cup-of-tea and certainly not, should we say, the cafe latte of the youth. Instead of seeing the interest in cricket as a sport wane, isn't it time for the connoisseurs to appreciate that IPL and the T-20 format are the more commercial and exciting vehicles, that will ensure the sport of cricket lives long and lives well amongst the generation of future. Just so that the connoisseurs can actually sit back and enjoy their cup of tea over a gripping five-days for a long, long time to come.