The headline-hitting drug detection at the Central Mail Exchange on Thursday has added to the worries of the Police Narcotics Bureau where detectives believe that Sri Lanka is fast becoming a preferred transit hub of international drug syndicates, especially cocaine smugglers.
Alarmed by the high incidence of detection of drugs at the Bandaranaike International Airport, PNB detectives said the rise in tourist arrivals had created a huge demand for cocaine, which is popular in the Western world. The street value of a gram of cocaine, an alkaloid substance obtained from cocoa leaves, is around Rs 15,000 in Sri Lanka.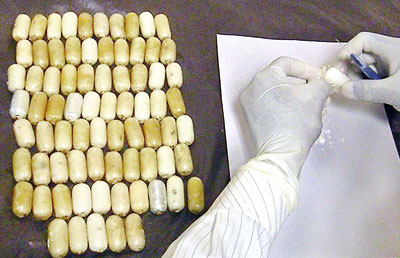 The capsules which contained cocaine detected in the stomachs of the two Thai women. Pic by N. Kumarasinghe
However, the widely used narcotic in Sri Lanka is cannabis followed by heroin. Last year some 22,700 people were arrested for using cannabis. Also last year, 11,787 people were arrested for using heroin while only four were caught for using cocaine and seven for hashish, according to PNB statistics.
In detections made last year, 23 kilos of heroin, 10 kilos of cocaine, 18 kilos of hashish and 50,000 kilos of cannabis were taken into custody.
The small number of arrests for using cocaine and the large quantity and greater frequency of detection of the drug indicate that much of the contraband is either used by tourists undetected in hotels and resorts or smuggled to other countries via Colombo.
Last week, Customs officials and detectives arrested two Thai women who had tried to smuggle in 1,489 grams of cocaine in 160 tiny capsules which they had swallowed. The street value of the drug was estimated at Rs. Rs 23 million.
Investigations revealed that the Thai women, aged 28 and 33, were married and had children. Narcotics Bureau detectives said the women were veterans in the trade and one of them was a mistress of a big-time drug peddler. They had travelled to Argentina and Brazil before coming to Colombo through Doha.
The detection was made when one of the women fell sick in the transit lounge.
She was rushed to the Negombo airport where a scan revealed the contraband in her abdomen. Information provided by the woman to the police officers at the hospital helped detectives at the airport to arrest her accomplice who was waiting to board a flight. The detectives found 17 capsules soaked in vomit in her handbag. They said she had either vomited in the plane or in the transit lounge at the BIA.
The arrests were the second involving Thai nationals in as many months. In February, Narcotics Bureau officials at the airport arrested a 22-year-old Thai woman who was travelling from Peru to Thailand via Dubai and Colombo where she was to spend two days. She was carrying two kilograms of cocaine with a street value of around Rs. 30 million. She claimed that the parcel was handed over to her by her fiancé who said it contained chocolates but she later confessed to the crime and said Sri Lanka was being used as a transit point by international drug traffickers.
The woman had arrived at the BIA with just three dollars. This led detectives to suspect that she was in the care of a handler who was to provide her food and accommodation during her stay in Colombo.
In another major cocaine smuggling detection, a 42-year-old Filipino who arrived at the BIA from Brazil was arrested by Customs officials last month while she was going through the green channel. She was carrying three kilos of cocaine, valued at more than Rs. 46 million. The detection was the biggest at the BIA.
Apart from these major detections of cocaine at the airport, detectives also busted attempts to smuggle in heroin and hashish through Colombo. On Thursday, Customs officials arrested a British national who had come to the Central Mail Exchange to collect a parcel addressed to a popular actress. The parcel not only contained a few magazines but also sachets of hashish hidden between the pages.
Swallowing capsules or condoms containing narcotics is the favourite modus operandi of drug smugglers. Last year, detectives arrested a Pakistani national who had swallowed 118 capsules containing heroin weighing 800 grams. The value of the narcotic was more than Rs 10 million.
In another case, two Pakistani women, one of whom faked pregnancy, arrived at the BIA in October. One had 51 capsules hidden in her person and some inside her abdomen.
The other woman had swallowed 18 capsules. The heroin they tried to smuggle was estimated to be more than Rs. 10 million.
The two women had told detectives that they were neighbours and had agreed to be couriers when the drug kingpins in Lahore promised them a large amount of money. One of the women, who arrived with her two young children, aged 2 and 3, said her husband was a Nigerian and had come to the airport to pick them.
Another Pakistani national was nabbed in August last year for trying to smuggle in some 650 grams of heroin in 90 capsules which he had swallowed. The contraband was worth more than Rs five million, the detectives said adding that their statistics showed an upward trend in drug smuggling cases despite the high incidence of detection.
In 2009, some 33.8 kilos of heroin and 457 grams of cocaine were seized by the detectives at the airport, but in 2010, some 143 kilos of heroin and four kilos of cocaine were detected. Among those arrested in these detections were 25 foreigners. They included 14 Pakistanis, four Iranians, two Maldivians and one each from France, the Philippines, Bangladesh and Nepal.
Smuggling narcotics to Northern Province on the increase
An increase of smuggling narcotics and banned tobacco substances from India to the Northern Province has been recorded, a senior police officer in the area said. The majority of the items were being smuggled to the country via sea by fishermen who also involved in poaching in Sri Lankan territorial waters.
Jaffna HQI Chief Inspector Saman Sigera told the Sunday Times that a series of arrests and detections of narcotic related offences have been made in Jaffna in the recent months. The latest detection was made off Mannar on Wednesday when a Sri Lankan was detected with six kilos of Kerala cannabis which had been allegedly handed over to him from an Indian fishing boat mid-sea, was seized by the Navy and later handed over to the police.
The suspect has been brought to Colombo for questioning by the Police Narcotics Bureau. On Thursday the Jaffna High Court turned down a bail application filed by five Indian fishermen who are in custody for allegedly smuggling two kilos of heroin. A further hearing has been fixed for tomorrow.
The fishermen were arrested by the Navy in January off Delft Island. During a search carried out the drug haul was detected. Three locals also were arrested in connection with the detection.
Chief Inspector Sigera said that the smuggling of banned substances such as 'babul' as well as other products laced with drugs has been on the increase posing a new threat to the youth as well as school children.
Twelve students were arrested by the police for using cannabis last month. They were warned and released to their parents.