The latest mobile Closed Circuit TeleVision (CCTV) system introduced by the Police this week could pick up pictures from a distance of 1.5 km, capture images at night and read a number plate at a distance of 200 metres.
The mobile CCTV van was on its first operation on the streets this week, a day after it was launched by Police Chief N.K. Illangakoon. The camera mounted on a van parked alongside Galle Face Green, in its first operation, was monitoring traffic, and took action against eight drivers for various traffic offences.
The Sunday Times was permitted to witness the CCTV capturing images of a Fort-Panadura private bus entering Galle Road from the Parliament roundabout, and proceeding on the wrong lane.
The driver was unaware that the bus was under surveillance from a camera zooming in from some 800 metres away. The bus proceeding on the right lane, reverted to the left lane close to the next roundabout where traffic policemen are usually stationed.
In the process, the CCTV camera had captured all the images of the driver committing the offence.
When traffic policemen halted the bus, the immediate reaction of the driver was that he had not committed an offence, but when confronted with the evidence from the CCTV camera he admitted committing the offence.
Assistant Superintendent T. Gamlath, who is in charge of the CCTV Unit, said the mobile unit would supplement some 100 CCTV cameras set up at various points in Colombo and the suburbs.
"The mobile unit will help maintain surveillance of some of the areas which are not covered by the CCTV system launched in December 2011," he said.
He said the mobile unit camera could be rotated 360 degrees, and the images captured, even in rain, could be monitored from headquarters. "The system could be made use of to control crowds at events such as matches, festivals and demonstrations, to facilitate VIP movements and crowd control during a fire or when a natural disaster occurs," he said adding that it could also be used in crime prevention.
From within the mobile unit, officers manning the system are able to communicate with the police stations.
A second mobile vehicle with similar facilities will also be introduced shortly, but the vehicle would be unmarked, the ASP said. The vehicles will be used in Colombo and outstations, depending on the requirement.
Police spokesman Ajith Rohana told the Sunday Times that the programme was an expansion of the CCTV scheme launched by Defence Secretary Gotabaya Rajapaksa, at a cost of Rs 227 million.He said the images captured on camera are admissible as evidence in court.
The programme is being implemented with assistance from the Moratuwa University with Senior Lecturer B.S. Samarasiri acting as the project advisor.
Video Link: Close Circuit TV launched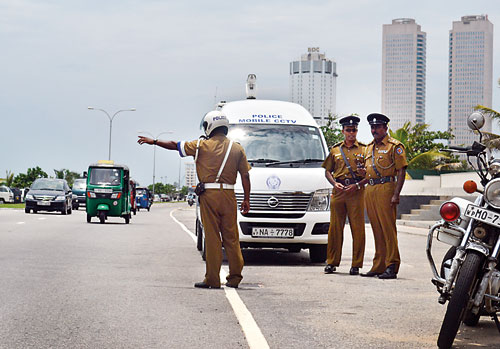 Maiden operation: Eyeing traffic offenders opposite Galle Face Green. Pix by Hasitha Kulasekera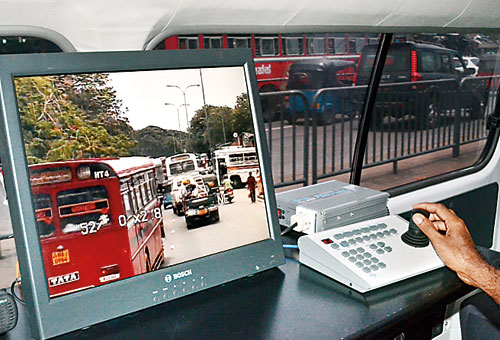 Trapped: Errant bus driver