SriLankan Airlines' plans are underway to recruit and train new staff for the upcoming Mattala International Airport at a cost of approximately Rs.20.4 million. The national carrier is currently carrying out a recruitment drive to train 102 persons for vacancies in cargo, airport, handling, ramp, airport support, flight operations and security services at the Hambantota-based airport scheduled to open in November this year, the airline's Head of HR Pradeepa Kekulawa told the Business Times during an interview.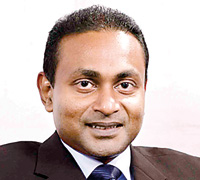 Pradeepa Kekulawa
The training of new staff for approximately three months is expected to initially cost Rs.195,000 – 200,000 per person, inclusive of training cost and trainee allowances for the given period, he explained.
Training of these new recruits would be at the airline's International Aviation Academy (IAA) that recently was awarded as one of the 10 best Authorised Training Centres in South Asia for 2012 by the International Air Transport Association (IATA).He noted that in addition they would deploy 50 highly experienced staff to Mattala from its present cadre. This 50 would then return to base in Colombo once 50 more trained persons would be added to the 102.
Within the next 2-3 years, the new airport is expected to have staff strength of 300 from the national carrier that would handle most ground operations, he said. The new recruits would be provided a crash programme of three months training while in the future the airline also plans to recruit from Mattala to ensure the new airport would generate employment for residents in the area.
Currently, the Bandaranaike International Airport (BIA) is manned by a staff of 1000 but requires more, he said. Mr. Kekulawa pointed out the existing dearth of 20% needs to meet this qualified skills gap in the sector as most have left for higher paying airlines overseas.
In this respect, the airline aims at introducing strategies of ensuring programmes of the IATA and Harvard backed Diploma in Leadership and Management; and another MBA for professioinals. In addition, they would be providing prospects of a long term career path, he said.
The airline's training academy is looking at introducing more areas of relevance to its curriculum namely airport management, cargo handling at professional level, and flight operations. Further, the airline would be opening up its training centre in the Maldives as well after the IATA requested it to engage in providing training facilities on the island nation as well.
The awarding of the academy was based on the IAA's strategic direction and progress, quality of delivery and end result on an overall high aggregate of 90%. Mr. Kekulawa laid out plans of the IAA becoming a corporate training provider in the future in airline and related sectors for airlines, freight forwarding, and tour operators.
While having already signed an MoU in this regard, with the Travel Agents Association of Sri Lanka (TAASL), negotiations are underway with Oman Air and Brunei Air, he said. The academy currently has a student population of approximately 200 with 10 lecturers from within the airline and around 15 industry experts.
IAA is also working with clubs in schools in a bid to promote prospects of securing jobs within the aviation sector, Mr. Kekulawa said. About 40% of the trainees are students from the industry whereas 60% would form those from within the airline, he explained. They would be provided with hands-on experience and capability of becoming employable at the end of the training period.