In the sea of undergraduate and postgraduate programs, Monash University stands apart from its competitors for its unwavering compromise on the highest standard of an Australian higher education.
Backed by stringent quality control measures, Monash University's fully fledged campus in Bandar Sunway is dedicated to providing students with a world-class education through the coveted Monash degree.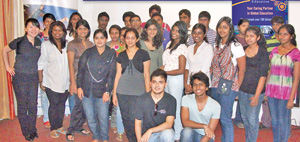 At the Sunway campus, students do not just sign up for a paper qualification. They commit to being part of an experience that will last a lifetime – from the various exchange programs to over 100 universities to the international environment on campus.
In line with the requirements of the University, the campus' academic staff must possess a higher degree, preferably a PhD. All its academics are highly qualified with relevant teaching experience in their individual field of expertise. With research as top priority in Monash University, academics are required to be active in research to enhance the relevance of their teaching.
The campus is fitted with world-class facilities including 24 specialised engineering laboratories dedicated to selected specialisations including robotics and mechatronics; state-of-the-art television and radio studios; and a unique live cell imaging microscope and single cell imaging microscope.
The campus' pride – its Library and Learning Commons – is a dynamic facility that encourages learning through inquiry, collaboration, discussion and consultation, and integrates IT facilities and library services in a user-friendly environment.
Here, students have access to over 315,000 e-books, 60,000 e-journals, and 1,000 electronic databases as well as online lectures, reading lists as well as past exam papers.
Monash University Sunway Campus offers:
School of Arts and Social Sciences
The School of Arts and Social Sciences offers a unique study into the field of arts and social sciences with premier communication and journalism courses. It also offers a study of Malaysian cinema – its history, culture, traditions and links with other cinematic cultures. Students learn about a range of human rights and social justice issues and have the opportunity to apply for internship and career opportunities with non-governmental organisations.
School of Business
The School of Business offers choice programs for those seeking a rewarding career in the business sector. It has developed a reputation for excellence in research across a diverse range of business interests. Its degrees offered are recognised by prestigious international organisations including Association of Chartered Certified Accountants, Chartered Institute of Management Accountants, CPA Australia, the Institute of Chartered Accountants Australia and more.
School of Engineering
At the School, modern technological progress is strengthened by wide-ranging activities and contributions of voluntary professional societies and organisations. The School offers the Engineers Abroad program which gives second-year students the opportunity to spend one or two semesters studying abroad. The Engineering programs at Sunway campus are accredited by the Engineering Accreditation Council (Malaysia) and Engineers Australia.
School of IT
The School is committed to developing courses relevant to living and working and is poised to meet an increased demand for top-notch IT graduates in the next few years. The School of IT allows students to follow their interests while acquiring the knowledge and skills that employers are looking for while enhancing their learning initiative by applying knowledge in exciting and innovative ways.