Ladies' College DVS has celebrated more than a quarter century of service as a premier educational institution. In extending and expanding the avenues of modern education, LC DVS leads the way by providing skills training that goes beyond mere coursework, by nurturing values and building character to equip students to make a positive contribution to society. This novel approach to learning has positioned the Centre as being both unique and innovative.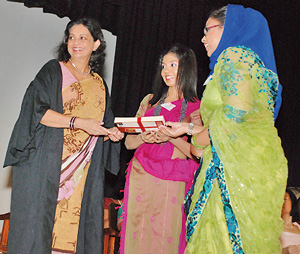 Joint Winners - Art Prize - Ms.Thushani Liyanage and Ms.Sharfa Saleem receiving the Prize from Mrs.Nirmali Wickremesinghe, Principal Ladies' College
Ladies' College Department of Vocational Studies held its Annual Awards day on Friday the 16h of March at the Ladies' College Hall. The Chief Guest was Dr. Dan Seevaratnam. He is the Chairman, Governing Body for Educational Institutions formed by CMS in Ceylon. Ladies' College is one of five schools governed by this Body.
In this capacity, he is also the Chairman of the DVS Board of Management. Currently, he is the Director/ Chief Executive Officer of Watawala Plantations PLC. The welcome address was given by the Principal, Ladies' College, Mrs. Nirmali Wickremesinghe and the Director's Report for the year 2011 was presented by Mrs. Mala Salgado.
Over 225 students received their Diploma/ Certificates for various Courses. Among them are - Pre-school and Sub Primary Education, Special Needs Education, , Diploma in Child & Adolescent Psychology, Cambridge Diploma for Teachers & Trainers, TKT, LCCI Executive Secretary's Diploma, Diploma for Professional Secretaries, Certificate in Secretarial Studies, Practical English, Conversational & General English, Conversational Tamil and Interior Design.