Sri Lanka badminton prodigy Niluka Karunaratne who came out after a three-month ban recently proved himself to be the best in the game. This he did by winning five international tournaments from a total of ten and thus qualifying for the upcoming London Olympics 2012.
The 10-time Sri Lanka badminton champion is presently ranked at 52 in the world and still anticipates bettering his prowess in the international scene. With this feat Niluka will be the first local shuttler to qualify for the Olympics fulfilling the selection criteria and requirements.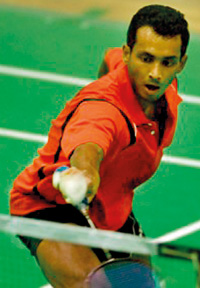 Niluka Karunaratne. (Pic by Hasitha Kulasekara)
Ironically Niluka was victimised as a result of an administrative crossfire between officials of Sri Lanka Badminton (SLB) some time back. He was banned for three months on disciplinary grounds. At the same time the SLB officials' failure to implement a common criterion among players dragged many talented players nowhere which included Niluka. However Niluka (27), knowing that his playing days aren't eternal continued his daily training during the period he was forced out of action with one aim – to reach the Olympics.
"In 2004 and 2008 I think I had the ability to qualify. But nobody educated me and in addition I had really had no plans at all in 2004. I was ranked 74th then and SLB gave very little guidance to players. But in 2008 I knew the entire requirements to qualify for Olympics and I trained hard. I was ranked 84th during that period but all hopes came to a standstill after I fell ill due to overtraining. I was hospitalised for over two months and missed a possible opportunity. This is my third attempt and probably my only chance. I'm really thrilled to achieve this but at the same time I know how hard it will be competing at the Olympics. So I'm hoping to be fully prepared for the challenge," Niluka told the Sunday Times.
The qualification process for the Olympics came to effect from May 1, 2011 for a year where the Badminton World Federation (BWF) observed performances of all ranked players. According to the selection criteria the best ranking tournaments during that period will be taken into account. Niluka still has three tournaments to play before the period ends and he is at ease after jumping 11 places up from 63 within a week.
"I played at 10 selected ranking tournaments which were not enough on my way to London. But top international players prepare for Olympics well in advance whereas I had to start very late. There were many setbacks from my end such as finding a sponsor to meet my expenditures at international meets and so on. As a result I began playing at ranking tournaments as late as October 2011. I have played at 10 such tournaments during the period of five months so far. I owe very much to McLarens Holdings where I'm employed. If not for them Olympic would have been just a pipe dream."
Niluka after winning the national badminton title last year for the tenth time began his Olympic quest by winning the Puerto Rico International in October 2011 and followed the good run by clinching the Bill Graham Miami International 2011. He came close to winning the Scottish International two weeks later but gained back the winning momentum by clinching the Yonex Welsh International a week later. All these tournaments were part of Olympic qualifiers.
Niluka took part in the Yonex Irish International in November 2011 and failed to reach the quarter-finals but the tournament not being one of the listed did not affect much to his Olympic run. In January Niluka reached the semi-finals of the Yonex Estonian International and a week later only managed to reach the quarter-finals of the Swedish International. Though it looked as Niluka was struggling, with each win and each time he qualified the knock-out stage he was improving in ranking. By this time Niluka had reached 78 which was a vast improvement than a year ago where he was ranked 601 in the world. To qualify for the Olympics a player should rank himself in the top 70 which Niluka has already achieved by being 52nd in the world.
February was a triumphant month for Niluka who was anticipating something good which will help him in his Olympic pursuit. His hopes became clear when Niluka regained his winning streak. He won the Uganda International, Thomas and Uber Cup and the Iran Fajr International; all ranking tournaments. However Niluka being a practical player knows where he stands.
"I really cannot say about my chances at the Olympics right now. But I can really give an indication after I complete my upcoming international tournaments which are due before April 29. By that time I will be in a position to give a real assessment of where I really stand. But I'm optimistic that I will be able to reach to a certain stage. As at present it's not clear. I've been competing internationally since I was 18; I have beaten many top ranked players but was unfortunate not to win championships for some time. I have come so close of winning in Australia, Wales', Belgium and Iran earlier. Last year I started my winning streak from Puerto Rico, Miami and Wales and again in Uganda and Iran where top ranked players from Indonesia, Malaysia, Canada, England and Wales took part. The way things are moving I think I'm not a second string international player anymore; I belong to the top group. If not I cannot qualify for Olympics," he explained.
Niluka who thinks he is at his career peak hopes to gather momentum in the upcoming international tournaments he will be featured. But with less than five months remaining for the ultimate sporting event in the world, Niluka hopes to make use of all opportunities possible.
"I've beaten players from India, Indonesia and Malaysia and I have come close to beating many top ranked international players. All these are indications of my form which is satisfactory. I can make maximum use of the remaining five months to prepare myself. But I wouldn't like to strain myself as in 2008. I need a short break for about a week or two before committing myself to training".
One of the main setbacks players in the ranks of Niluka face today in Sri Lanka is lack of proper guidance. The service of a well qualified international coach is a needed not only for Niluka but for other potential shuttlers of Sri Lanka. Niluka feels the SLB has a key role to play in helping out players to come out with international exposure if the country is to benefit.
"Actually I do my own training. I get support from coaches like Pradeep Welagedara, Srimal Aponso and K.S. Pushpakumara who helped me here in Sri Lanka. Sadly we don't have suitable coaching methods to fit our goals globally as we get to compete against tough opponents. I make use of the international competitions to rectify my shortcomings. We are expecting a Malaysian coach this month which is good news for top ranked players in Sri Lanka. Officials of SLB should be more careful in what they do and how they act. Their responsibility is to safeguard potential players. Badminton is an energy wasting game unlike team sports. Sometimes players get dejected after they dedicate themselves to the game and are ill-treated. Officials should act with more responsibility by looking after the goodwill of players. They should support the sport to develop but of late there have been clashes among officials which is not very healthy from the players' point of view. This is a major factor in pulling Sri Lanka badminton backwards," Niluka went on to say.
Niluka who comes from a family with a rich sporting background schooled at Dharmasoka College Ambalangoda before moving to Royal College Colombo. His father Louie being a national badminton player, a first class cricketer and a national badminton coach prompted Niluka and his three younger brothers Diluka, Dinuka and Chamika into the sporting arena. Today Niluka is the top ranked national player while his younger brothers Dinuka and Diluka are seeded next to him. Their youngest brother Chamika is the national Under-15 badminton champion. All four brothers have played 1st XI cricket for Royal College.
"I'm sure my brothers will surpass me one day but it won't be in the near future. I know this is my first and most probably the last Olympic appearance. It's a dream come true. I'm 27-years-old now and I know I'm not getting younger anymore. I will be able to continue for another two or three years the most. My sincere aim is to somehow achieve the best at Olympics. If I fail to do so I will still continue playing internationally, where I have big dreams of beating top ranked players from China, Japan and Malaysia. I hope to bring credit to my country the best possible way, before I retire with respect," concluded Niluka.