A Sri Lankan domiciled in China since 1974 has stepped in to serve his motherland through a joint venture in solar powered light-emitting diode (LED) home and street lighting for low income villages in the remote regions of Sri Lanka specially in the Norh and East.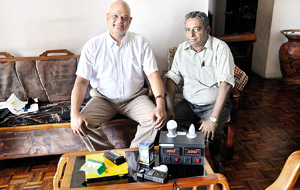 Raja Magasweran and Basil Leanage (right)
Raja Magasweran, Managing Director, of US funded U-Tron (Beijing) Electronics Co. Ltd. (U-Tron) who was on a short visit to Sri Lanka told the Business Times that his company will supply U-Tron LED products including solar panels, solar powered lights, Lucas LED streetlights, BatLED indoor and outdoor floodlights, traffic signal lights, Helios LED light bulbs, and Lucas retrofit bulbs etc.
It will provide marketing, sales and maintenance services for of all U-Tron's LED products through its Sri Lankan partner Basil Leanage Enterprises (an engineering firm). Mr Magasweran, in China since going there for highest studies in 1974 as a scholarship recipient in the first batch of students selected under the China- Sri Lanka student exchange programme, said that Solar Home Lighting Systems (SHLS) can support small household loads and will be promoted and prioritized through rural financial institutions. These systems are one way to provide electricity to non-electrified and under-electrified rural households. He noted that this project will witness significant growth in the country especially in the North and East following the restoration of peace in the island.
The growth will be primarily driven by the government support, which has already been aligned by environmental objectives and clean energy goals, he said. Mr. Magasweran said that the special feature of the new venture is that after sales service and maintenance facilities will be provided by the local company. He said that this company will either make LED products in Sri Lanka, import from U-Tron Beijing or buy it from other company and market it under the U-Tron brand or simply buy and sell others LED related products, such as solar panels, frames for the MR16 or touffer for the LED tubes. "I'll help this company to do the business using the modern management methods of ERP s/w and ISO 9000 standards", he added. He disclosed that the Basil Leanage Enterprises will carry out maintenance of existing solar home lighting systems in rural houses as well.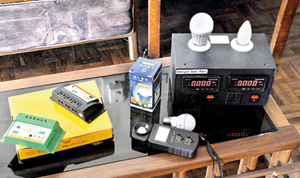 The products. Pix by Susantha Liyanawatte
In 1993, Mr. Magasweran became first in the world to manufacture a complete set of PCDY system, which allows meetings and conversations to take place over the telephone, commonly known as 'phone meetings'. Made of the most advanced technology at the time, the system allows up to 60 individuals to join the 'phone meeting'. Aside from being able to conduct meetings over the phone, this system can store up to 256 floating messages.
Mr Magasweran is probably the oldest foreigner still living, in China for over 38 years. Since he arrived in China to study the language and master their culture in 1974, he has become the key promoter of trade, investment, education, tourism and cultural ties between America and China, and a true problem solver.Besides being the Chief Engineering Architect at U-Tron, developing LED lighting applications, Mr. Magasweran is an influential visionary and pioneer with a proven track record in the history of US – China relations.
In 1995, he pioneered into importing the first generation of overhead projectors in China. US firm Proxima awarded Mr. Magasweran a certificate for selling US$1 million worth of overhead projectors to the Chinese market.
He is the managing director and co-founder of China Business Associates Inc and a pioneer for introducing major US Corporations like IBM, Motorola and Novell to China. His extensive leadership experience in marketing, sales and business development is key to his success.
U-Tron (Beijing) Electronics Co. Ltd, established in 1992 in Beijing, is 100% funded by investments from US-based China Business Associates. The main purpose is to bring U.S. developed technology products to China for manufacturing and localization.