The Central Bank of Sri Lanka has for the second time unveiled a monument to commemorate the victims of the terrorist bomb attack that occurred at 10.49 am on January 31, 1996. Family members of the 41 individuals killed, were present on the occasion on Tuesday where they laid flowers for their dear departed.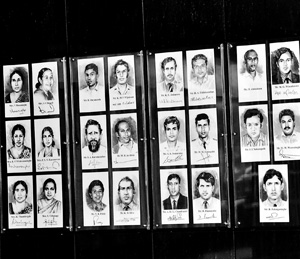 Those who perished in the blast
Governor Ajith Nivard Cabraal addressing the gathering said that the attack was targeted at the establishment and the economy and considered it to be the "biggest". However, he noted that it did not diminish the strength of the employees but encouraged them to resurrect the establishment to what it was and bring it back to life.
The sculpture depicting a serene man in a seated position placing his right hand on his heart and the other raised to the sky is situated at the entrance to the Central Bank, in its backdrop are the hand painted sketches of the 41 persons killed; and alongside is a commemorative plaque as well.
Mr. Cabraal observed how inspite of the problems faced by the central bank officials they remained committed towards rendering their services to those in the North.
Interestingly, employees at the Central Bank point out that there had been a monument unveiled in memory of these victims in 2001. However, this is today situated in the car park area of the Central Bank, and is still in place.
The second monument was sculpted by Prof. R.M. Sarath Chandrajeewa who is currently the Head of the Ceramic Department of the Visual and Performing Arts University. Present on the occasion were family members of those killed in the bomb blast, pensioners and all staff members of the Central Bank.