MATARA, Uyangoda – It was a chance recipe in a local newspaper that provided the first yoghurt cup for Lucky Lanka Milk Processing Co, starting from a few cows in a Matara backyard, to the mass-selling 'Lucky' brand. The brand now occupies a 25% share of the local market and the organisation which began with only two people now stands tall with 400 employees including 60 graduates.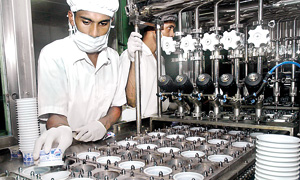 Work in progress. Pix by Saman Kariyawasam
Lal Kirthi Gunawardhana, Managing Director, Lucky Lanka Milk Processing Co Ltd told the team from the Business Times (BT) at the factory/office in Karagoda, Uyangoda how they started the yoghurt business under very difficult conditions. Starting off with just about 100 yoghurts a day, sales have now zoomed to 120,000 yoghurt cups a day with daily purchases of around 10,000 litres of milk from around 3,000 milk farmers. The annual growth rate is around 10%. Production is increased to match the rate of increase in sales and another highly modernized factory is erected with equal capacity to almost double their production.
The company assists farmers by having regular training programmes and helps them to obtain bank loans to purchase cows and other implements. He said that their goal is to provide a glass of fresh milk for every Sri Lankan by 2015, a herculean task because it means curtailing powdered milk imports and making the country self-sufficient in milk. He said the blueprint for this plan is already on the drawing board.
With the experience of grappling with multinational yoghurt producers and clinching a substantial market share, Mr Gunawardhana, assured that providing fresh milk for everyone is no dream, but a stark reality. He said that along with this aim, they would also expand into the export market with UHT (with long shell life) milk packet production. The steady progress Lucky Yoghurt has made over a span of 20 years enabled Mr Gunawardhana to be recognized and adjudged as the "Entrepreneur of the Year 2011" conducted by the Federation of Chambers of Commerce and Industry of Sri Lanka. Lucky Yoghurt has also obtained several other prestigious awards.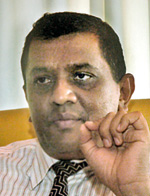 Lal kirthi Gunawardhana
He said they are now marketing seven varieties of flavoured yoghurt including vanilla, strawberry, chocolate, mixed fruit and fruit jelly. The company focuses the product as a dessert, he said adding that the bacteria in the yoghurt is susceptible to the human body and more easily digested in the stomach than milk.
He said that it has been found that the bacteria in yoghurt has vitamin B12 and a greater part of is absorbed to the body. Mr Gunawardhana said that their low-fat yoghurt which is now marketed is specially produced for the people with high blood pressure They are also the first to introduce 'Probiotic' into their yoghurt that has added health benefits. He said that they follow the common dictum of consistent quality standards and taste that applies to any food. product to stay in the market and expand. Since they started the business he used to tour the factory every day to ensure hygiene, essential in milk products and in his usual tour of the factory, he was joined by the Business Times.
The factory has ultra-modern high-tech machinery. Entry to the facility has all the ingredients of a sophisticated food factory where every guest is dressed with a clean overcoat, entire head and hair covered with a plastic cap, and feet with factory-provided shoes covered in a plastic cover, to ensure high hygienic safety measures.
The entire complex appeared to be busier than a hive of bees, some workers adorned with their overalls, all the time washing the plant floor and another group wiping the water to the drains. Guests are advised to be careful and not touch the heated pipes carrying hot water and steam, and the boilers. Mr Gunawardhana knew every different activity of the plant and was seen instructing and guiding the workers alerting them to take the precise procedure.
In his neatly-kept office, BT journalists were treated to taste what Mr Gunawardhana termed as 'unique and delicious' Lucky Yoghurt, unpacked, fresh from the plant supply line, with its aroma and freshness still lingering .
While explaining the intricate operations of the machinery, he explained to the newspaper how his sister 20 years back asked him to taste the yoghurt she produced out of a newspaper recipe, when he arrived home on a weekend, after work from Colombo. It was so tasty that they immediately wanted to go into commercial operation with the product and decided to purchase a refrigerator.
He said the following week he resigned from his Colombo job and began selling yoghurt himself, made by his sister. Even until 1994 everything was done at home. They leased out a property in 1997 erected their factory, fully mechanized in a 2 ½ acre land at Karagoda and formed a limited liability company. They also, now maintain a four acre model farm little beyond their factory.
Lucky Yoghurt has a distribution network with a fleet of vehicles covering entire Sri Lanka. Among this fleet there are 120 fully refrigerated vehicles, covering the entire island, even covering Jaffna, Batticaloa and other parts of North and East. They are also certified with several international standards and have their own laboratory and maintain a Research and Development unit, Mr Gunawardhana, eating 'Lucky' Yoghurt as he spoke, said, "We enjoy a top slot in the market because of our loyal customers as their first choice is 'Lucky Yoghurt". Our customers don't blindly accept our products, but they go for the superior quality standards in our products. Soon we will become the leader in the yoghurt market in Sri Lanka".