A businessman from Kurunegala is aggressively promoting the growing of 'button mushrooms' aimed at meeting local and international demand. Jayaruwan Samaratunga, owner of 'Nature Harvest Mushroom Lanka' who has his mushroom cultivation in Dangaspitiya, Kohilegedara, Kurunegala, was attracted to this crop after he met with a Sri Lankan residing in Australia.
The Sri Lankan, scientist - Kularatna Ratnayaka - had completed his postgraduate studies in Netherlands and later took up a job as a manager in an Australian-based mushroom production company in 1989.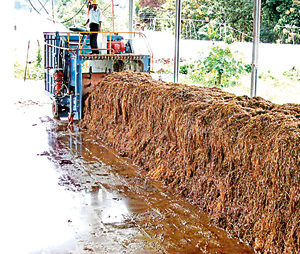 Compost making
He encouraged Mr Samaratunga to venture into this business. Mr Ratnayaka later got involved in the production of fertilizer for mushrooms and currently is an advisor in Mr Samaratunga's business. "During a visit to Australia I got an opportunity to witness the cultivation of these lands.
I was impressed with the cultivations which I saw. Mr Ratanayake showed me various varieties which had been cultivated. The special one of them was the 'button mushrooms," Mr Samaratunga said.
He said Mr Ratnayake assured him of all assistance to cultivate mushrooms in Sri Lanka. "At the initial stages there were problems but after about eight visits to Australia I was able to overcome these problems," he added.
He said that he also visited India to study how mushroom cultivation is done in India and other countries to ensure that the cultivation could be done in a manner suitable to Sri Lanka.
Most of the required equipment and the infrastructure needed for the cultivation were turned out at his own factory.
"Even the required seeds for mushroom cultivation are produced by us. There are science graduates assisting me and we have our own lab", he said. He said that initially he had to invest a large sum and it took about two years to reap the benefits adding that they turned out their own compost mixing machine. "I have been in this business for about nine years and now we are in a position to supply mushrooms to the market.
Today I supply supermarkets as well as the five star hotels with my products", he said. In addition he exports mushrooms to Maldives and plans to send to other countries as well. "Our production is not sufficient and therefore we need to increase the production. My intention is to be the biggest mushroom producer," he added.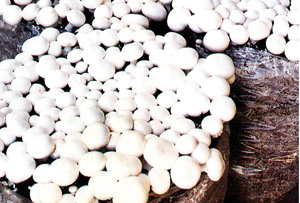 Mushroom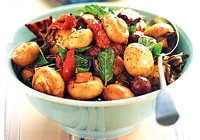 Mushroom Salad