More and more Sri Lankans are seeking divine assistance to help them out in times of trouble.
First we had the Deputy Minister for Power and Energy Premalal Jayasekera offering a pot of water at the Dalada Maligawa as the situation in the dams inside the catchment were close to drying up.
This week Jathika Hela Urumaya MP Ven. Athuruliya Ratana Thera sought the intervention of the Gods at the Seenigama Devale to save the local rice from the effects of arsenic contained in fertiliser.
And now there is a story from the north-western coastal district of Chilaw which is rich in fish, but fishermen's nets do not seem to retain fish -they return from a nights work empty-handed.
So fishermen in this pre-dominantly Roman Catholic district have turned to the local church for blessings and prayers with the hope that their nets will be filled with fish.
"This is the main fishing season, prices are soaring, but we have hardly any catch…" said said Duminda Fernando-a member of a local fishermen's association. "The people are worried and we need divine intervention, so we decided the next step is to seek assistance from the Church" he said. The Catholic clergy obliged towards this end and led by the assistant Parish Priest of the local St. Mary's Church Fr. Peter Boteju Holy Mass was celebrated on the beach and the boats were blessed.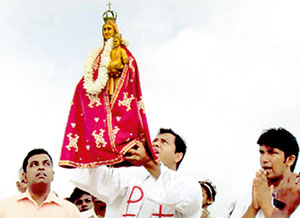 The parish priest blesses his congregation and the sea.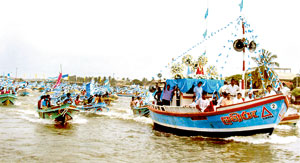 A statue of Our Lady of Mount Carmel is taken out to sea where fish are plentiful but few are netted.
Fr. Boteju blesses the boats used by the
fisherfolk