University lecturers have ended their two-month-long trade union action, but vow to resume agitating for pay increases if the government fails to align salaries according to official recommendations made in 2008.
On Thursday, the Federation of University Teachers' Association (FUTA) agreed to an interim solution offered by the government to increase salaries for university faculty members. Accordingly, the gross salary (allowances included) of a senior professor will be raised from Rs. 98,380 to Rs. 114,984; a senior lecturer (Grade II) from Rs. 65,962 to Rs. 77,726, and a probationary lecturer from Rs. 48, 626 to Rs. 50,910.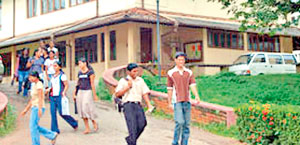 Tertiary students have missed out on lectures because of trade union action.
In 2008, a University Grants Commission (UGC) special committee proposed to the National Salaries and Cadres Commission salaries of Rs. 168, 750 for a university professor; Rs. 110,000 for a senior lecturer, and Rs. 55,000 for a probationary lecturer. However, the lobbying for higher pay will continue, says FUTA President Dr. Nirmal Ranjith Dewasiri.
"We have suspended trade union action and accepted the meagre salary increase out of consideration for the students, who had been missing out on lectures," Dr. Dewasiri told the Sunday Times. "If the government fails to meet our demands in future, we will continue our struggle, and the next time we will be more aggressive."
University academics have also asked for other concessions. They want the 12 years' service requirement for entitlement to duty-free facilities reduced to five years; the Grade One schools admission quota scheme to be extended to include children of academics; and the withdrawal of the three months' notice requirement ahead of resignation.
Faculty members also say the basic salary should not be touched to make payments to the University Provident Fund (UPF). "A senior professor's basic salary is Rs. 57,755, a Grade II senior lecturer's is Rs. 37, 650, and a probationary lecturer's Rs. 26,900. To make deductions from our basic salary for the UPF is an insult to the academic community," said Dr. Dewasiri, who is also head of the History and International Relations Department of the University of Colombo.
University staff have other gripes too. They say they do not get housing loans, vehicles for their use, or a fuel allowance. A 36.25 per cent salary increase given this year represents a 5 per cent general increase on basic salary for all government employees, a 6.25 per cent for academic work, and a 25 per cent for research.
"In 2006, the academic allowance was reduced by 5 per cent, and this year it was increased by 6.25 per cent. So in effect we have been given only a 1.25 per cent increase," Dr. Dewasiri said. FUTA has called for a special committee, representing the Treasury, the Ministry of Higher Education Ministry, the UGC and FUTA, to review university salaries.
It was out of consideration for the students that FUTA decided not to boycott the marking of GCE Advanced Level answer scripts, Dr. Dewasiri said. In May this year, more than 4,700 senior professors, Grade II lecturers and probationary lecturers resigned from their voluntary posts, saying their basic salaries had not been revised in nearly two decades.
Voluntary positions include heads of departments, unit and programme coordinators, and hostel wardens. The union action affected some 60,000 tertiary students across the country. Lectures were suspended and exams and convocations postponed.
The majority of the students had to return to their homes and villages because the hostels and canteens were closed. The salary issue has been humiliating to university academics, according to FUTA spokesman Dr. Mahim Mendis.
"Our lecturers are the lowest paid, compared with lecturers in the rest of the region," Dr. Mendis told the Sunday Times. "Except for Moratuwa University, only some 20 per cent of senior lecturers in our universities hold PhDs. There are less than 40 senior professors in the country. The majority of the highly qualified Sri Lankan academics have left the country."
Asian countries such Singapore and Malaysia offer more attractive university salary packages than Sri Lanka.
"We should be attracting academics, if Sri Lanka is to be a knowledge hub. Only 2 per cent of our gross domestic product goes for higher education. Bangladesh spends 10 per cent of its GDP on higher education, and other South Asian countries spend up to 6 per cent of the national income," Dr. Mendis said.
Dr. S. Nawaratne, Secretary to the Ministry of Higher Education, said a committee representing all parties will look into salary anomalies and discuss ways to improve the quality of higher education. He said the state spends Rs. 8 billion a year on salaries for academic and non-academic staff.