Twenty-two-year-old Ramachandran Dushani is days away from leaving the rehabilitation centre for female ex-combatants of the LTTE, at Poonthottam in Vavuniya. She's happy to be reunited with her parents and sister after more than two years, but her joy is mixed with a feeling of apprehension about how accepting society would be of her, once she returns to her home in Wattakachchi in Kilinochchi.
"I don't know what to expect when I go home, but I am eager to recommence my studies," she said. Dushani was taken away forcibly by the LTTE in September, 2007, while she was studying for her Advanced Level examination at Ramanathan College in Kilinochchi.
| | |
| --- | --- |
| | |
| Commissioner of Rehabilitation, Maj. Gen. Sudantha Ranasinghe. Pic by Gemunu Wellage | Rehabilitation Cooperating Officer, Vavuniya, Lt. Col. Manjula Munasinghe |
She like many other conscripts, underwent a hurried training of a month-and-a-half, during which, they learnt to use an automatic weapon and homemade bombs, before being deployed on route-clearing operations, as well as to man defence lines in the Mugandi-Vishvamadhu area.
With the war drawing to an end, she crossed over to Government controlled areas, along with her family members, and made her way to the welfare camp in Vavuniya. Later, she surrendered to the security forces, spent three months at Boosa, and two more months at Welikada prisons. She then joined the rehabilitation and reintegration programme, which she will complete by the end of this month.
Dushani says she learnt English, took part in cultural activities and made new friends at the Poonthottam centre. "I want to first do my ALs, then think of what I will do after that," she said, nervously touching the thin gold chain that has replaced the cyanide capsule that adorned her neck during her days in the LTTE.
For Commissioner of Rehabilitation, Maj. Gen. Sudantha Ranasinghe, it has been a rewarding experience to witness the transformation of battle-hardened combatants into law-abiding citizens of the country.
"Initially, when they came in, it was not very easy, but we were very patient. We were able to bring down their level of radicalisation within three months of starting the programme," Maj. Gen. Ranasinghe said.
The programme is based on a six-pillar model starting with spiritual, religious and cultural programmes, followed by educational, vocational, livelihood and sports programmes.
"It's an entirely Sri Lankan model to suit our special situation. It is designed to suit the cultural and religious ethics and norms of the Tamil speaking people of the country. This will not suit even the south," he said.
Of the 11,664 ex-combatants placed under the rehabilitation and reintegration programme starting with the defeat of the LTTE in May, 2009, 7,969 have returned to their homes, while the remainder are scheduled to end their training programmes in the next few months.
The majority of the LTTE cadres who underwent this programme, had come in with a voluntary surrendee statement and a declaration of their willingness to go through a rehabilitation process. It includes a one-year mandatory programme, extended up to a maximum period of another year, depending on the degree of radicalisation of the cadres.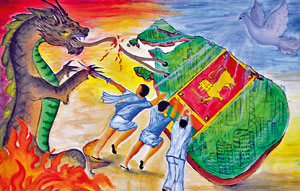 This picture drawn by a rehabilitated cadre apparently depicts the Tamil diaspora as the dragon trying to destroy a united Sri Lanka. Pic by Lakshman Gunathileke
The programme has afforded many of the former combatants, opportunities they missed because of being drawn into the rebel movement at a young age.
Sri Ranga Rani (38) from Jaffna, had joined the LTTE at the age of 18, while still studying for her ALs. She decided to join the movement after having heard of the harassment, members of the Tamil community were undergoing at the hands of the armed forces. "I worked at the political office of the LTTE and helped publish a newsletter for women," she said. She briefly left the movement in 1998, only to rejoin in 2000, and stayed on till the war ended in 2009.
Despite her personal losses, having seen her sister, brother-in-law and nephew die during the heavy fighting in the final days of the war, Rani is hopeful of a stable future when she returns to her parent's home. "Sometimes I feel I did a service being in the LTTE, but sometimes I feel many years of my life were wasted," she said. She hopes to utilise the skills she's learnt at the rehabilitation centre when she returns.
"Many of them tell us that this is the first time they have been really free in their lives. There is no animosity among us anymore," said Rehabilitation Cooperating Officer, Vavuniya, Lt. Col. Manjula Munasinghe said.
While it's a personal struggle for the thousands who have left the rehabilitation centres to adjust to life in a postwar situation, the programme has been hugely successful in integrating the former LTTE cadres back into society, having geared them with the necessary skills to restart their lives.
The programme has also been extended to the community to create awareness. "We request them to take these people back and accept them by forgetting the past," Maj. Gen. Ranasinghe concluded.