How does one juggle career, family, ambition and spirituality? Ask Lakshan Ferreira. Lakshan is a lot of things. An avid food lover, a young entrepreneur and a devout church go-er Lakshan is not your typical 23-year-old. Today he is the sole owner and proprietor of 'Glory Caterings', an ethical catering company that combines food and event planning.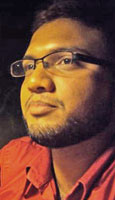 Lakshan Ferreira
A mischievous kid turned head cop and star athlete Lakshan talks of his first influences of food sales at his alma mater, Wesley College. "I remember we had SCM [Student Christian Movement] food sales at school and I used to always sell ice cream. That I think was my first experience of the kind." After leaving school in 2007 Lakshan joined HSBC and later at Scalene Holdings.
"Now I'm actively involved in tourism at Ceylon 4 You [Pvt Ltd]. And I am at church most of the time. As a matter of fact I'm there most days." adds a laughing Lakshan. "Still I manage to balance everything so that I don't neglect the work at Glory Caterings."
The only son of Chulanganie and Ravenal Ferreira Lakshan comes from a close knit family and has a younger sister. "My parents have guided and influenced me throughout. My dad has been in the international hotel trade for over thirty years now and my mom has really helped me out with the catering work. She is an amazing cook. Her food is great and she handles most of my small short-eats orders even now. Of course I pay her for that." says a laughing Lakshan.
Glory Caterings provides a variety of food ranging from traditional Sri Lankan cuisine, yummy short-eats and delicious desserts to simple snacks and finger foods. Lakshan explains that although he was involved in the making and catering of ordered food since four years back, the success of the company inspired him to officially launch it four months ago.
He has also organized and planned numerous small scale events that he has catered for. "We have undertaken parties, social gatherings, get-togethers and even formal events. Apart from providing the usual food, soft-drinks, cutlery and crockery we offer additional services like getting a band or DJ down and everything else."
The office premise for Glory Caterings is situated at his home in Kirulapona. The title 'Glory Caterings' was thought of after number of influences. "I am a devout Christian and 'glory' is a positive word that speaks of praising God. I believe that it is a confirmation from god to keep going. Also I feel that good food must be praised."
Lakshan's adds that the secret to success is his untiring commitment and sheer determination. He is a firm believer of the saying 'hard work pays off'. "I do the managing and coordination of the events we undertake. And although my faithful employee Donovan Arunasaram looks into the serving and arranging tables on that day, I personally look over every program. And make it a point to be there for the client. However busy I am I always attend each event."
One can say the difference between Glory Catering and other such enterprises is Lakshan's unwavering policy on etiquette. "We are a very ethical company and I want to stress on the fact that we don't provide any alcohol at the events. We offer everything but no liquor. Of course they can bring their own but I don't provide it. None of my employees, including me drink or smoke. I have a very strict policy on that."
It is amazing how far Lakshan had come at such a young age. He confesses that it would have been impossible without the help and advice from his senior Pastor Dr Woodrow Block, Pastor Dinesh Michel and their wives Dr. Melanie Block and Kaylah Michel. This young enthusiast is currently working on opening a chain of interactive hot dog shops where customers with the help of a chef make their own sauces. He also dreams of one day owning his own internationally recognized restaurant chain and is determined to make it a reality.
You can contact Lakshan on his email lakshan.ferreira@gmail.com