Experienced photographer and award winning television programme producer Athula Disanayaka's third photographic exhibition, release of DVD containing 500 beautiful landscape images of Sri Lanka and launching of the coffee table book 'Miraculous island in the Indian Ocean' was held at the Lionel Wendt Theatre recently.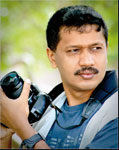 Athula Disanayaka
Titled as 'Roopa Kaavya" or Poetic Images, Athula's exhibition was really a poetry of rhythm and meaning of the environment. Born and bred in a far away rural Damana in Ampara, Athula's journey to Colombo and working in different mediums of arts and literature as a writer, photographer, graphic designer, director and producer of TV programmes is in itself an interesting story.
"There are many interesting stories related to my hometown Digamadulla, which is in the dry zone. During the Anuradhapura era this area had a very rich civilization. This is proved even today with the remaining ancient historical ruins," says Athula who was brought up in a beautiful and historical landscape.
It is because of this that writers like Maya Ranjan, Dr. Spittle and R. L. Brohier use Digamadulla and its surrounding as the subject matter in their literature. I was personally impressed by their detailed descriptions of the beautiful landscape in my home town, says Athula with a tone of pride.
As a child Athula was attracted to arts and literature and immediately after completing his Advanced Level examination, he joined the then 'Dawasa' newspaper as a provincial correspondent and a cameraman. Later Athula came to Colombo and studied media at the University of Colombo.
All my childhood experience, university education and working in the media helped me to become a successful television producer as I have gathered a vast fund of knowledge on the visual arts. Above all the visual knowledge and discipline I gained as a still photographer helped me a lot to work in the television, said Athula admiring the value of photography.
'Wata Rawuma' television programme produced by Athula won the Best Current Programme Sumathi Tele Award in 2006 and Best Magazine at Mass Media award 2007. In addition Athula also won the Best Travel Programme at Presidential award 2009 for his programme 'Udarata Menike' television programme about the hill country in Sri Lanka.
Speaking on the launch of the DVD containing different landscapes in Sri Lanka, Athula said that the images were captured during his journey around the country and he had been collecting them for a long time.
"Anybody can use these images for any purpose related to media," Athula said generously. Athula also launched his website www.athulaart.blogspot.com through which many of his visual creations could be enjoyed.