Surrounded by the bustling city of busy traffic and hurried people, Serenité Spa is surprisingly tranquil. Walking into the beautifully designed and sprawling spa, you will instantly be transported from humid and noisy Colombo into the cool and relaxing out-of-town atmosphere of the spa.
With pools covered in red rose petals, a natural pond with cascading water to relax in, an outdoor Jacuzzi and the calming aroma of flowers, butterflies and chirping birds that envelop you the Serenité Spa is unlike any other in Colombo, says Spa Manager, Anjali Perera.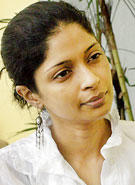 Spa Manager, Anjali Perera
"This is the only stand-alone spa in Colombo that has its own facilities. We have our own water treatments, we have an outdoor pool, and indoor pool, a Jacuzzi," she elaborates. However, Serenité Spa has more to offer than the atmosphere. With a range of interesting treatments that are unique to Serenité, clients can choose from Spa Rituals, Body Exfoliates, Body Wraps, Spa Packages, facials, manicures and pedicures.
Describing the unique techniques, Anjali says "the movement of the massage is different. And it's also very different from, Aruveydic massages. The massage treatments here are a mixture of Eastern and Western massages taken into the ritual."
The intricacies of the treatments also go beyond the technique. Each treatment will have oils or clay that are prepared in-house for each client's preference. "All our products are specially made, brought from all over the world and mixed here. At the spa, depending on each client's preference, we will blend the oils here for that particular massage.
"You can come in for a relaxation massage, or you can go a step further as well, because these treatments are for medicinal purposes too; for instance if your blood circulation is a bit slow, or to improve your lymphatic movements, all that is taken into consideration," says Anjali.
She goes on to describe one of the most popular treatments at the Spa. The 'Green Tea and Green Clay Treat', is a detoxifying and rejuvenating body wrap made of green tea, sea weed and cleansing oils. The treatment is said to consist of minerals that are essential for restoring skin tone and vitality, which is absorbed by the body. These minerals help to disperse local fatty deposits ensuring soft, fresh and healthy looking skin.
The treatments range from Rs. 2,500 for Reflexology to Rs. 3,500 and Rs. 4000 for Spa Rituals and Body Wraps. Spa packages cost twice as much from Rs. 10,000 to Rs. 15,000 and include spending the day at the spa. Here there are treatments such as 'Glowing Bride' and 'Bonds of Love'- a package for couples. The Spa treatments also include the use of the Petal Pool, Jacuzzi and outdoor pool and the prices include taxes.
Another unique concept offered by Serenité Spa is the hen parties. A room can be rented out in which a group of friends can enjoy manicures, pedicures, facials, food and drink and privacy for a hen party.
Located at 47/1, Jawatte Road, Colombo 5, the spa has open spaces and a garden where clients can relax, walk around and even work as the area is wi-fi enabled. Clients are encouraged to spend the day at the spa with the addition of a health café, Anjali shares, adding "it's a unique experience.
This sort of environment is not there especially in the heart of Colombo. It's very tranquil; very calming to the mind, body and soul." For more information visit their website, serenitespalk.com.