Bolgoda lake is one of Sri Lanka's most beautiful resort destinations close to Colombo, though it's is not properly promoted. Sanran Lake Resort is the latest addition to the glamour on the shores of Lake Bolgoda. Just 45 minutes away from the city, Sanran boast of breathtaking site encompasses natural beauty in a private setting, making it an ideal location for family vacations, romantic getaways and a honeymooners haven.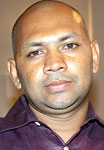 MD Bandula Wickremasinghe
It also includes an impressive list of accommodations and amenities sure to exceed the expectations of the most discerning traveller.
'Whatever the guests interest and need, Sanran Lake Resort ready to ensure the total satisfaction of the guests and offer a truly memorable experience' said Bandula Wickremasinghe, the Managing Director of the Resort
Apart from leisure travel and family outings, the Resort is geared to handle business conferences and corporate meetings and outings. From gracious hotel rooms and suites at Sanran lake Resort offers a wide array of overnight accommodations that appeal to any taste.
'We have only five rooms, but already the construction of other ten lake side rooms have commenced. We hope to be ready with these rooms by the end of August' he added.
Sanran Lake Resort is perfect for vacations because of its unrivaled selection of activities and attractions suitable for everyone. A day of fishing or boating are two of the popular sports events at the resort
'Fishing at fishing pier and boat ramp adds to your great outdoor getaway. Also we offer a special range of facilities and packages for honeymooners and family packages' Bandula said.
Sanran Lake Resort at Dampe Piliyandana can be contacted for more details on 2707148 or 077 3363657.
Pix Nilan Maligaspe